Conforto nails runner at home in 1st RF start
Cubs starter Arrieta out after replay overturns initial safe call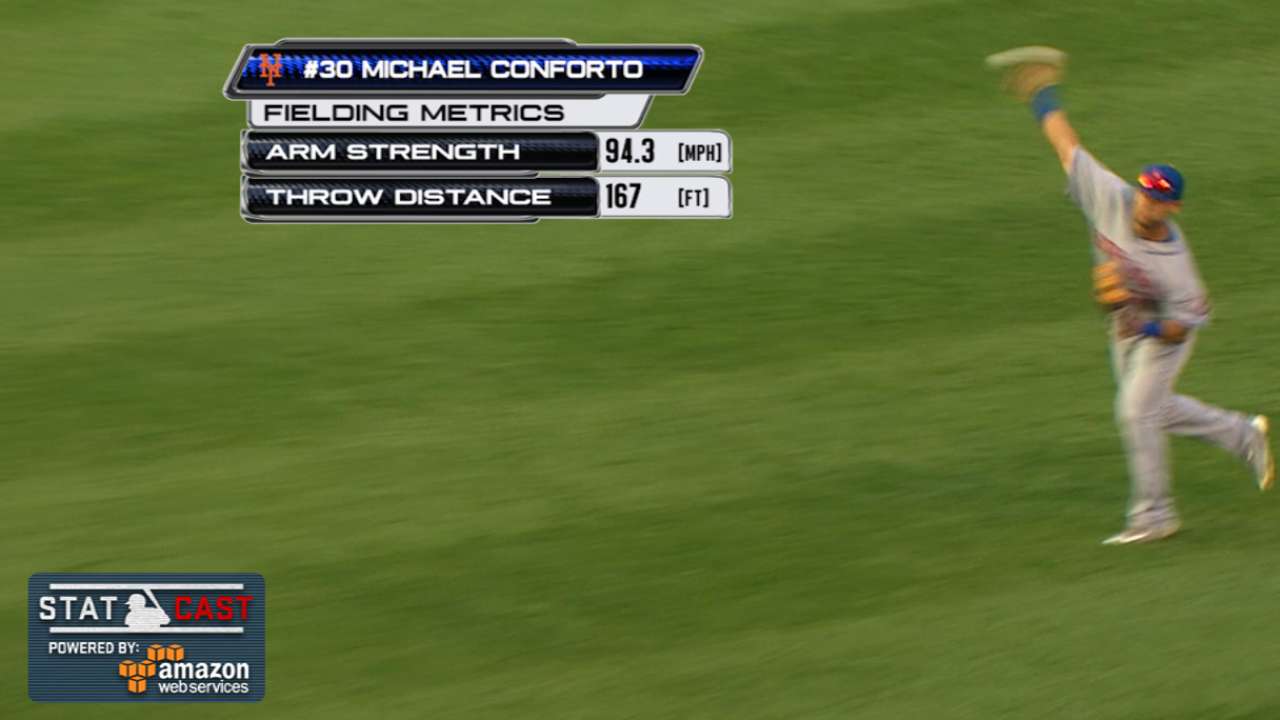 CHICAGO -- The Cubs were aggressive Tuesday sending Jake Arrieta home on a single from second base, resulting in some quick action for Michael Conforto in right field.
Playing his first career game in right, Conforto came up throwing when Arrieta, who had doubled with two outs in the fourth inning, came barreling home on a Tommy La Stella single. Because Conforto's throw beat Arrieta home, the Cubs starter had to reroute his path to try to tag the plate with his left hand. Though home-plate umpire Eric Cooper initially called Arrieta safe, a replay clearly showed that Mets catcher Rene Rivera had tagged him. That took a second run off the board for the Cubs against Mets starter Noah Syndergaard, allowing New York to tie the game two innings later. The Mets won, 2-1.
"I was moving at a pretty good clip for me," Arrieta said. "I didn't see the replay. I'm assuming they made a pretty solid play from receiving the ball to the throw and then the tag. Looking back, I could have tried to get the hand over the tag, but that's not a play I'm involved in very often."
Typically a left fielder, Conforto was playing right to accommodate Yoenis Cespedes, who is nursing a sore right leg. With Cespedes confined to left field instead of his usual perch in center, Curtis Granderson moved from right to center for the first time this season.
"Great throw," Mets manager Terry Collins said of Conforto. "He's got a good arm and we know he's an accurate thrower. We've seen it in the past."
Anthony DiComo has covered the Mets for MLB.com since 2008. Follow him on Twitter @AnthonyDiComo and Facebook, and listen to his podcast. This story was not subject to the approval of Major League Baseball or its clubs.