Profar gets crash course in playing outfield
Rangers working on increasing shortstop's versatility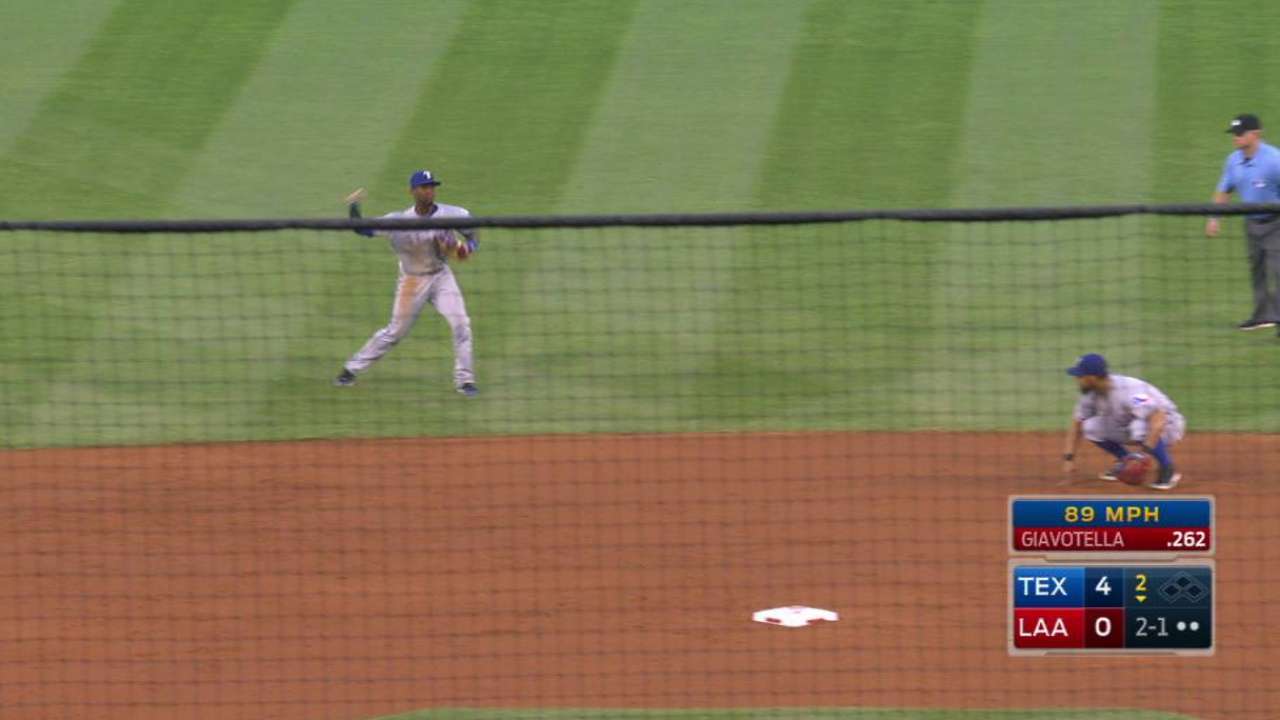 ANAHEIM -- Rangers infielder Jurickson Profar has started taking fly balls in the outfield as a way to increase his versatility. Profar, who has already had crash courses this year on playing first and third base, is willing to give it a try.
"I told you guys, for me, this year, yes," Profar said. "Next year, I want to play shortstop somewhere."
Profar may get that chance sooner than next year as the Rangers have been getting "tons of calls" from other teams interested in acquiring him. Profar is open to a trade.
"I have no problem with that if it's going to make the team better," Profar said. "That means I'm playing very good. That makes me happy."
The Rangers aren't eager to trade Profar unless they can get a young starting pitcher with an equally high upside. Right now manager Jeff Banister is more concerned about finding additional ways to use Profar. He was not in the starting lineup Tuesday even though his .318 batting average is the highest on the team.
"We are trying to expand his skill set," Banister said. "This is something we talked about. Look, he has been here long enough and we have challenged him to do a number of things and he has answered all the challenges. We like the professional at-bats he gives us. Expanding his versatility helps him out and helps us out.
"Players force you to either play them or take them out. He continues to play well."
The Rangers tried this before. Profar played four games in left field in 2013. That was before he missed two full seasons with a torn muscle in his right shoulder.
So far, Profar has shown plenty of arm strength this season. He started at shortstop Monday night and made a tremendous play in the second inning, ranging up the middle to grab Johnny Giavotella's grounder, then whirling completely around to make a strong throw to first base.
"That's the highest stress throw you can make," Banister said.
"I'm just going to stay with my infield arm anyway," Profar said. "Just try to catch the ball and throw it to the cutoff man. If I have a chance to throw out a runner, I will keep the same arm angle. If I don't have a chance, I'll try to hit the cutoff man."
But he would still prefer to be the cutoff man at shortstop.
"This young man has his goals, aspirations and direction," Banister said. "As a team, we have our goals, directions and aspirations. Focus on that and when the season is over, we'll focus on 2017 when the time is appropriate."
Rangers beat
• Reliever Tanner Scheppers, who has been on the disabled list all season recovering from left knee surgery, threw a live batting practice Tuesday in Arizona and will throw again Friday. Once he starts getting comfortable, he will go on a rehabilitation assignment in the Minors, but the Rangers aren't expecting to him to be ready before the Aug. 1 Trade Deadline.
• Jake Diekman, who is on the disabled list with a cut on his left index finger, threw in the bullpen Tuesday without any issues. He expects to be activated Friday in Kansas City.
• Derek Holland, who is on the disabled list with shoulder inflammation, has advanced to long toss and will join the Rangers on Friday in Kansas City. If his throwing continues to progress, he will throw a bullpen session Saturday.
• Colby Lewis, sidelined with a strained muscle in the back of his right shoulder, has been cleared to begin playing catch at a distance of 60 feet.
• Catcher Bryan Holaday began his rehab assignment Tuesday at Triple-A Round Rock and is eligible to come off the disabled list Friday. But the Rangers may keep him at Round Rock longer to get extra at-bats. Holaday has had just six at-bats since Robinson Chirinos came off the disabled list June 9 and he became the Rangers' third catcher.
• Adrian Beltre's home run Tuesday night was his 148th with the Rangers. That's his most with any one club. He had 147 with the Dodgers from 1998-2004. He has 426 overall.
T.R. Sullivan has covered the Rangers since 1989, and for MLB.com since 2006. Follow him on Twitter @Sullivan_Ranger and listen to his podcast. This story was not subject to the approval of Major League Baseball or its clubs.