MLBPAA announces team winners of 2016 Heart and Hustle Award
Award recognizes passion, desire and work ethic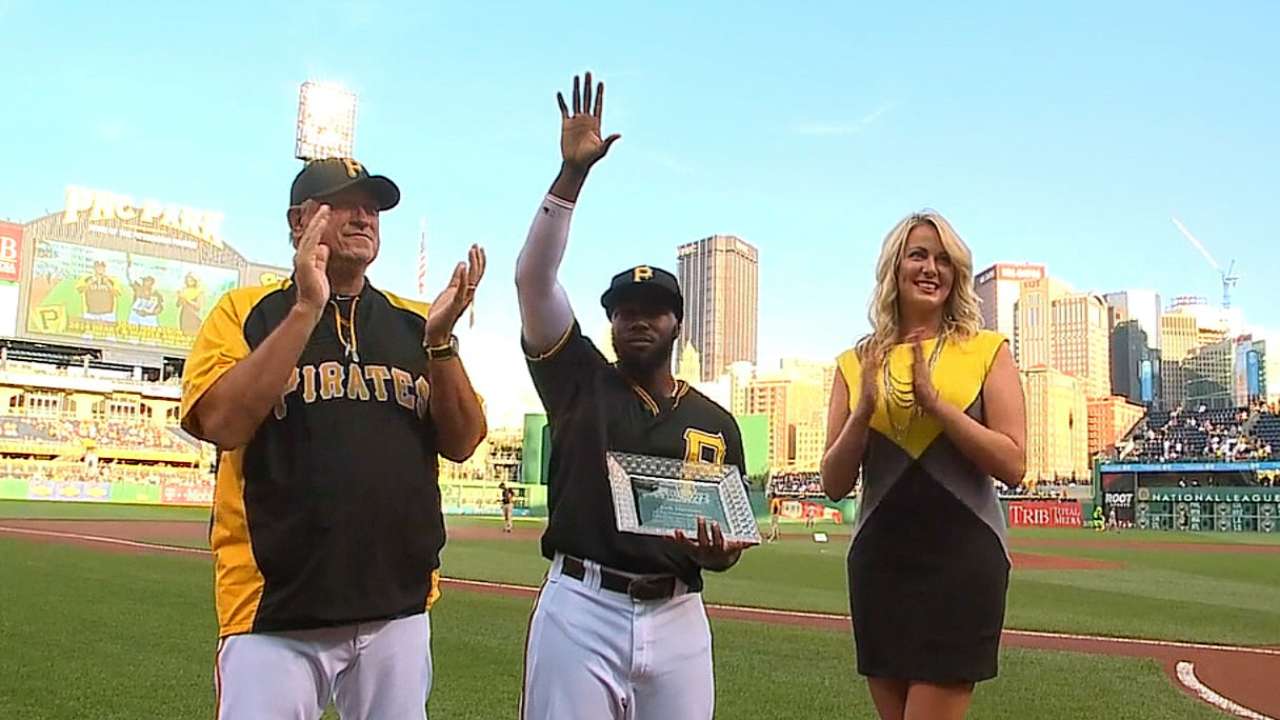 The Major League Baseball Players Alumni Association (MLBPAA) announced the 30 preliminary winners of the 2016 Heart and Hustle Award on Tuesday, honoring one player from each of the 30 Major League teams.
The Heart and Hustle Award, given annually, celebrates active players who demonstrate a passion for the game of baseball and best embody the values, spirit and traditions of the game. It's the only award in the Majors that is voted on by former players, and voting is conducted prior to the All-Star break.
The MLBPAA formed a total of 30 committees made up of former players to vote choose a winner for each team. Near season's end, all members of the alumni association, as well as active players, will vote once again to choose a final winner from the pool of the 30 preliminary team winners of the award. The criteria for the Heart and Hustle Award considers a player's passion, desire and work ethic demonstrated both on and off the field.
The final winner will be announced Nov. 15 at the 17th annual Legends for Youth Dinner in New York, an event that serves as a fundraiser for the series of free Legends for Youth Baseball Clinics held across the country. The list of previous overall winners includes David Eckstein (2005), Craig Biggio (2006, 2007), Grady Sizemore (2008), Albert Pujols (2009), Roy Halladay (2010), Torii Hunter (2011), Mike Trout (2012), Dustin Pedroia (2013), Josh Harrison (2014) and Anthony Rizzo (2015).
Here are this year's 30 preliminary team winners who will ultimately be considered for the final winner of the 2016 Heart and Hustle Award:
AMERICAN LEAGUE
Baltimore Orioles: Adam Jones
Boston Red Sox: Dustin Pedroia
Chicago White Sox: Todd Frazier
Cleveland Indians: Mike Napoli
Detroit Tigers: Ian Kinsler
Houston Astros: George Springer
Kansas City Royals: Eric Hosmer
Los Angeles Angels of Anaheim: Kole Calhoun
Minnesota Twins: Eduardo Nunez
New York Yankees: Didi Gregorius
Oakland Athletics: Marcus Semien
Seattle Mariners: Nelson Cruz
Tampa Bay Rays: Logan Forsythe
Texas Rangers: Ian Desmond
Toronto Blue Jays: Kevin Pillar
NATIONAL LEAGUE
Arizona Diamondbacks: Paul Goldschmidt
Atlanta Braves: Nick Markakis
Chicago Cubs: Anthony Rizzo
Cincinnati Reds: Zack Cozart
Colorado Rockies: Charlie Blackmon
Los Angeles Dodgers: Chase Utley
Miami Marlins: Marcell Ozuna
Milwaukee Brewers: Jonathan Lucroy
New York Mets: Curtis Granderson
Philadelphia Phillies: Andres Blanco
Pittsburgh Pirates: David Freese
San Diego Padres: Jon Jay
San Francisco Giants: Brandon Crawford
St. Louis Cardinals: Stephen Piscotty
Washington Nationals: Daniel Murphy
Matt Kelly is a reporter for MLB.com based in New York. Follow him on Twitter at @mattkellyMLB. This story was not subject to the approval of Major League Baseball or its clubs.