Jay returns to city he once called home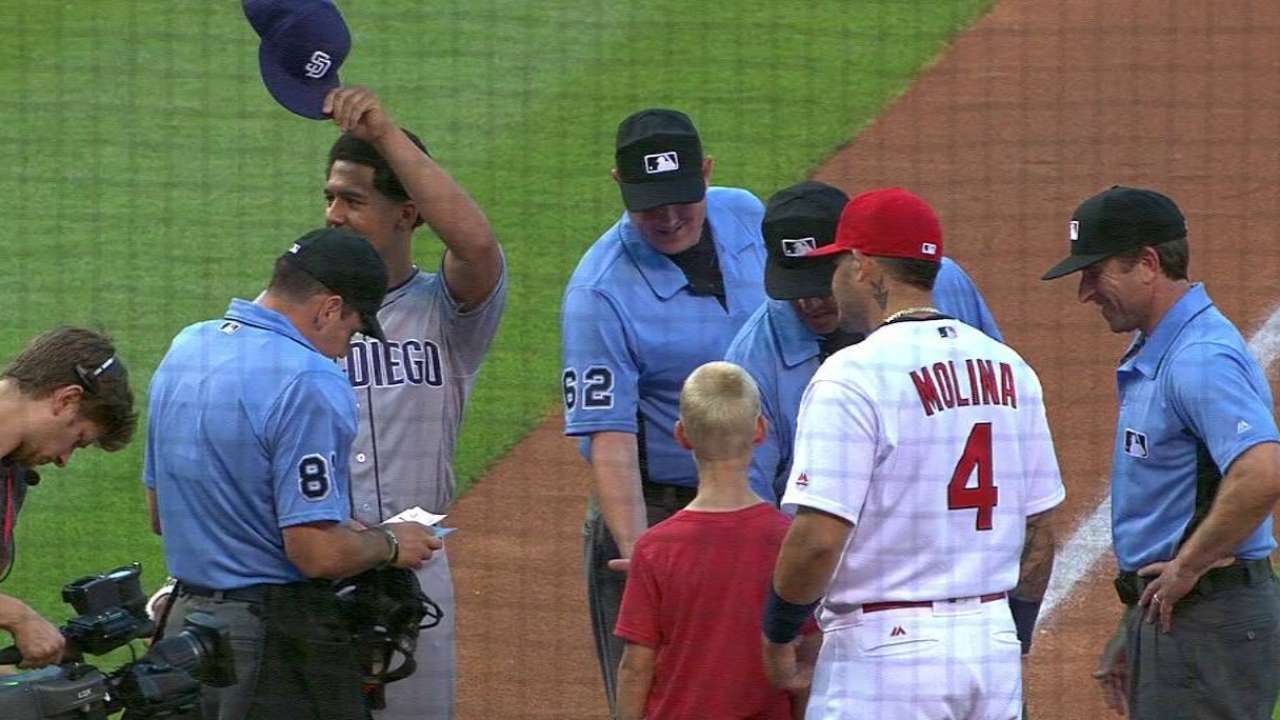 ST. LOUIS -- Jon Jay made his return to St. Louis on Monday, though he'll have to wait to get on the field against his former team in the city he once called home.
The ex-Cardinals center fielder is still in a cast as his broken right forearm continues to heal. The Padres expect that the cast will be removed in about 10 days.
In the meantime, Jay remains a commodity on the trade market, despite his injury. The Padres have received calls from other teams asking about his health.
"Understanding how the business works, that's always a good thing," Jay said of his name being mentioned in trade rumors. "There's teams out there contending for the playoffs that want me. That's what makes it a little frustrating. But I'm here right now, and I'm looking forward to being in the dugout and just trying to help my teammates, trying to help them win when I can."
Jay will be a free agent after the season, giving the Padres little incentive to hold on to him at the non-waiver Trade Deadline -- though the injury undoubtedly hurts his value. Through 68 games this season, he is batting .296/.345/.407. He led the league in doubles, with 24, before succumbing to injury.
As for his return to St. Louis, Jay said the homecoming is special, and he spent some time pregame talking to his former teammates behind the batting cage.
"It's great," Jay said. "These are guys who were more than just teammates. They're guys I still talk to on a daily basis. Those are guys that are going to be friends for life. It's definitely different walking into the visitors' side today, but obviously, I have a lot of fun memories of my time here, and it's great to be back here."
Asked about his favorite memory in St. Louis, Jay offered two: his big league callup, and winning the 2011 World Series. He was dealt to the Padres this past offseason in the deal that sent infielder Jedd Gyorko to the Cardinals.
A healthy Jay provided a major boost for the Padres at the top of their order; he served as a much-needed on-base threat in the leadoff spot and a reliable center fielder.
"The Padres gave me an incredible opportunity this offseason," he said. "They really believed in me and threw me out there every day. Glad I was able to get consistent at-bats and was able to do well, and I'm looking forward to coming back and helping the team win."
AJ Cassavell covers the Padres for MLB.com. Follow him on Twitter @ajcassavell. This story was not subject to the approval of Major League Baseball or its clubs.