Mesoraco undergoes surgery on right hip
Reds catcher played in 16 games this season before injury in late April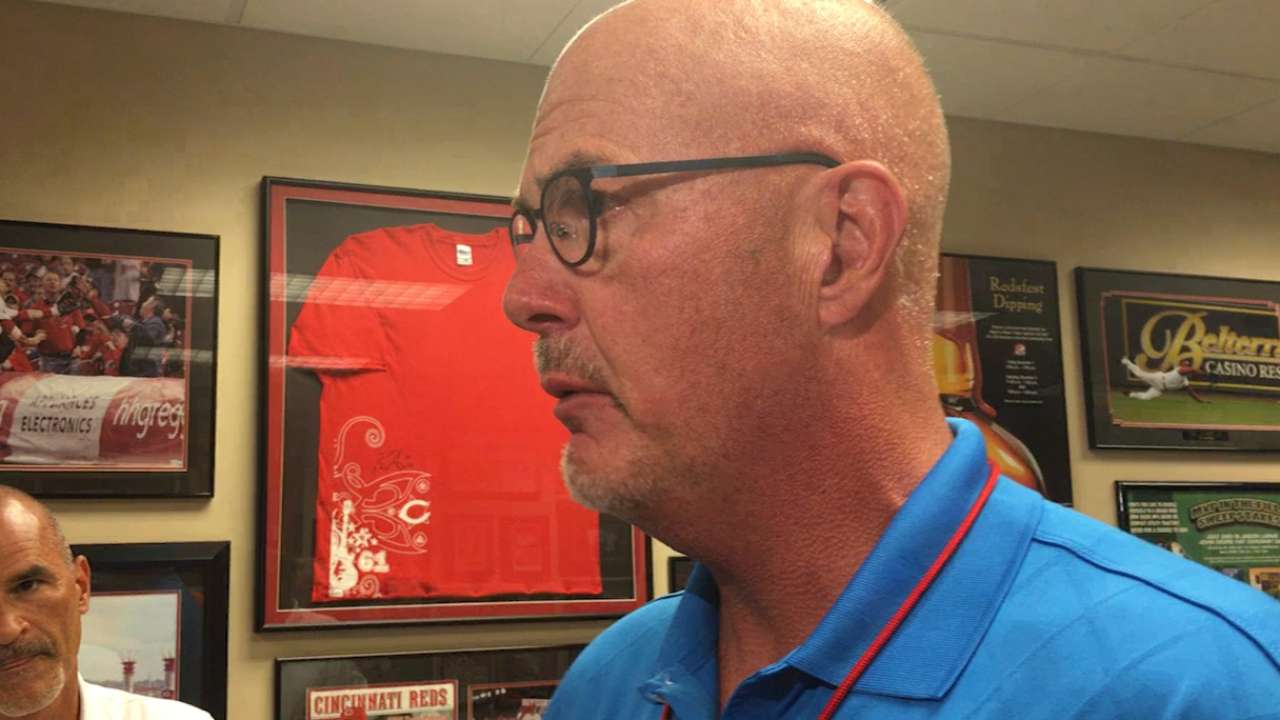 CINCINNATI -- Medical misfortune and Reds catcher Devin Mesoraco seemed synonymous these past two seasons. And that was before it was revealed Monday that Mesoraco underwent surgery to repair the labrum in his right hip -- the third major surgery he's had in a span of 13 months.
Mesoraco was already out for the season after he had surgery in May to repair a torn labrum in his left shoulder. This latest procedure was performed in New York by hip specialist Dr. Bryan Kelly, who also repaired the torn labrum in his left hip in June 2015.
The procedure was considered a preventative operation. After Mesoraco had successful surgery on the left hip last year, it was noticed that his right hip was starting to show signs of having similar issues.
"We did not want him to have symptoms and problems with his right hip, say the middle of next year or the end of next year or the beginning of next year," Reds medical director Dr. Tim Kremchek said. "[Kelly] said there was a 100 percent chance that at some point in his career that this was going to end up bothering him and he'd end up needing surgery."
Kremchek noted that a labral tear was spotted and repaired and a bone bruise was taken off during the surgery.
"As I looked at Bryan afterwards, I said I'm glad we did this," Kremchek said. "Because this would have definitely been a problem and it would have been an emotional problem for the team next year if he would have gone down early, it would have been three years in a row, so it was the right thing to do."
According to Kremchek, Mesoraco is expected to begin catching drills again sometime in mid-to-late January.
Since signing a four-year, $28 million contract before the 2015 season, Mesoraco has been limited to 39 games -- including 18 starts -- over the past two seasons. The 28-year-old appeared in 16 games this season and batted .140/.218/.160 with no home runs and one RBI.
Although surgeries on both hips would seem to leave a pessimistic future for a Major League catcher, Kremchek felt exactly the opposite. So far, his left hip has responded well from last year's surgery and the prognosis was similar for the right one -- especially since Mesoraco and the medical staff have the previous procedure as a benchmark to work from.
"As a matter of fact, I think it's going to give him a spring in his step, make it a little easier for him to squat down and do certain things he never really recognized he could do so easy," Kremchek said. "I'm optimistic this is really going to make him a better catcher, a better athlete and be less stressful on his body. It was definitely the right thing."
In 2014, Mesoraco was a National League All-Star, as he hit 25 home runs with 80 RBIs, while being a highly-regarded defensive catcher.
"It's a crapshoot with anyone that plays professional sports -- you're going to deal with the injuries," Reds manager Bryan Price said. "Unfortunately for Devin, they've come one after the other. Hopefully what he's doing is putting all of this behind him and [he can] roll off some really nice, successful, healthy seasons." sur
Mark Sheldon has covered the Reds for MLB.com since 2006, and previously covered the Twins from 2001-05. Follow him on Twitter @m_sheldon and Facebook and listen to his podcast. This story was not subject to the approval of Major League Baseball or its clubs.