MLB.com Columnist
Jonathan Mayo
Pair of Phillies, Indians lead Prospect Team of the Week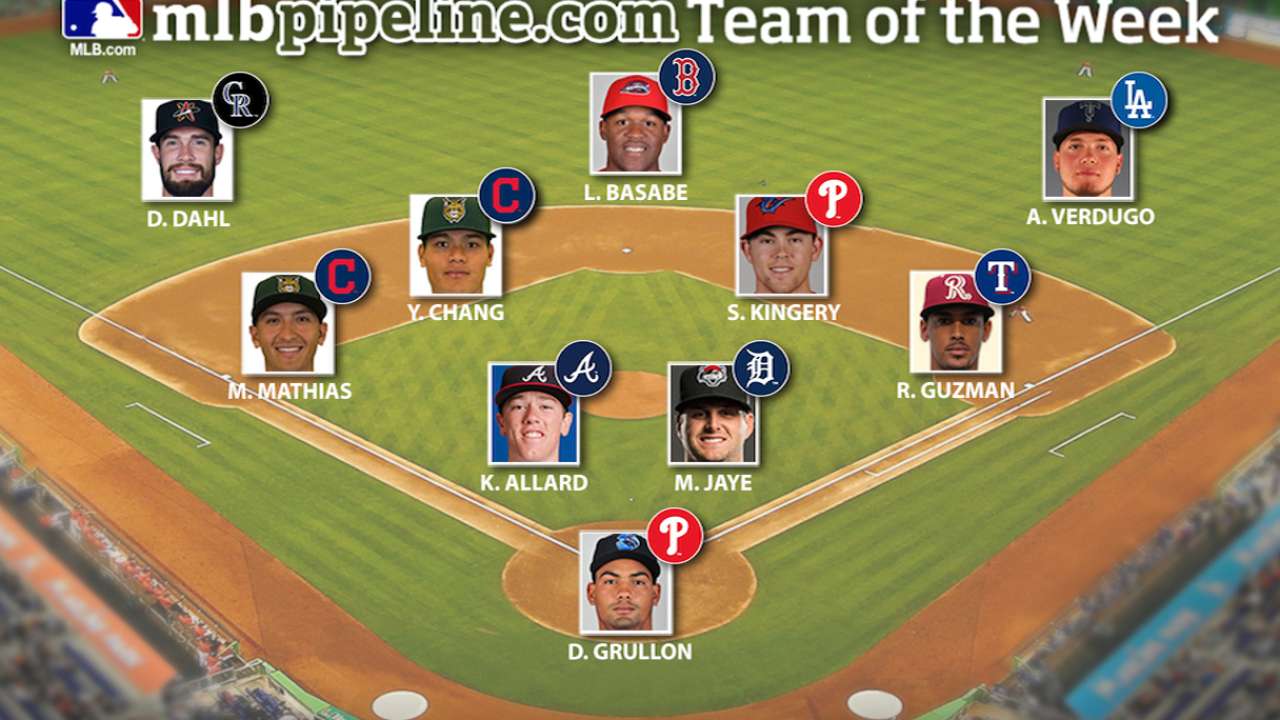 MLBPipeline.com's Prospect Team of the Week honors the best performances from the previous seven days. Any player currently on an organization Top 30 Prospects list on our Prospect Watch is eligible, including big leaguers.
This week's Pipeline Prospect Team of the Week features a pair of Carolina League teammates and a pair of Futures Game participants who were opponents in San Diego. Three of this week's squad came from the 2015 Draft class, including a first-round pick just getting his pro career going in earnest.
C: Deivi Grullon, Lakewood BlueClaws (Class A)
Phillies' No. 29 prospect
4 G, .333/.333/.909, 3 R, 3 HR, 6 RBI, 3 SO
Known more for his defense behind the plate, Grullon has had difficulty getting his bat going enough to move up the Phillies' ladder. He's repeating the South Atlantic League, and it's been an up-and-down campaign, though this past week was a good one. Grullon homered in three straight games, doubling his total for the year, and drove in two runs in each of those games.
1B: Ronald Guzman, Frisco RoughRiders (Class AA)
Rangers' No. 22 prospect
5 G, .364/.391/.889, 6 R, 1 2B, 1 3B, 3 HR, 6 RBI, 1 BB, 4 SO
The Futures Game must have given Guzman some confidence. Of course, he was swinging the bat well before heading to San Diego, and he now has a 16-game hitting streak going, pushing his season line to .306/.365/.516. This past week, Guzman had a pair of multihit games, homering on Thursday and Friday, then finishing the week off with another home run and three RBIs.
2B: Scott Kingery, Clearwater Threshers (Class A Advanced)
Phillies' No. 11 prospect
6 G, .448/.452/.552, 5 R, 1 2B, 1 3B, 5 RBI, 1 BB, 2 SO, 3 SB
The 2015 second-rounder is really getting the bat going, hitting in all six Florida State League games he played in. Four of those games were of the multihit variety, including a four-hit performance on Saturday. Kingery has pushed his average for the year up to .295, hitting .330 in June and now .333 in July, with a .364 OBP for the year and 25 steals in 30 attempts.
3B: Mark Mathias, Lynchburg Hillcats (Class A Advanced)
Indians' No. 16 prospect
4 G, .444/.476/.889, 7 R, 5 2B, 1 HR, 6 RBI, 2 BB, 4 SO
While Mathias has played more second base than anything else this season, he played three of his four games at the hot corner this past week. The 2015 third-rounder had two three-hit games, homering and driving in three on Saturday. Mathias has a 10-game hitting streak going, hitting .450 and driving in 13 runs during this stretch, raising his average for the year 30 points.
SS: Yu-Cheng Chang, Lynchburg Hillcats (Class A Advanced)
Indians' No. 12 prospect
5 G, .381/.458/.714, 5 R, 2 2B, 1 3B, 1 HR, 6 RBI, 3 BB, 7 SO
Chang joins fellow Hillcat Mathias on the PTOW this week as he continues to have a breakout season. The Taiwanese prospect started the year going 0-for-4, but then hit in four straight, including back-to-back three-hit performances, driving in two runs in each of those games. Chang is now second in the Carolina League in slugging (.506), third in RBIs (65) and tied for sixth in home runs (11).
OF: Alex Verdugo, Tulsa Drillers (Double-A)
Dodgers' No. 6 prospect
5 G, .444/..500/.944, 3 R, 3 2B, 2 HR, 6 RBI, 2 BB, 2 SO
Verdugo hit in all five games for the week, starting things off with two multihit performances. He then hit home runs in both ends of a doubleheader on Saturday. Verdugo's .299 average is now third best in the Texas League, and he's also in the top 10 in slugging percentage and RBIs. Not bad for a player who turned just 20 in May.
OF: David Dahl, Albuquerque Isotopes (Triple-A)
Rockies' No. 2 prospect
4 G, .533/.632/1.333, 7 R, 1 2B, 1 3B, 3 HR, 9 RBI, 4 BB, 5 SO, 1 SB
Dahl got back from the Futures Game and kept on raking. He's hit in all 10 games he's played in since getting promoted to Triple-A, including all four games post-Futures. Dahl had a two-homer game upon his return and began his week with a pair of three-hit performances. He drove in seven of his nine runs for the week in those two games and is now hitting .512/.574/1.024 since his promotion.
OF: Luis Alexander Basabe, Greenville Drive (Class A)
Red Sox's No. 7 prospect
5 G, .526/.591/1.000, 5 R, 2 2B, 2 3B, 1 HR, 6 RBI, 3 BB, 3 SO
His twin brother may have been traded to Arizona in the Brad Ziegler deal, but this Basabe got hot this past week. He has a modest six-game hitting streak going, with a four-hit and three-hit game during this past week. Basabe raised his average 22 points for the week. He pushed his SLG up to .459 and also has 15 steals in 17 tries.
LHP: Kolby Allard, Danville Braves (Rookie)
Braves' No. 4 prospect
2-0, 0.00 ERA, 2 GS, 12 IP, 6 H, 0 R, 0 ER, 3 BB, 14 SO, 0.75 WHIP
The Braves were understandably cautious with their 2015 first-round pick, holding Allard back in extended spring camp until June. After three starts at full-season Rome, they moved him down to Danville in the Rookie-level Appalachian League and he's been lights out. Allard threw six shutout innings in each of his two starts last week, and he is now 3-0 with a 1.32 ERA over five starts with Danville, striking out 33 in 27 1/3 innings and holding hitters to a .186 batting average against.
RHP: Myles Jaye, Erie SeaWolves (Double-A)
Tigers' No. 23 prospect
1-0, 1 GS, 8 1/3 IP, 2 H, 0 R, 0 ER, 0 BB, 11 SO, 0.24 WHIP
Jaye was absolutely lights out on Saturday, his first start following the Eastern League All-Star break. His 11 strikeouts marked the first time he hit double digits in any start this year. The outing was a continuation of a strong July, during which the right-hander has struck out 27 and walked just one in 19 1/3 innings over three starts. Jaye has a 1.86 ERA and .216 BAA this month.
Jonathan Mayo is a reporter for MLBPipeline.com. Follow him on Twitter @JonathanMayo and Facebook, and listen to him on the weekly Pipeline Podcast. This story was not subject to the approval of Major League Baseball or its clubs.