Expecting bunt sign, Salty homers instead
Tigers catcher hits walk-off blast to cap day in which he had all three true outcomes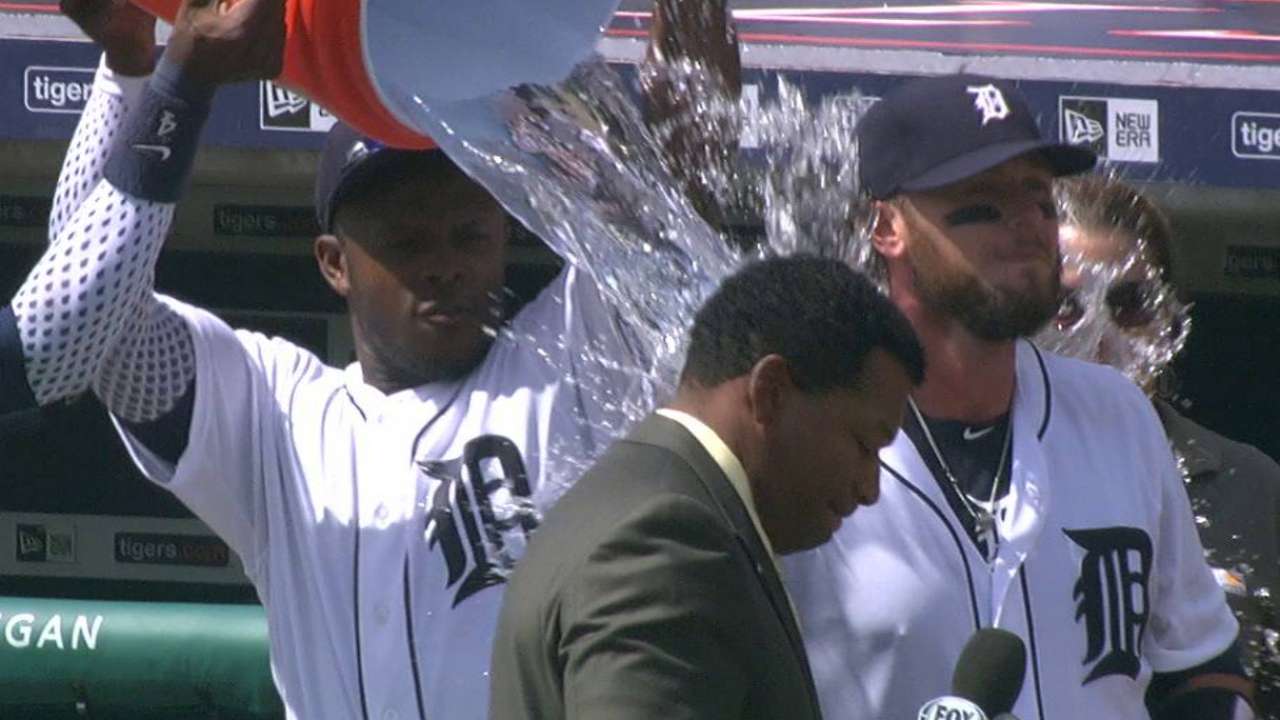 DETROIT -- Jarrod Saltalamacchia stepped into the batter's box in the ninth inning of Sunday's 4-2 win over the Royals expecting a bunt sign. Never mind the three game-tying or go-ahead home runs he hit in the first two weeks of the season.
"Didn't get it the first pitch," he said. "The second pitch I was thinking they were going to give me a hit-and-run."
That wasn't the thinking from the manager. Though Saltalamacchia had practiced bunting in Spring Training to help keep shifting defenses honest, it's clearly not his forte.
"You'd be asking someone to do something he really hasn't done," manager Brad Ausmus said. "There was no thought to bunting Salty."
Instead, Saltalamacchia got a fastball from former Tiger Joakim Soria. As soon as he hit it, he raised his right arm, knowing it was headed into the right-field seats for a two-run homer and a Tigers win.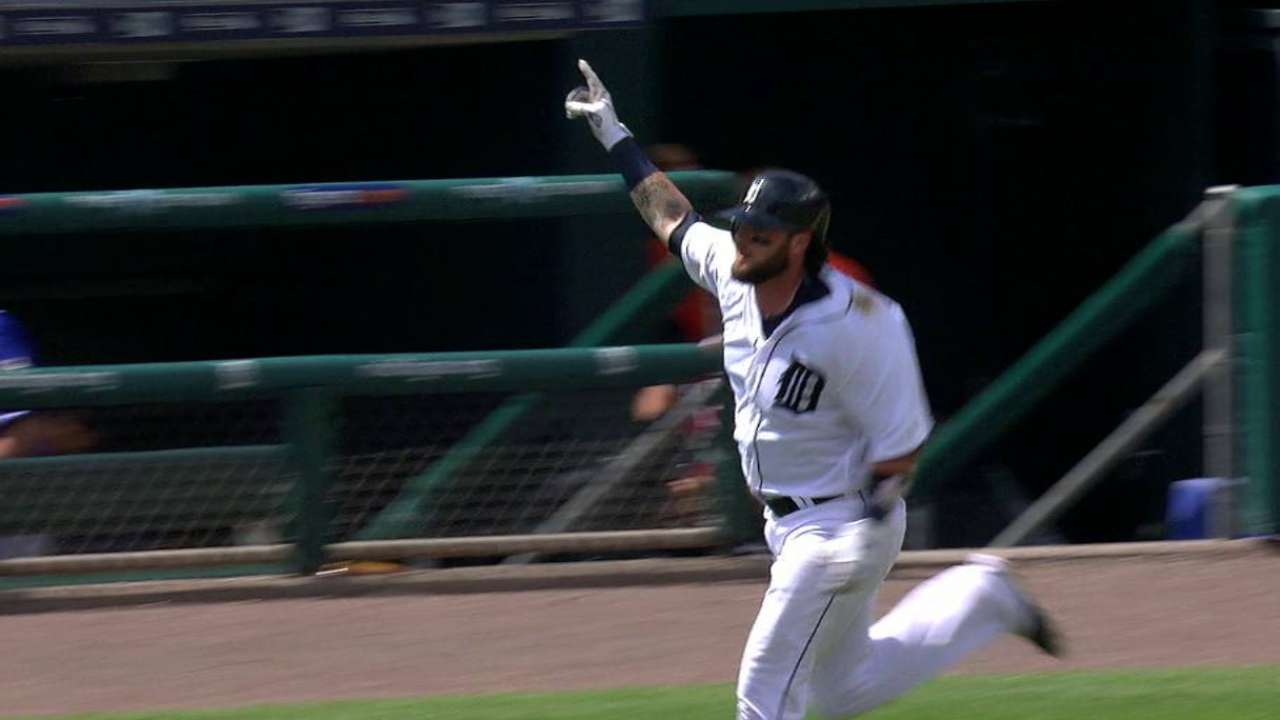 It was a fitting end, not only for the Tigers' three-game series against their division rivals at Comerica Park, but for Saltalamacchia's Sunday afternoon. He struck out twice, walked once and homered, each of the three true outcomes -- plays for a hitter that do not involve the defense.
Saltalamacchia is a three true outcomes kind of hitter. He has nearly as many walks (27) as hits (29). Nine of those hits are homers. Sixty-two of his 112 outs have been strikeouts. He's 11-for-56 since May 22 with two home runs, 16 walks and 23 strikeouts.
He's the same hitter he has always been, and he's a valuable backup catcher for the Tigers.
"He gets his walks," Ausmus said. "He's always a threat with the bat, as you saw in the last inning. I think he lulled them to sleep with the strikeouts and then came out with the thunder.
"It's tough on him because he's not playing on a regular basis. He knew when he signed here that [James McCann] was going to do the bulk of the catching. He's probably ended up catching more than we initially thought he would. You look at the RBIs, and he's done pretty well. I know his average is down, but in terms of production, he's done pretty well."
Saltalamacchia knew that challenge coming in. He stepped in well as a regular when McCann was on the disabled list in April, but has had to prepare himself for limited at-bats since mid-May. It's a role he didn't know well until he got to Arizona last summer, having been released by Miami after signing a lucrative free-agent contract there.
"It's not easy, especially when you're brought in to be the backup, but also produce offensively," Saltalamacchia said. "It's tough. You just gotta try to shrink it down a little bit, not do too much. Luckily, I was able to do that last year with Arizona, so I already had that going for me."
He wasn't trying to hit the seats Sunday. He was trying to shrink his focus to the right side and advance the runner. He ended up doing a lot more, and he knew it right away.
He took his time around the bases and made sure he touched them.
"Until I got home, and then I guess I threw the helmet a little high, and hit [Miguel Cabrera] in the head," he said. "I feel kind of bad. I might get released after the game."
Jason Beck has covered the Tigers for MLB.com since 2002. Read Beck's Blog, follow him on Twitter @beckjason and listen to his podcast. This story was not subject to the approval of Major League Baseball or its clubs.