Cole 'out of sync' in first start back from DL
Pirates' ace lasts just four innings during loss to Nationals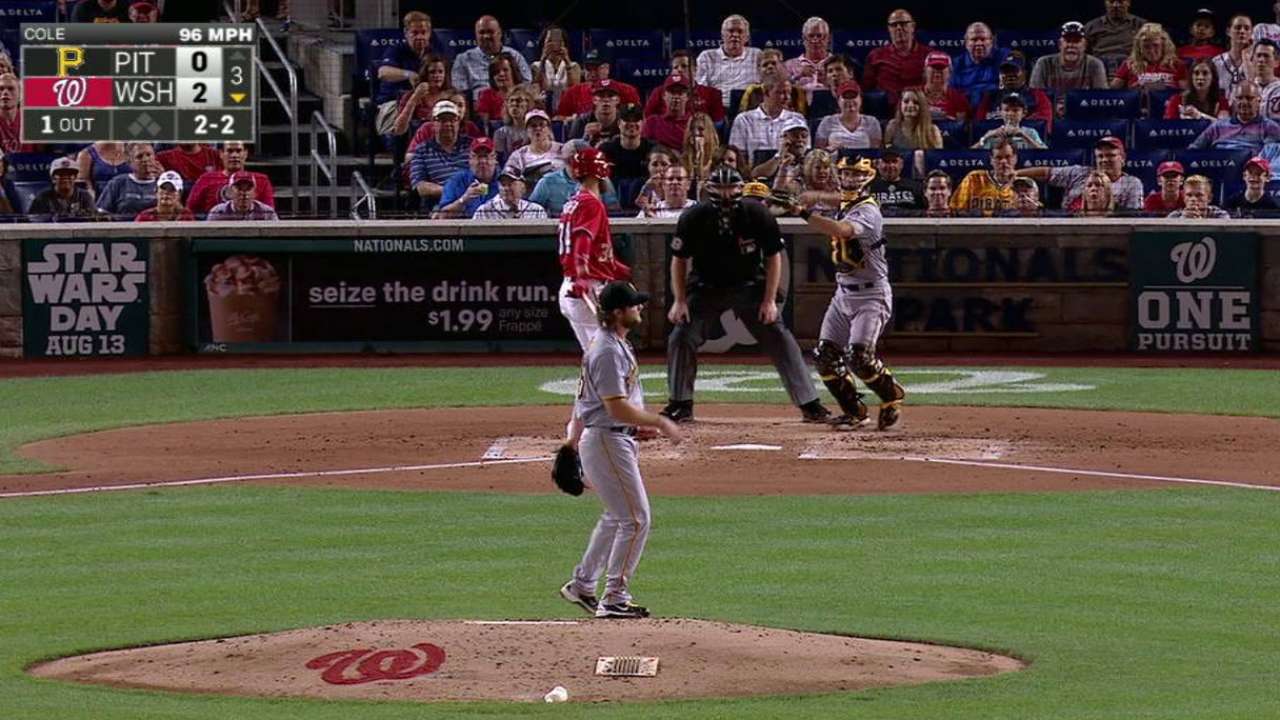 WASHINGTON -- From the first inning, Gerrit Cole's return from the disabled list didn't go quite as planned. The Pirates' ace allowed three of the first four batters he faced to reach base and didn't fare much better the rest of Saturday evening. He left the game after four innings, having allowed seven hits and five runs (four earned) in an eventual 6-0 loss to the Nationals.
"I just didn't execute enough pitches," Cole said. "If I made one quality pitch I'd follow it up with a subpar [pitch]. Always elevated, especially out of the stretch, I got crushed. Just the timing of the game and the rhythm of the game was a little out of sync."
Cole, who had been out since June 10 with a triceps injury, said he felt totally healthy but acknowledged that after two Triple-A rehab starts he struggled with the speed of the Major League game. The righty had difficulty pitching out of the stretch, allowing the Nats to string together baserunners in three of his four innings.
Cole began by giving up a run on a walk and two singles in the first. The inning could have been worse, but Bryce Harper ran into an out on the basepaths and right fielder Sean Rodriguez made a diving catch to save a run.
The Nats scored again in the second on back-to-back doubles, and, after going down 1-2-3 in the third, they rallied off Cole again in the fourth, scoring three runs.
Prior to Saturday, Cole had been exceptional this season with runners on base, holding batters to a .234/.320/.297 slash line. That success enabled the righty to keep runs off the board despite more hits allowed than innings pitched.
Cole was left with his shortest outing of the season (aside from the game he exited due to injury) and only his second start of at least four earned runs allowed.
Pirates manager Clint Hurdle said Cole will have to reacclimate to the Major Leagues as he works his way back from injury.
"You can go pitch in the Minor Leagues forever, and that's not always going to help," Hurdle said. "He needs to get back here and help us."
Alex Putterman is a reporter for MLB.com based in Washington. This story was not subject to the approval of Major League Baseball or its clubs.