Sox offense 'unacceptable' in 3rd straight shutout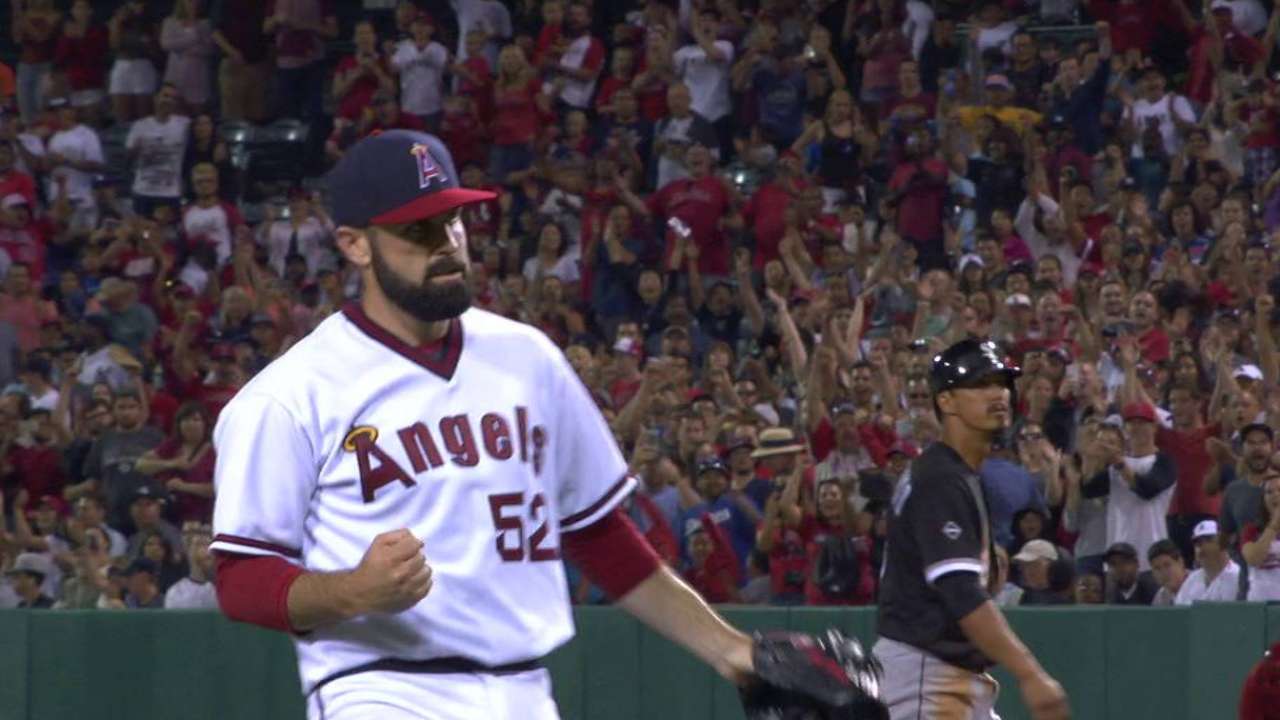 ANAHEIM -- The White Sox ninth inning from a 1-0 Angels' victory Saturday night served as a microcosm for one of the South Siders' worst offensive stretches since 1912.
Adam Eaton reached against Matt Shoemaker via a leadoff double. Melky Cabrera's single one out later put runners on first and third. And yet, the White Sox did not score.
Credit goes to Shoemaker, who moved into an extra gear by fanning Todd Frazier and Justin Morneau, giving him a 13-strikeout, 115-pitch complete game. But there's only so much hat-tipping one team can do before they run out of hats.
Saturday's effort marked the third straight shutout hurled against the White Sox, standing as the first time since 1968 when such a dubious feat has been achieved. Their scoreless-innings streak has reached 32, which according to STATS LLC, ranks as the fourth-highest such run in franchise history since 1912, sitting eight innings away from breaking the franchise mark of 39 set in 1968.
Robin Ventura's crew lost for the fourth time in five games to the Braves and Angels, dropping consecutive series to two of the Majors' worst teams by record. The White Sox also wasted a complete-game gem thrown by James Shields, his second loss among the three shutouts.
It's not exactly the look of a team pushing for postseason contention.
"Yeah, it's frustrating. It's kind of the same story I told you guys yesterday," Eaton said. "It's unacceptable, to be honest with you. Shoemaker is a good pitcher. He kept the ball down, but we have to make adjustments earlier than what we did. We need to get things right quicker than later right now, and get things going in the right direction."
"You wear it if it's just one game, let alone three," Ventura said. "We've got to figure it out. We'll get there."
Ventura referred to frustration boiling over from the White Sox futility.
Jose Abreu doubled twice off Shoemaker, but struck out to end the sixth with Eaton on second. Abreu punched the bat as he walked back to the dugout.
In the ninth, Abreu fought from 0-2 to work the count full but grounded out to shortstop Andrelton Simmons and did not advance Eaton. The sounds of his helmet slamming against the helmet rack in the dugout were very distinct.
Frazier struck out on a pitch bouncing to catcher Jett Bandy. Morneau struck out on three pitches.
"This is a crazy game. I've seen a lot of crazy stuff happen," said Shields, after throwing 91 pitches. "Hopefully the baseball starts swinging back our way."
"I think it's surprising in the big leagues when it goes this long," Ventura said. "That's something we've got to get around."
Instead of looking at the American League Central and AL Wild Card standings, the only White Sox number to know is 72. That total stands as games remaining, meaning time is of the essence in getting their offensive woes corrected.
"We need to start making a push and put ourselves in a good position in the standings," Eaton said. "This is crunch time and it's kind of gut-check time. We need to be better in all facets. It starts with our offense."
Scott Merkin has covered the White Sox for MLB.com since 2003. Read his blog, Merk's Works, follow him on Twitter @scottmerkin, on Facebook and listen to his podcast. This story was not subject to the approval of Major League Baseball or its clubs.