Yu reels in K's, has command issues in return
Darvish has 'electric stuff' in first start off disabled list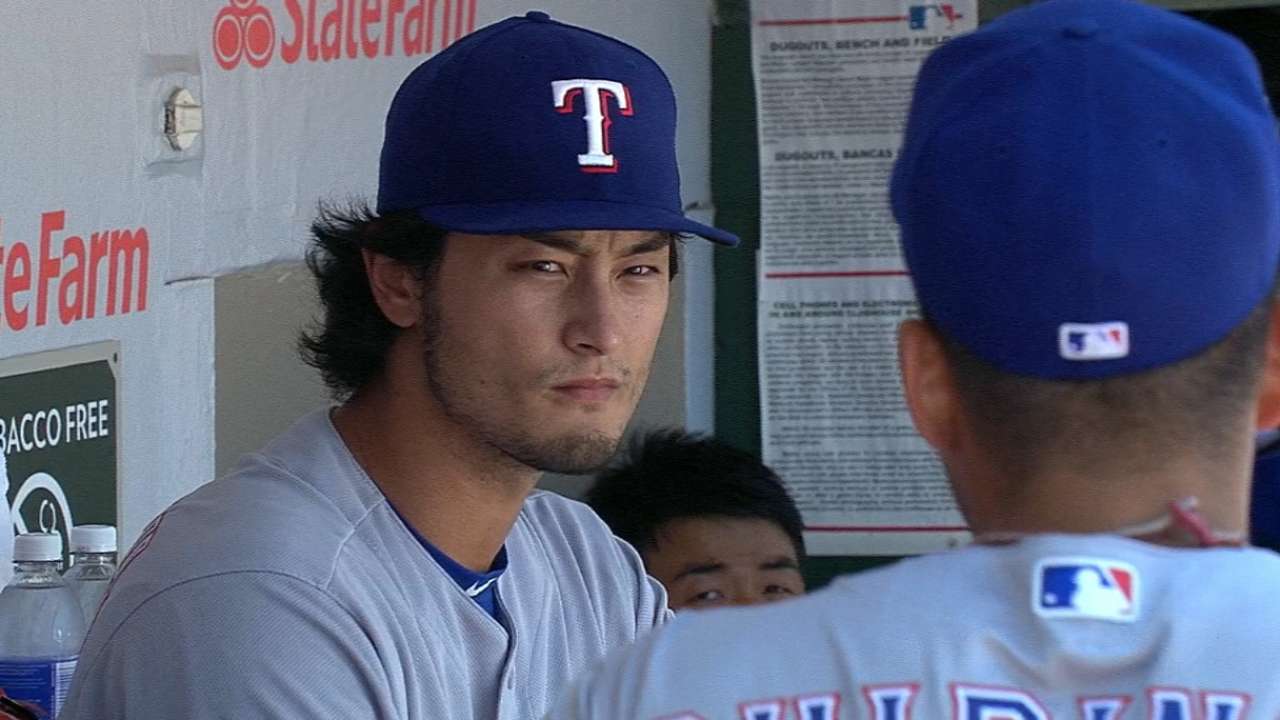 CHICAGO -- Rangers right-hander Yu Darvish had moments of dominance in his first start since June 8, striking out nine batters in 4 1/3 innings on Saturday afternoon.
But there were three leadoff walks, and one ended up costing him in a 3-1 loss to the Cubs at Wrigley Field. Overall, the Rangers were happy with what they saw from Darvish, even though he couldn't keep them from losing for the 11th time in their past 14 games.
"We've got to come out and play good baseball," Texas manager Jeff Banister said. "We have to put together a combination of a solid start and solid offense, then go out and play good defense. That recently has been a challenge for us, but we'll get this headed back in the right direction."
Getting Darvish back is a good first step in doing that, even if this one was a losing effort. Darvish, who had been sidelined with discomfort in his right shoulder, allowed two runs on two hits and four walks along with the nine strikeouts.
"I felt good today," Darvish said. "I threw the ball well. I was just trying to find a really good feel for my pitches. I had no problems with the shoulder."
The Cubs were dazzled by what they saw.
"Darvish, my God. You could see that guy when he's well," Cubs manager Joe Maddon said. "I've seen it before, and it's beyond electric stuff what he's got. A guy like that, if you let him have his way, and he's sitting on 70 [pitches] in the sixth inning, he's going to beat you up. His stuff is that good. He was all of that today. As he continues to get well, or better, he'll keep improving."
Cubs starter Jason Hammel earned the victory, holding the Rangers to one run in six innings, but was still impressed with Darvish.
"I was not going to touch Yu Darvish's stuff," Hammel said. "That's impressive. That's other-worldly stuff."
That walks ended up being the problem as Darvish said he trouble commanding his off-speed pitches in the windy conditions of Wrigley Field.
Darvish walked Tommy La Stella, the Cubs' leadoff hitter, in the first inning, before retiring six straight hitters, including five by strikeout. Darvish then walked Miguel Montero -- a .201 hitter batting in the eighth spot -- to lead off the third.
He struck out Hammel, gave up a single to La Stella and then struck out Kris Bryant. But he couldn't escape the inning, as Anthony Rizzo lined a two-run double to put the Cubs ahead.
Darvish's day ended with one out in the fifth, when he reached 90 pitches.
"Very impressive to get him back out there," Banister said. "His stuff was good. ... Nine strikeouts, great movement. But when you get to nine strikeouts, your pitch count continues to climb. Still felt he was impressive and came out of it clean."
T.R. Sullivan has covered the Rangers since 1989, and for MLB.com since 2006. Follow him on Twitter @Sullivan_Ranger and listen to his podcast. This story was not subject to the approval of Major League Baseball or its clubs.