Angels take advantage of White Sox miscues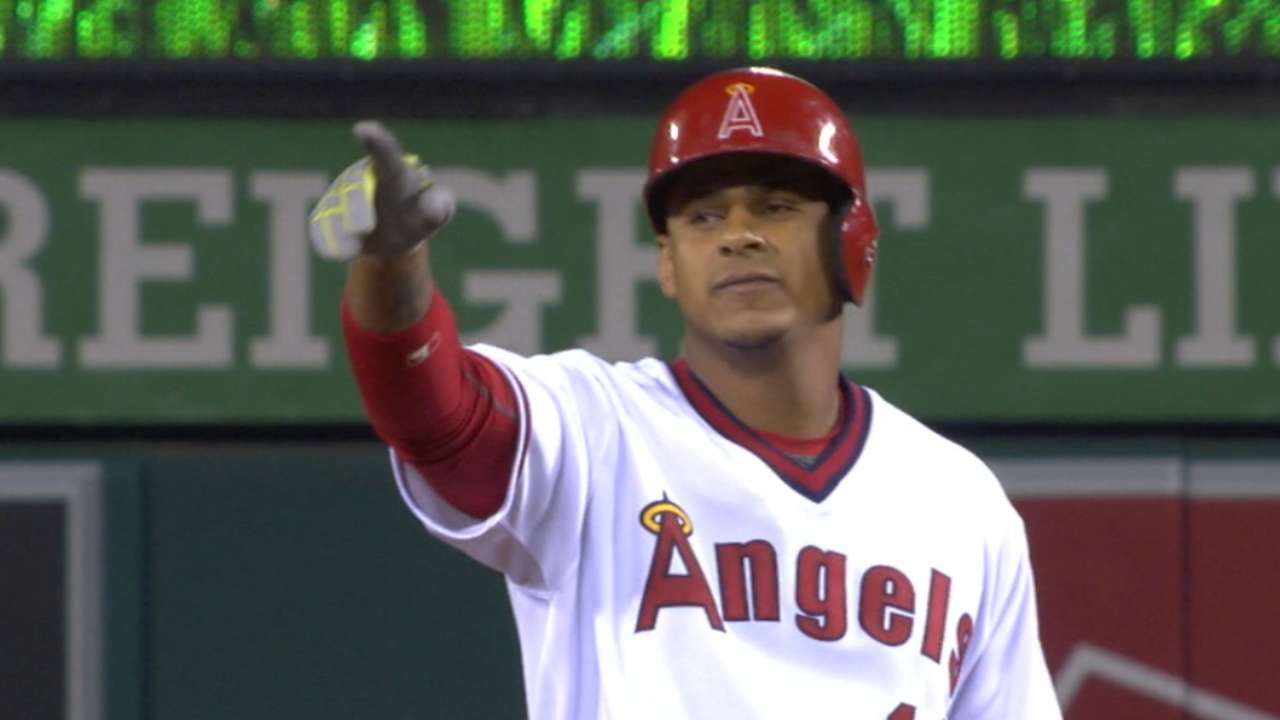 ANAHEIM -- Hector Santiago shut down his former team over seven shutout innings and got plenty of run support in a five-run seventh inning as the Angels beat the White Sox, 7-0, on Friday night to open up the second half of the season.
Santiago, facing the White Sox for the second time this season, got his team started on a positive note following the All Star break, delivering his fourth quality start in his last five outings to outduel Chicago right-hander Miguel Gonzalez. The White Sox wouldn't have a runner in scoring position after Adam Eaton's first-inning double until they recorded back-to-back hits in the seventh, which Santiago got out of by inducing a foul popup.
"He runs that cutter inside. Normally lefties aren't going to get good swings at him, but our lefties are the ones who ended up getting the hits off of him," said White Sox manager Robin Ventura of Santiago. "That cutter, it can be a little tricky. He crossfires and runs it inside and you have to be able to stay inside that thing."
Gonzalez was let down by a lack of run support, as he was solid through six-plus innings of work. He was responsible for four runs (three earned), but left two runners on in the seventh as the Angels jumped on him and the bullpen to add five insurance runs.
The Angels have won five of their last six games, and the White Sox have lost three of their last four games, all against last-place teams (Angels, Braves).
MOMENTS THAT MATTERED
Hello, Old Friend: Santiago, facing his old team for the second time this season, was once again dominant. He tossed seven shutout innings, giving up five hits and walking none while striking out seven on 94 pitches. He has tossed 14 shutout innings against the White Sox this season, giving up 54 runs in his 91 innings against non-White Sox opponents (a 5.34 ERA).
"Tonight, it looked like [Hector] had the command," Angels manager Mike Scioscia said. "Not only was he getting the ball in the zone, but he was getting it into good spots. He pitched in well, changed speeds, got the ball to the outside corner when he had to." More >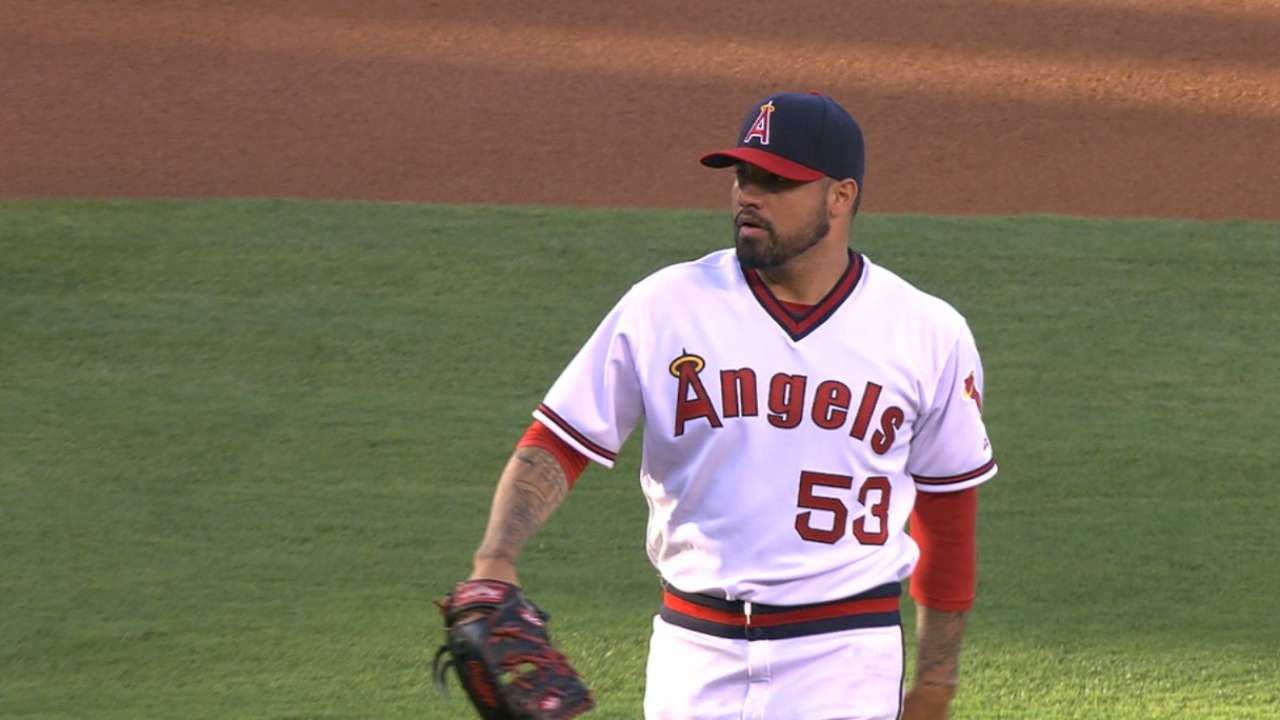 Two-out hustle: White Sox right-handed hitters were 0-for-17 against Santiago until back-to-back hits from Todd Frazier and Brett Lawrie with two outs in the seventh. When left fielder Daniel Nava was slow going after the ball on Lawrie's hit, the two White Sox runners moved up to second and third. But Dioner Navarro swung at the next pitch and popped out in foul ground to Yunel Escobar, ending the rally.
Let's add on: The Angels clung to a 2-0 lead heading into the seventh, but quickly blew things open with a five-run outburst. Nava started things off with a leadoff double, and back-to-back-to-back RBI hits from Jefry Marte, Geovany Soto and Andrelton Simmons paired with some poor White Sox defense to keep the rally going before Albert Pujols' inning-ending strikeout.
"Good situational hitting," Scioscia said of the rally. "The guys put the ball in play and used the whole field. They did a good job with runners in scoring position and ran the bases aggressively and pressured them into five runs."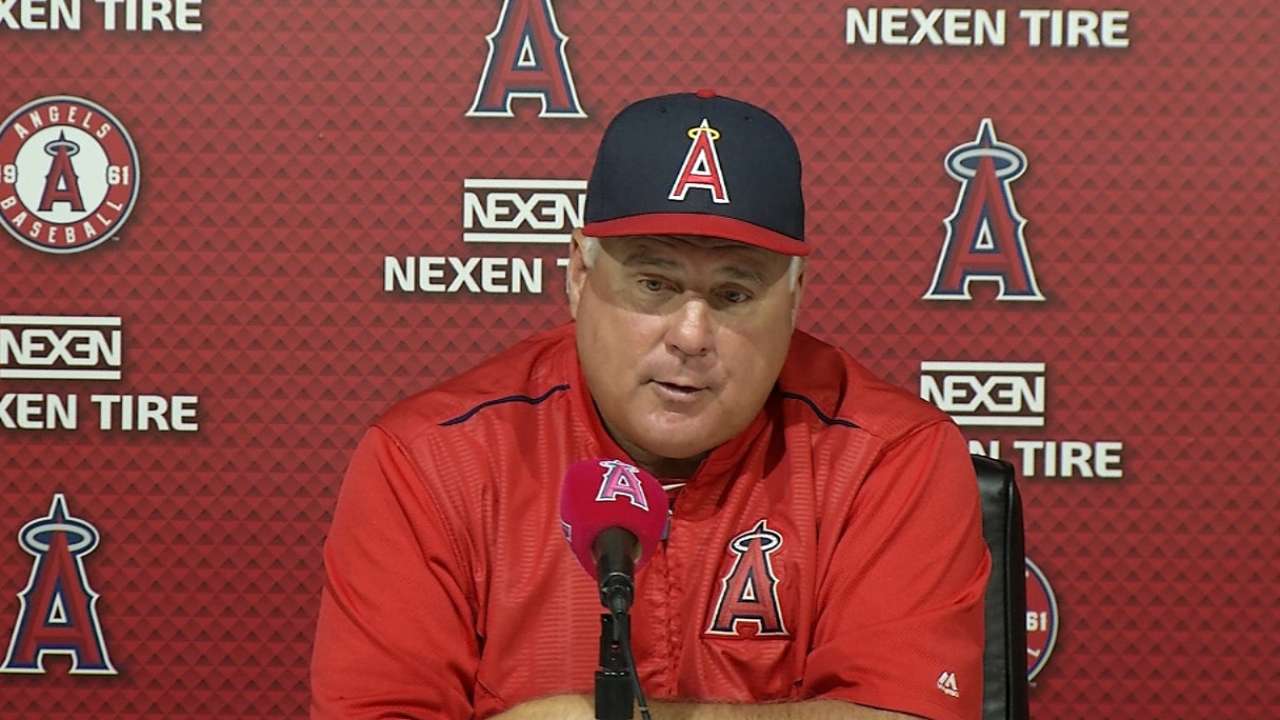 Defensive shortcomings: After emerging as a very solid defensive team in the season's first half, the White Sox had their problems during a five-run seventh. Tim Anderson committed two errors, and Jose Abreu couldn't make the sliding play on a Nava double down the line to open the frame on a hit that looked playable. Three of the five runs were unearned.
"There were a couple of plays you see some youth part coming out," said Ventura, referring to Anderson. "And we have to be better than that. We've played better than that."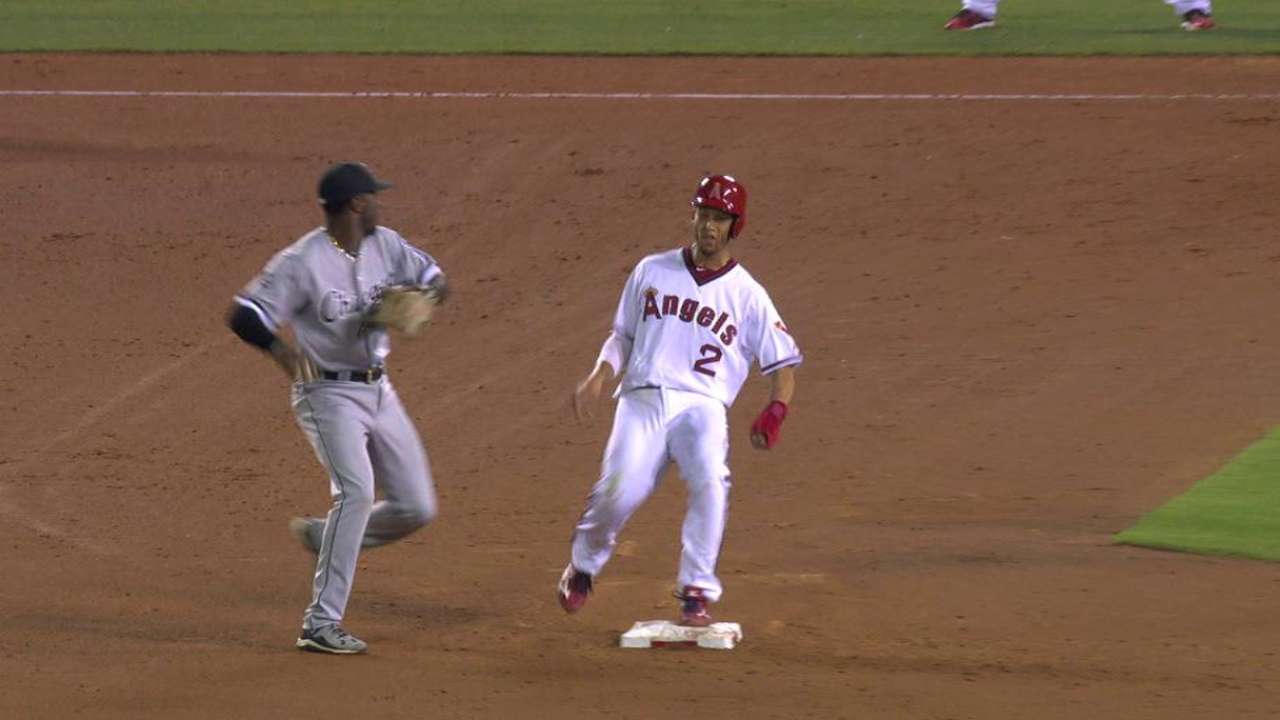 QUOTABLE
"I thought so. But there's a racehorse out there apparently, and he just runs it down. He's a great athlete." -- Eaton on whether he was thinking three bases on a ball he hit to end the sixth, which Mike Trout ran down in right-center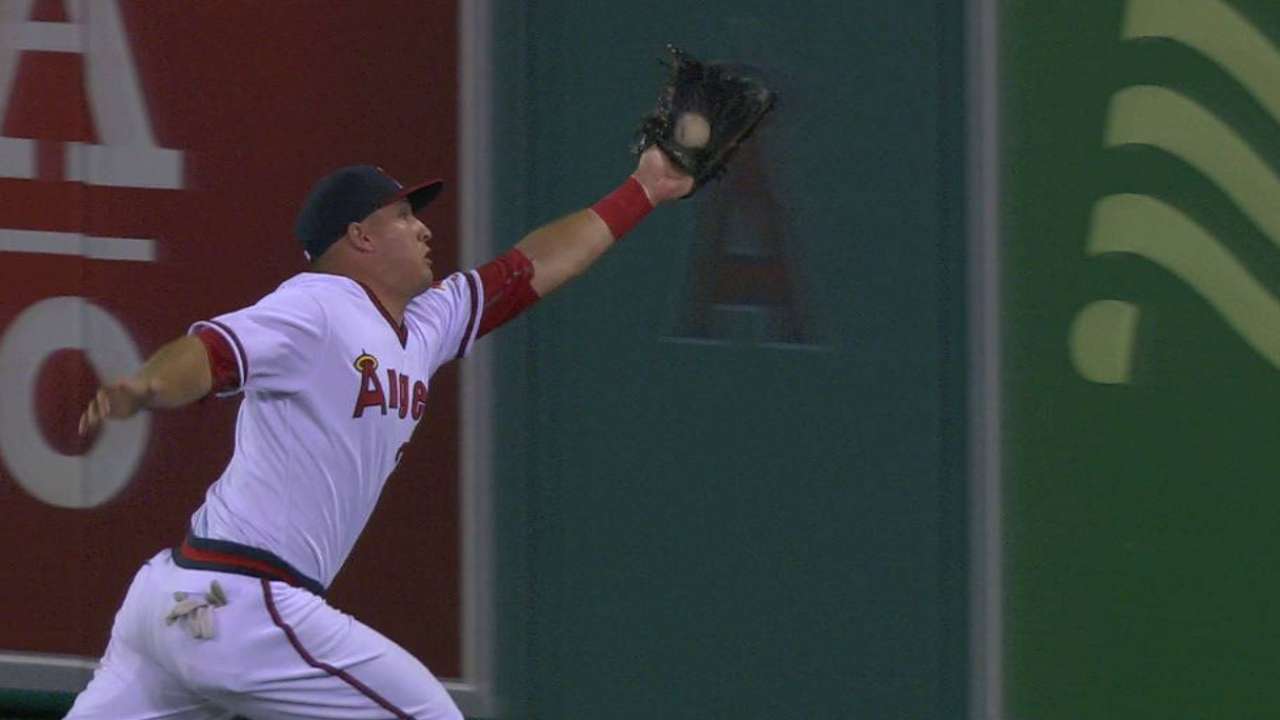 "My good friend Henry Blanco told me that when a pitcher has all the tools and he has his A game, it's easy. It takes a great catcher to guide a pitcher when he doesn't have his best stuff. It's easy when a pitcher has his best stuff, and [Hector] was commanding the ball really well." -- Soto, on what it was like to catch Santiago.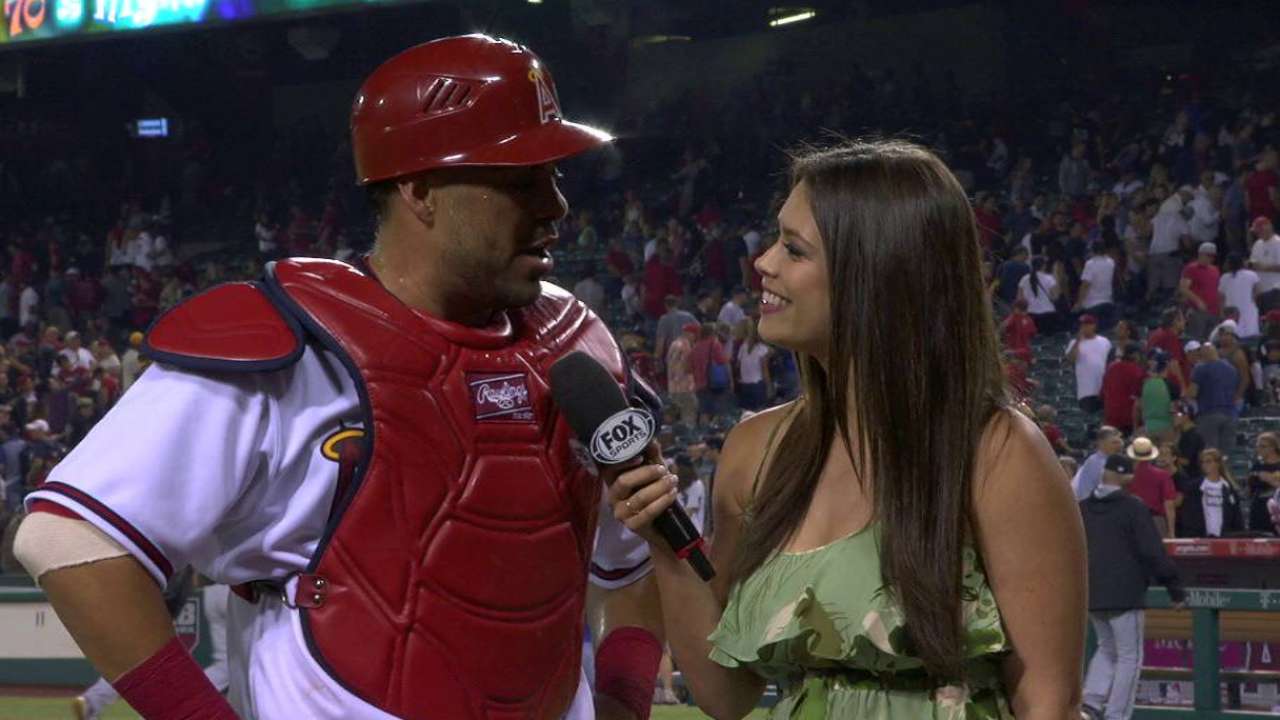 LACK OF OFFENSIVE PUNCH
The White Sox have been shut out five times in their last 13 games, after doing so twice in their first 76 games. They have not scored in the past 23 innings, extending back to the third inning on July 9 against the Braves. Santiago has now allowed zero earned runs in three consecutive starts, becoming the third starter in franchise history to do so. The others are Rudy May (April 23-May 4, 1973) and Joe Saunders (Sept. 18, 2008-April 6, 2009). More >
WHAT'S NEXT
White Sox: James Shields makes his eighth start for the White Sox and 19th overall Saturday night in Anaheim. Shields has a 2-1 record with a 2.21 ERA over his last three starts covering 20 1/3 innings.
Angels: Angels right-hander Matt Shoemaker is looking to continue his hot run at home. Over his last five outings at Angel Stadium, he has a 0.98 ERA and a strikeout-to-walk ratio of 48-to-2. First pitch is scheduled for 6:05 p.m. PT.
Watch every out-of-market regular-season game live on MLB.TV.
Fabian Ardaya is a reporter for MLB.com based in Anaheim.

Scott Merkin has covered the White Sox for MLB.com since 2003. Read his blog, Merk's Works, follow him on Facebook and listen to his podcast.

This story was not subject to the approval of Major League Baseball or its clubs.