Papi says his comments weren't tampering
Red Sox slugger mentioned Jays' Encarnacion as possible replacement for him next year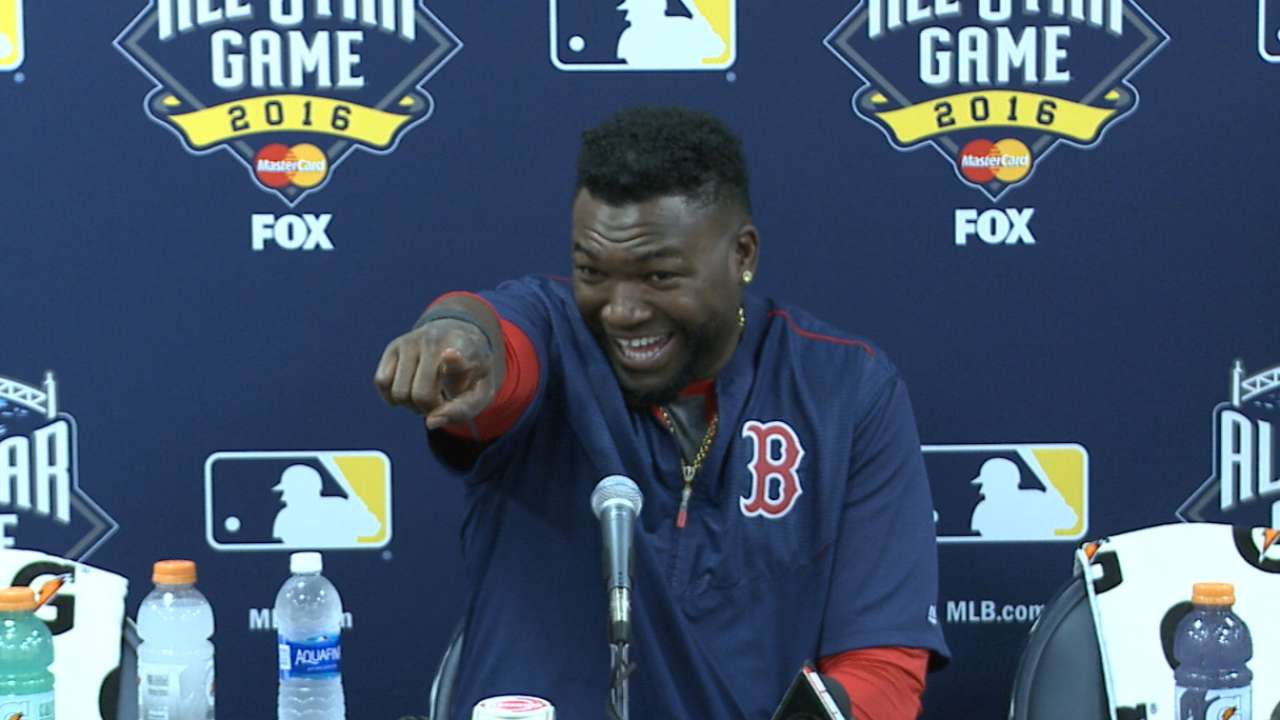 NEW YORK -- Red Sox slugger David Ortiz made it clear that he was not trying to tamper by saying after the All-Star Game that he'd love to see the Blue Jays' Edwin Encarnacion replace him as Boston's designated hitter next year.
Encarnacion is eligible for free agency at the end of the season, and Ortiz felt he was doing nothing more than expressing his opinion on a player he respects greatly.
Sportsnet.ca reported that it could be perceived as a tampering violation. As of pregame on Friday, Ortiz hadn't heard anything from MLB.
"What? Tampering who? Tampering? I don't write no paycheck," Ortiz said. "I can say whatever I want. I'm not a GM or a team owner or whatever. If I say tomorrow that I want to play with LeBron James, am I tampering too?"
As part of a news conference following the All-Star Game, Ortiz said this:
"The Red Sox know, also, that they need to bring force into the middle of the lineup. And, sorry Blue Jays, but who better to do that than Encarnacion?"
Ortiz was otherwise in a good mood Friday as he held court prior to the first game of the second half of the season at Yankee Stadium.
"I'm fine right now," said Ortiz. "The second half is about to begin so hopefully everything goes well just like in the first half. I know how to manage myself and I have good communication with [manager] John [Farrell]. In the second half, it's pretty much my last ride in baseball and I'm going to try my best to do whatever we can to keep on winning ballgames."
Ortiz hadn't heard until reporters brought it to his attention that fellow Boston sports icon Tom Brady of the Patriots decided to serve his four-game suspension for Deflategate rather than try to go through another appeal.
"I don't know what to say," Ortiz said. "He probably has his reasons to do it. He probably got tired of all this [stuff] going on. Who knows? I'll holler at him later and find out what's up."
Worth noting
• Righty reliever Junichi Tazawa is expected to rejoin the Red Sox on Tuesday, the first day he is eligible to come off the disabled list. Tazawa has a right shoulder impingement and was placed on the DL on Thursday, retroactive to July 4.
"Threw an aggressive bullpen today, a 25-pitch 'pen, he's scheduled for another on Sunday," said Farrell. "He felt good coming out of the 'pen today. We would expect him back when he's first eligible."
• Joe Kelly could be in the final stages of his stint at Triple-A Pawtucket before he rejoins the Red Sox as a reliever. Kelly picked up the save for Pawtucket on Friday with two scoreless innings. He struck out three.
"I don't know when we'll see him here yet," said Farrell before Friday's game. "He last threw a couple of innings that were very crisp, very sharp and very efficient, so we know that we're going to look at at least one more outing before he'd put himself in as a candidate to return here."
• While the hope is that closer Craig Kimbrel will be on the shorter side when it comes to his timetable (three to six weeks) for returning from the disabled list for a torn left meniscus, the Red Sox will find out more in the coming days.
"I think these next 7-10 days will be pretty indicative of what the overall time length will be," said Farrell. "There wasn't anything performed in the surgery that would suggest longer than we anticipated."
Ian Browne has covered the Red Sox for MLB.com since 2002. Follow him on Twitter @IanMBrowne and Facebook. This story was not subject to the approval of Major League Baseball or its clubs.