O's Bundy will make 1st big league start Sunday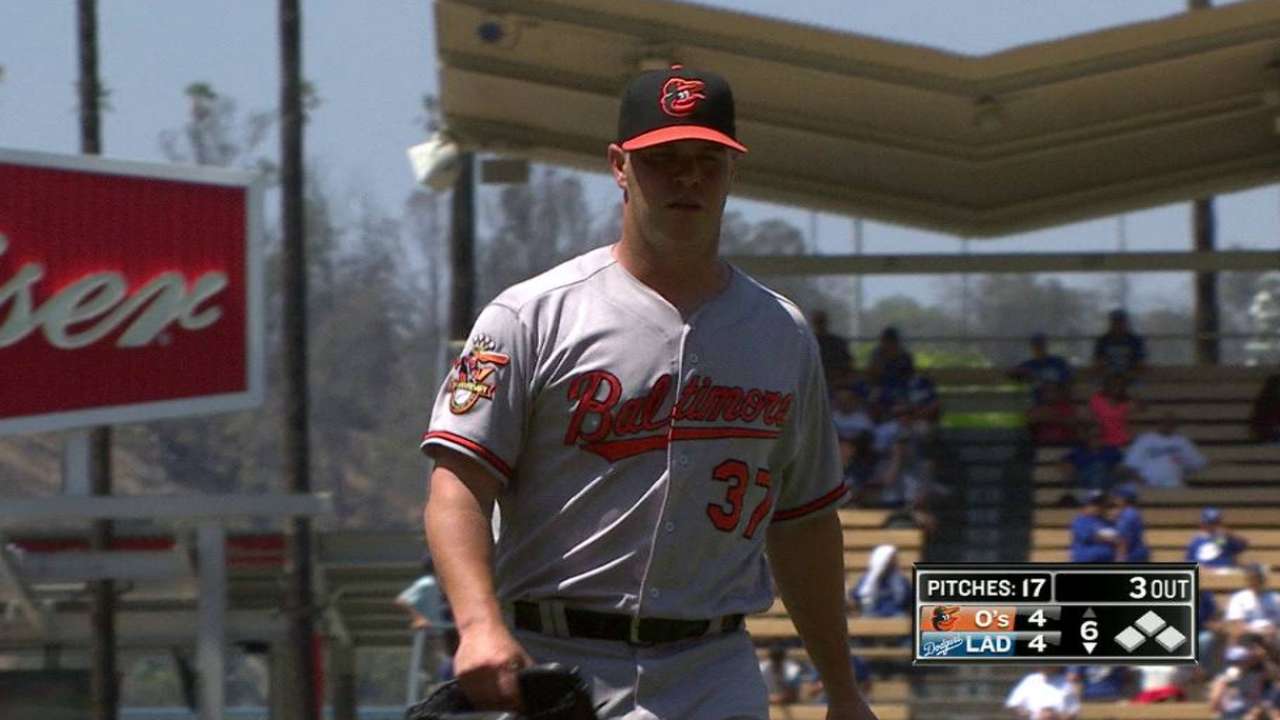 ST. PETERSBURG -- It has never been a question if Dylan Bundy would make a start for the Orioles this season, but when. Now, the long-awaited question for the high-profile rookie has been answered, as Baltimore has tabbed Bundy for Sunday's start against Tampa Bay.
"It was part of the process. Really, he's not going to be doing a whole lot different than what he's been doing," manager Buck Showalter said of Bundy, who had been in the bullpen since Opening Day. "He's had had three or four days off, sometimes five, and pitched multiple innings. That's kind of what he's going to do now.
"The process started in the offseason. We've followed a pretty strict regimen to get to this point. There's 75 games left, and you're always trying to manage what's best for the player and what the needs of the club are. I've talked to a lot of people about it medically, trainers and pitching coaches, and everyone's in agreement. There's no set [blueprint coming back from Tommy John surgery]. All this stuff about incremental jumps and all that, it's very convenient to say all those things, but there's nothing to back it up. It's all individual. Dylan feels good."
Bundy said Showalter told him on Thursday during the team's workout. While there is sure to be a pitch count -- considering his high this year is 57 pitches -- it's not something the right-hander is concerned about.
"I'm sure there is, but I don't know anything about it, which is all I care to know about it," Bundy said. "I'm just going to go out there to compete and give the team as many innings as I can."
Showalter didn't give a set number, either, and wouldn't commit to whether Bundy could remain in the rotation. The O's starters have struggled all year to go deep into games, and gradually stretching out the righty is an option.
"Tampa will tell us. The next team will tell us. We've been making adjustments since Sarasota, the first day," Showalter said. "We take information in and try to put our best foot forward. Right now, we think Dylan is potentially our best foot forward.
"We want to make sure the answers aren't in our own backyard before we start coveting a bunch of other people's players. It's also a lot cheaper. We don't have to trade a single player for Dylan or [reliever Donnie] Hart."
Bundy, 23, has a 3.08 ERA in 22 relief appearances with the Orioles this year. He was the No. 4 overall pick in the 2011 Draft and has allowed three earned runs and struck out 23 in his past 20 1/3 innings. This is his first full season since Tommy John in '13.
"Absolutely, I'm really excited," Bundy said. "First Major League start for anybody is going to be exciting. I'm excited for it, and we'll see how it goes."
Brittany Ghiroli is a reporter for MLB.com. Read her blog, Britt's Bird Watch, follow her on Facebook and Twitter @britt_ghiroli, and listen to her podcast. This story was not subject to the approval of Major League Baseball or its clubs.