Cole coming off DL; Pirates healing up
Cervelli, Vogelsong currently on rehab assignments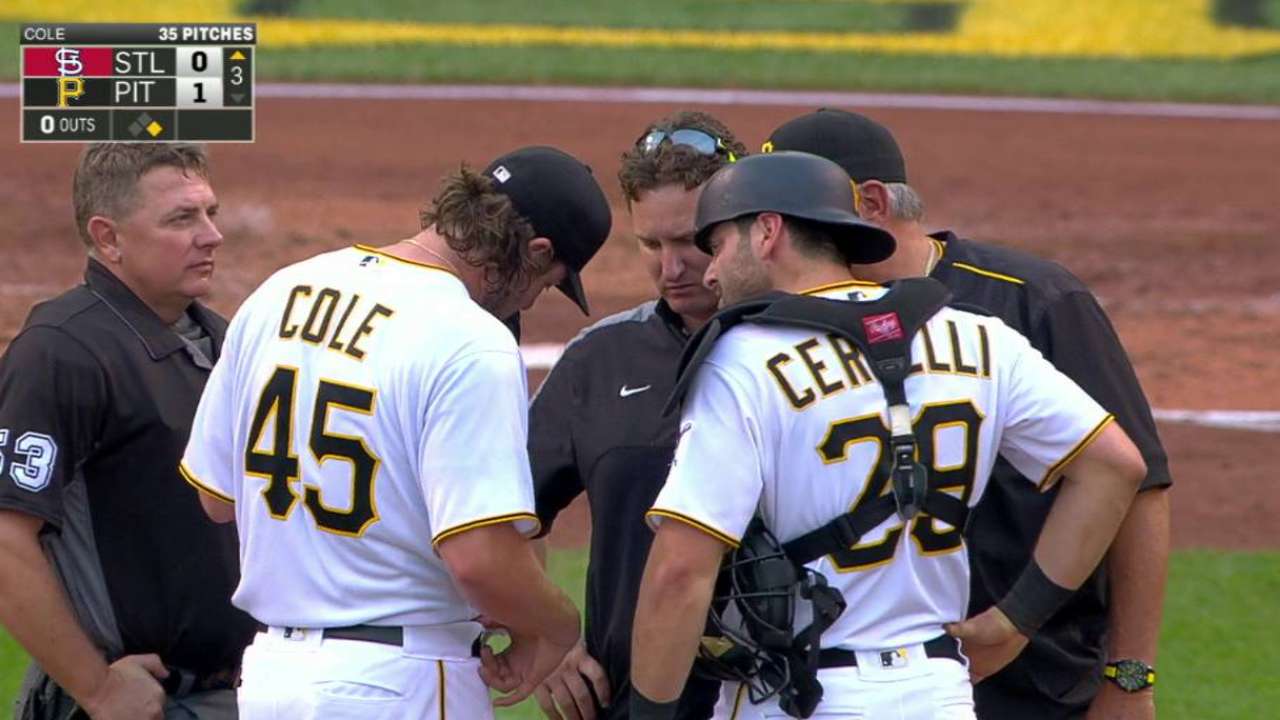 PITTSBURGH -- Several injured Pirates are on the mend entering the second half of the season.
Pittsburgh ace Gerrit Cole is scheduled to come off the disabled list and start Saturday's game against the Nationals, his first outing since leaving his June 10 start due to a strained right triceps. Cole, who finished fourth in the National League Cy Young Award voting last year, is 5-4 with a 2.77 ERA in 12 starts this season.
Cole made two Minor League rehab starts for Triple-A Indianapolis, allowing four hits and striking out 12 over eight scoreless innings. He threw five innings and 70 pitches on Sunday, putting him in line for a relatively standard starter's workload on Saturday.
"I'm excited to be able to compete again," Cole said. "I'm sure they'll kind of take it inning by inning, see how the game is unfolding. I would imagine I'm probably not going to throw 130 [pitches]."
Catcher Francisco Cervelli, out since June 10 due to a fractured hamate bone, began a Triple-A rehab assignment Thursday night, going 2-for-4 with a walk and an RBI while catching seven innings. Cervelli's stint in the Minors can last up to 20 days, but he likely will return to the Pirates before that period is over.
"The hands are still a little slow," Cervelli said Friday. "I'll put in a little more work, and I'll fix it. It's just that during the time that I wasn't playing, the reaction was kind of slow."
Veteran right-hander Ryan Vogelsong, fully recovered from the multiple facial fractures he sustained on May 23, will continue his rehab assignment with Double-A Altoona on Friday.
Vogelsong allowed three runs on six hits over five innings in a Double-A start on Sunday. He expects to return when eligible on July 23, though the role he will assume at that time is unclear.
Rotation partially set
With Francisco Liriano starting Friday and Cole on Saturday, rookie right-hander Chad Kuhl will take the mound for Sunday's series finale vs. the Nationals. Left-hander Jeff Locke will start Tuesday against the Brewers, but manager Clint Hurdle said he had not determined who will pitch the final two games of that series.
The Pirates, who demoted fifth starter Jon Niese to the bullpen Friday, could employ a four-man rotation for the next few weeks as they enjoy a spate of off-days, or they could turn to one of their top prospects. Right-hander Jameson Taillon, on the DL due to shoulder fatigue and to limit his innings, is expected to return shortly after the break, while Tyler Glasnow, who made his Major League debut last week, officially joined Triple-A Indianapolis on Thursday after being optioned last week.
Minor moves
Reliever Rob Scahill, who spent parts of the last two seasons in Pittsburgh, was claimed off waivers on Tuesday by the Brewers. Scahill was designated for assignment on July 3. The Pirates signed left-hander Josh Outman to a Minor League contract last week. Outman, 31, last pitched in the Majors for the Indians and Yankees in 2014, going 4-0 with a 2.86 ERA in 40 appearances. He allowed seven runs on nine hits over three innings for Indianapolis on Saturday.
Adam Berry has covered the Pirates for MLB.com since 2015. Follow him on Twitter at @adamdberry. MLB.com reporter Alex Putterman contributed to this report. This story was not subject to the approval of Major League Baseball or its clubs.