MLB.com Columnist
Mike Petriello
How Ramos became the best-hitting catcher
Nationals backstop credits eye surgery for better performance at the plate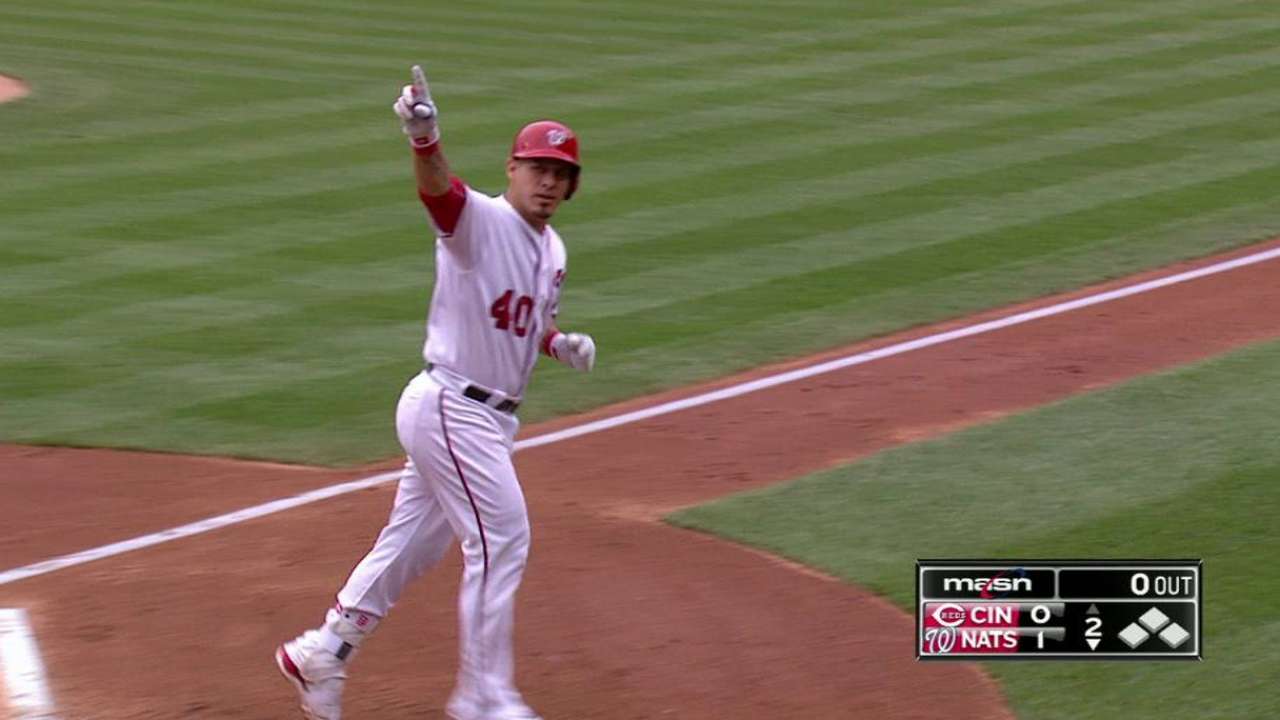 Wilson Ramos entered the All-Star break as the best-hitting catcher and the most improved hitter. Those are lofty claims, but they're both true, and we'll back them up with numbers shortly. For the moment, accept those truths so we can get right to the point: How in the world does a veteran catcher improve so drastically?
If you ask Ramos -- and we did, at the annual All-Star Media Day in San Diego on Monday -- it all came down to one choice, one the Washington backstop termed "the best decision I've made." In early March, he underwent laser eye surgery, aimed at resolving vision issues that arose during his annual team physical.
"It helped me a lot to better recognize the pitches that are coming, helped me to not swing at pitches out of the zone," Ramos said.
And intuitively, that makes a lot of sense. We know so much about how important it is to make contact inside the strike zone (and how damaging it can be to make poor contact on lousy pitches) that being able to identify what type of pitch is coming and where it's going is of paramount importance. If players can get procedures to patch up elbows, knees and shoulders, why not eyes?
Realize just how good Ramos has been, and this is where we back up those earlier claims. His .330/.382/.536 line tops the other 21 catchers who have had at least 200 plate appearances, and that's true whether you prefer simple OPS (.918, well ahead of Jonathan Lucroy's .853) or the more advanced wRC+ (143, ahead of Buster Posey's 128). Ramos has been Washington's second-best hitter behind Daniel Murphy (sorry, Bryce Harper), and he's been as effective as Nelson Cruz and Paul Goldschmidt. It's been a really good half-season.
Now, whether or not you think Ramos is a better hitter than those players is another discussion entirely. The point is that he has been this year, and that's not really up for debate, because those numbers are in the books and they say what they say. But what's also not up for much of a debate is that Ramos was arguably baseball's worst regular catcher over the previous two seasons, hitting a mere .245/.275/.375, and this is where we get to the "most improved" title.
Over the past two seasons, 215 players have had at least 200 plate appearances. Let's use wRC+ (an all-inclusive park-adjusted stat, with 100 set as being "league average" for easy comparison), and see which players improved the most from last year to this year:
Biggest wRC+ improvements, 2015-16 (min. 200 PA each year)
1. Ramos, +80 points
2. Jake Lamb, +60 points
3. Victor Martinez, +51 points
4. (tie) Jean Segura / Ian Desmond, +50 points
It's just a massive difference. Last year, Ramos was 37 percentage points below the average hitter. This year, he's 43 percentage points better than the average hitter. Can it really just be about seeing the ball better?
"Defensively, I was feeling great, but offensively, I was swinging at a lot of bad pitches," Ramos said.
And since we live in the future, that's something we can easily put to the test.
Last year, Ramos chased a little more than 36 percent of the pitches he saw outside the strike zone. The year before, that was 38 percent. The Major League average is around 30 percent, and there's just nothing good that can happen for Ramos when he does that. When making contact outside the zone last year, Ramos hit just .105, with a poor 82.5-mph exit velocity. He also had particular trouble with the slider, hitting .187 with a 36-percent swinging-strike rate on the pitch.
And this year? Ramos has cut that chase rate down to 30 percent. He's cut his strikeout rate overall from 20 percent to 13 percent, and his performance against the slider has shot up to a .333 average, with only 25 percent swinging strikes. As Ramos said, "I can recognize the pitch now really well," and while we can't say with certainty the vision improvement is the only reason behind his All-Star campaign, there's more than enough evidence to believe it's playing a role.
After all, it's difficult enough to hit Major League pitching these days even with perfect eyesight. With vision limitations, it seems nearly impossible, and Ramos' struggles over the past two years back that up.
"I can say to everybody, if you have eye problems, get that surgery, because it's been a lot of help," Ramos said.
It certainly seems that way.
Mike Petriello is an analyst for MLB.com and the host of the Statcast podcast. He has previously written for ESPN Insider and FanGraphs. This story was not subject to the approval of Major League Baseball or its clubs.