Midterm Report: Team-by-team first-half recaps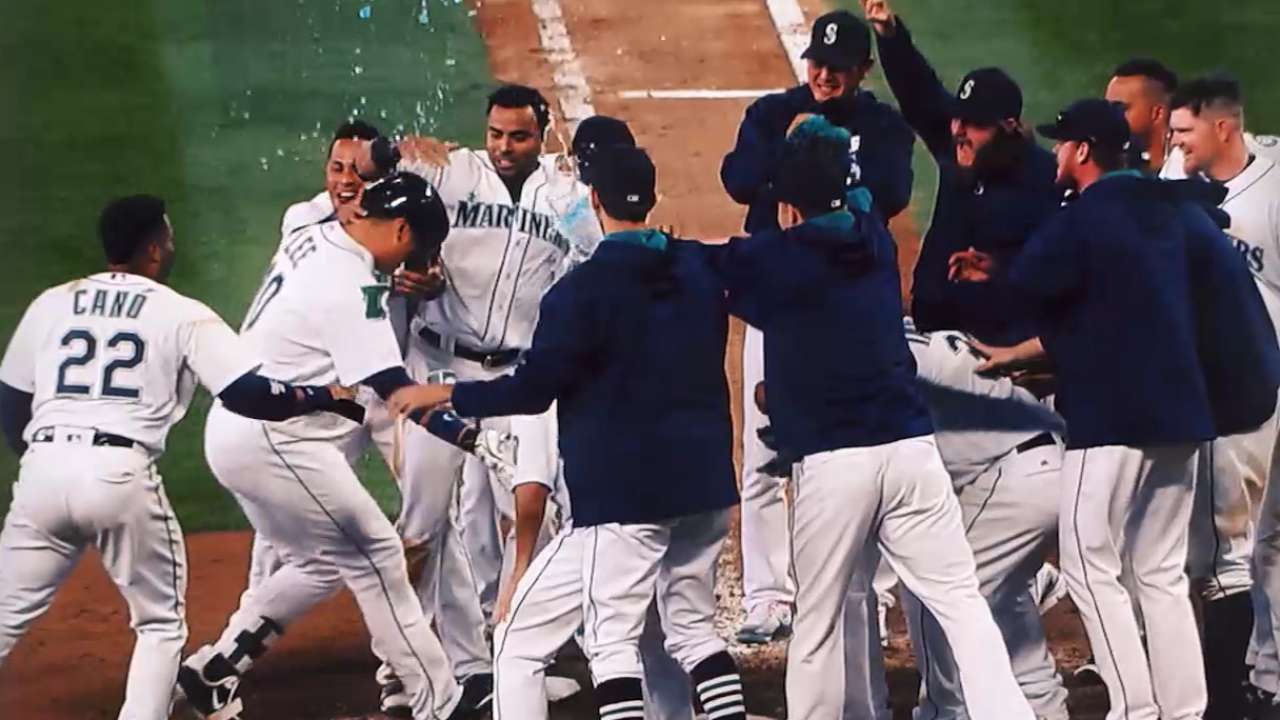 Every year by the All-Star break the shape of the Major League season has started to crystallize. Some teams come as advertised and dominate from Opening Day; others come out of nowhere. Perennial Most Valuable Player candidates play up to their billing, or falter, and fresh faces take their place.
Now, with the Midsummer Classic in the books and the season about to enter its stretch run, MLB.com takes a look back at the first half for all 30 teams. Clubs are listed alphabetically by division.
AMERICAN LEAGUE EAST
Blue Jays
: After a slow start, the defending American League East champs are back in the mix for a playoff spot, and back-to-back division titles are within reach if the Jays' big bats and starting pitchers keep up the pace. More >
Orioles
: The O's powerful lineup, led by Manny Machado and Mark Trumbo, and a stellar back end of the bullpen have them atop the AL East at the break despite shaky starting pitching. More >
Red Sox
: A team spearheaded by the age-defying brilliance of David Ortiz and a young trio of All-Star starters in Mookie Betts, Jackie Bradley Jr. and Xander Bogaerts looks poised to contend down the stretch. More >
Rays
: Evan Longoria's resurgence has been a sight to behold, even though injuries and struggles in the areas the franchise is built on, pitching and defense, have the Rays at the bottom looking up at the rest of the AL East. More >
Yankees
: The vaunted Dellin Betances-Andrew Miller-Aroldis Chapman trio has lived up to the hype, but the Yanks entered the break at .500, and if they want to make a run, their veterans -- other than All-Star Carlos Beltran -- need to find their old form. More >
AMERICAN LEAGUE CENTRAL
Indians
: The Indians are in first place in the AL Central by 6 1/2 games at the break thanks to a dominant starting rotation led by All-Stars Corey Kluber and Danny Salazar -- and if Michael Brantley can return and contribute in the second half, look out. More >
Royals
: The World Series champs find themselves tied for third place in their division due to poor starting pitching and inconsistent offense, with injuries to key players Alex Gordon, Mike Moustakas and Lorenzo Cain. They hope star players like Eric Hosmer and Wade Davis can help right the ship. More >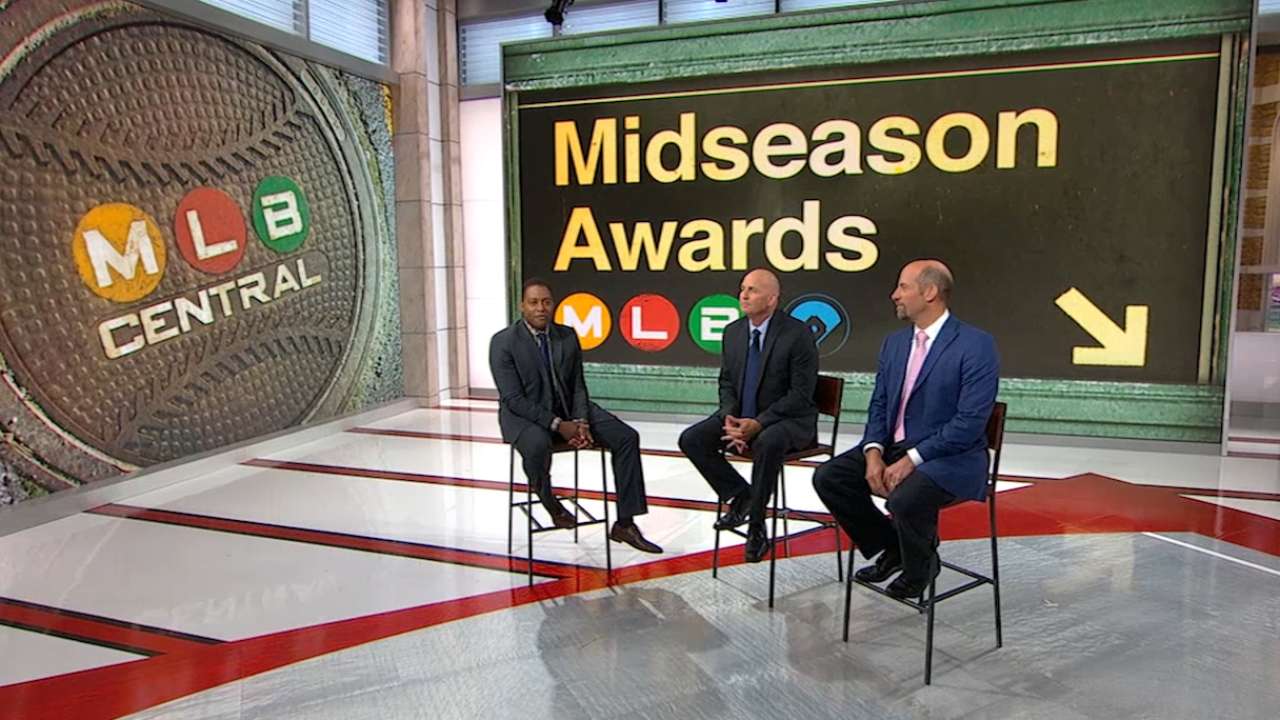 Tigers
: Ian Kinsler has been great, veterans Miguel Cabrera and Victor Martinez are their usual productive selves and rookie Michael Fulmer has been a pleasant surprise in the rotation, but the Tigers have had a roller-coaster first half. More >
Twins
: Despite the Twins having the worst record in the AL at the All-Star break, their second half will showcase their talented young players -- including Byron Buxton, Miguel Sano and Max Kepler -- as they get a long look in the big leagues. More >
White Sox
: The White Sox got off to a scorching hot start thanks to the likes of Adam Eaton and All-Star starter Chris Sale. That fizzled out, but they've been playing better baseball of late and are over .500. More>
AMERICAN LEAGUE WEST
Angels
: The Angels are cellar-dwellers are for the first time in Mike Scioscia's 17-year tenure as manager, as their starting rotation has been decimated by injuries, with maybe the most worrisome being to ace Garrett Richards. But they still have Mike Trout. More >
Astros
: Last year's AL Wild Card Game winners started slow, but with Jose Altuve playing like an MVP and still loaded with talented young players like Carlos Correa, they've turned things around and are seven games over .500 at the break. More >
A's
: Rich Hill and Marcus Semien have been the highlights for the A's, whose first-half was plagued by injuries to a slew of important players, including ace Sonny Gray, whose best stuff also eluded him. More >
Mariners
: A deep offense led by Robinson Cano, Nelson Cruz and Kyle Seager has the Mariners a game over .500, but the health and performance of Felix Hernandez and Taijuan Walker in the coming weeks could determine the course of their season. More >
Rangers
: The Rangers have the best record in the AL and a 5 1/2-game division lead with Ian Desmond and Cole Hamels leading the way. They're looking to make a deep playoff run, and Yu Darvish coming back healthy and sharp would be a huge boost. More >
NATIONAL LEAGUE EAST
Braves
: The Braves are in last place, but they've seen some encouraging signs from players like franchise cornerstones Freddie Freeman and Julio Teheran, as well as some young up-and-comers. More >
Marlins
: The surprising Marlins are tied for second in the NL East, six games over .500, with strong first-half efforts from outfielders Marcell Ozuna and Christian Yelich, the electric Jose Fernandez -- and, of course, 42-year-old Ichiro Suzuki. More >
Mets
: Carried by All-Stars Yoenis Cespedes, Noah Syndergaard and Jeurys Familia, the Mets are six games over .500, but a tie for second place in their division has to feel like a disappointment to an injury-ravaged team that made last year's World Series. More >
Nationals
: The Nats feature a full slate of All-Stars -- Daniel Murphy, Bryce Harper, Stephen Strasburg, Max Scherzer and more -- and they surged into the All-Star break with a six-game lead in the National League East. More >
Phillies
: The team with MLB's worst record a year ago is improving, with young pitchers like Vince Velasquez and Jerad Eickhoff doing their part, as well as emerging All-Star leadoff man Odubel Herrera. More >
NATIONAL LEAGUE CENTRAL
Brewers
: Jonathan Lucroy has been one of the best catchers in baseball this season, and Ryan Braun has also been very productive at the plate, two players to watch on a rebuilding team. More >
Cardinals
: The Redbirds haven't prevented runs like they did in 2015, but with a lineup led by Carpenter -- who enters the second half on the DL -- and rookie Aledmys Diaz, they're a game out of a Wild Card spot at the All-Star break and looking to make yet another run. More >
Cubs
: The Cubs, even with late first-half scuffles, have been a juggernaut. Jake Arrieta has looked mortal of late, but he and Jon Lester still front a formidable rotation, and the return of Dexter Fowler will add to an already-deep lineup led by fellow All-Stars Kris Bryant and Ben Zobrist. More >
Pirates
: The Pirates have a deep roster and players like Starling Marte and Gregory Polanco have starred, but to make it back to the playoffs for a fourth straight year, they'll need current cornerstones Andrew McCutchen and Gerrit Cole to play at the level they know they can. More >
Reds
: Adam Duvall has emerged as one of the top home run hitters in the league, and Jay Bruce has returned to All-Star-level production, but the Reds' rebuild is continuing in 2016 as their young players adjust to big league play. More >
NATIONAL LEAGUE WEST
D-backs
: The injury bug -- and underperformance from their stars -- bit the D-backs in a disappointing first half, but their biggest names, Paul Goldschmidt and Zack Greinke, have gotten back on track as the season went on, an encouraging return to form. More >
Dodgers
: The Dodgers trail the Giants by a sizable margin in the NL West, but they currently hold the first NL Wild Card slot, Clayton Kershaw could be the MVP and Corey Seager looks like the Rookie of the Year. More >
Giants
: It's an even year, and the Giants are once again on top of the game. They have the best record in baseball, with usual suspects Madison Bumgarner, Buster Posey and Brandon Crawford -- as well as newcomer Johnny Cueto -- leading the charge. More >
Padres
: The two All-Star representatives for the Midsummer Classic's host city have been the bright spots so far this season -- Wil Myers looks like one of the top young hitters in the game, and Drew Pomeranz has excelled on the mound. More >
Rockies
: The next few weeks are critical for the Rockies. Nolan Arenado and Carlos Gonzalez are one of the most powerful lineup duos in baseball, and rookie Trevor Story has pounded out 21 homers of his own, but they're eight games under .500 at the break. More >
David Adler is a reporter for MLB.com based in New York. Follow him on Twitter at @_dadler. This story was not subject to the approval of Major League Baseball or its clubs.