Phillies' rebuild moving faster than expected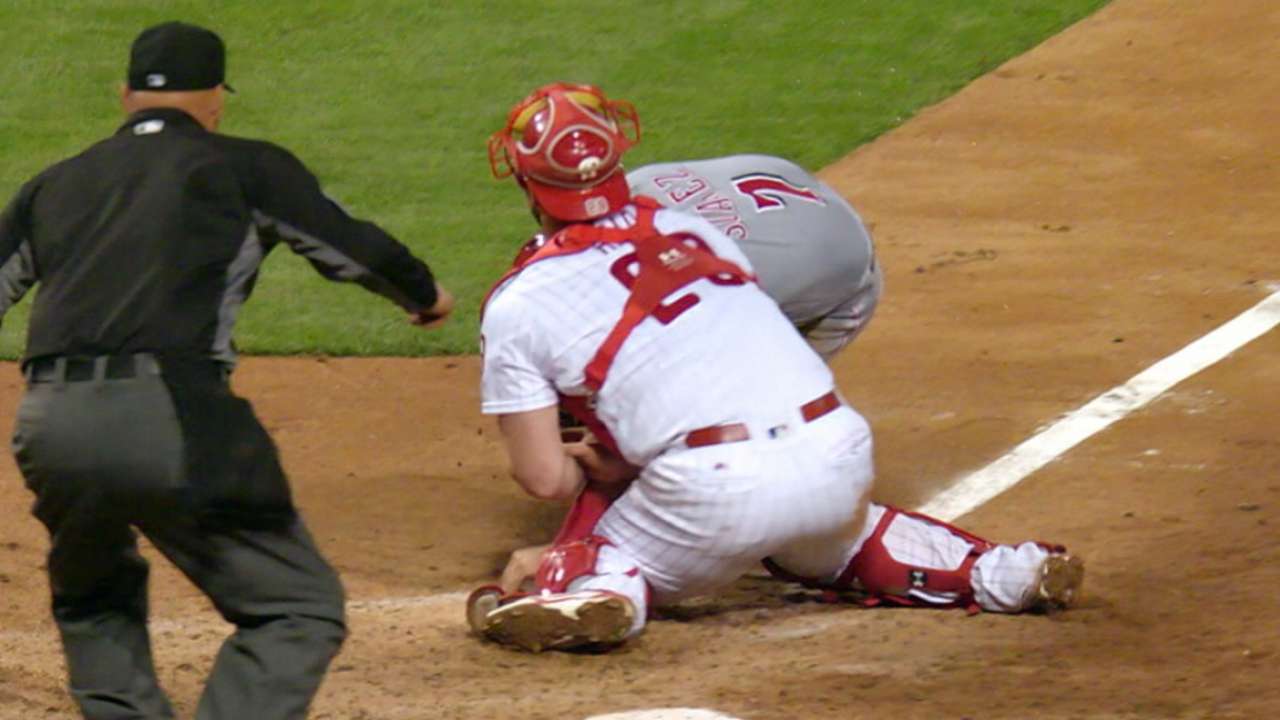 PHILADELPHIA -- Things were always going to be different for the Philadelphia Phillies in 2016.
They entered Spring Training with a different president, general manager and manager than the spring before. The Phillies' clubhouse in Clearwater, Fla., had a different feel, too. Of course, that happens when veterans like Chase Utley, Cole Hamels, Cliff Lee and Jonathan Papelbon are replaced with youngsters like Maikel Franco, Vince Velasquez, Odubel Herrera, Aaron Nola and Jerad Eickhoff.
Out with the old, in with the new. And a few more victories, too.
The Phils had the worst record in baseball last season, but they entered the All-Star break at 42-48, which is 11th from the bottom. While that is not good enough to make a run at the postseason, it is sign of progress. And that is what this season is about: making progress in the rebuild.
Here is a look back at the Phillies' first half:
WHAT WENT RIGHT
Anybody who followed the Phillies closely should have figured they would be better because their starting pitching would be better. Ten pitchers not named Hamels, Nola, Eickhoff and Adam Morgan posted a combined 6.19 ERA in 106 starts in 2015. But this season's rotation of Jeremy Hellickson, Nola, Eickhoff and Velasquez has generally pitched well. The rotation's 4.32 ERA is in the top half in baseball. Pitching can overcome deficiencies elsewhere. Pitching wins.
WHAT WENT WRONG
Until late June, Philadelphia's offense had been on pace to be the lowest-scoring team in a non-strike season since 1972. The lack of offense did not hurt the Phillies during their 24-17 start, but when the rotation started to struggle, the club had no chance to win.
WHAT WE LEARNED
The Phils have the makings of a pretty solid rotation. They also have some intriguing arms in the bullpen. But they still need hitters. Herrera and Franco are safe bets to be part of the club's future. Cameron Rupp has been a surprise, putting him into play as well. But is there any other position where somebody would say, "That guy is probably going to be here in a couple of years"? Not really, which means the players currently in those positions still have plenty to prove.
FIRST-HALF TOP POSITION PLAYER
Herrera was the Phillies' only All-Star representative, and it was because he had been consistently good since Opening Day. The guy can flat out hit. He has also dramatically improved his walk rate from his rookie season. If the Phils can find some consistent hitting behind Herrera, he will be a dangerous leadoff hitter.
FIRST-HALF TOP PITCHER
Nola had the nod through May, but then he struggled in his final five starts before the break. Velasquez has dazzled at times, but Eickhoff has been the rotation's most consistent pitcher. He posted a 3.80 ERA in 18 starts and proved to be the Phillies' stopper during their grueling stretch from mid-May to late June.
FIRST-HALF TOP ROOKIE
Believe it or not, but a young team like the Phils doesn't have a bunch of rookies on the roster. Tommy Joseph is the most notable. He got promoted from Triple-A in mid-May and played so well that manager Pete Mackanin formally moved Ryan Howard to the bench. Joseph struggled for a bit, but he finished the first half on a high note. It will be a big second half for him as he tries to prove he should be the team's first baseman going forward.
Todd Zolecki has covered the Phillies since 2003, and for MLB.com since 2009. Read his Phillies blog The Zo Zone, follow him on Twitter and listen to his podcast. This story was not subject to the approval of Major League Baseball or its clubs.