Youngsters show off their skills at Petco
Winners crowned in Scotts Pitch Hit & Run national finals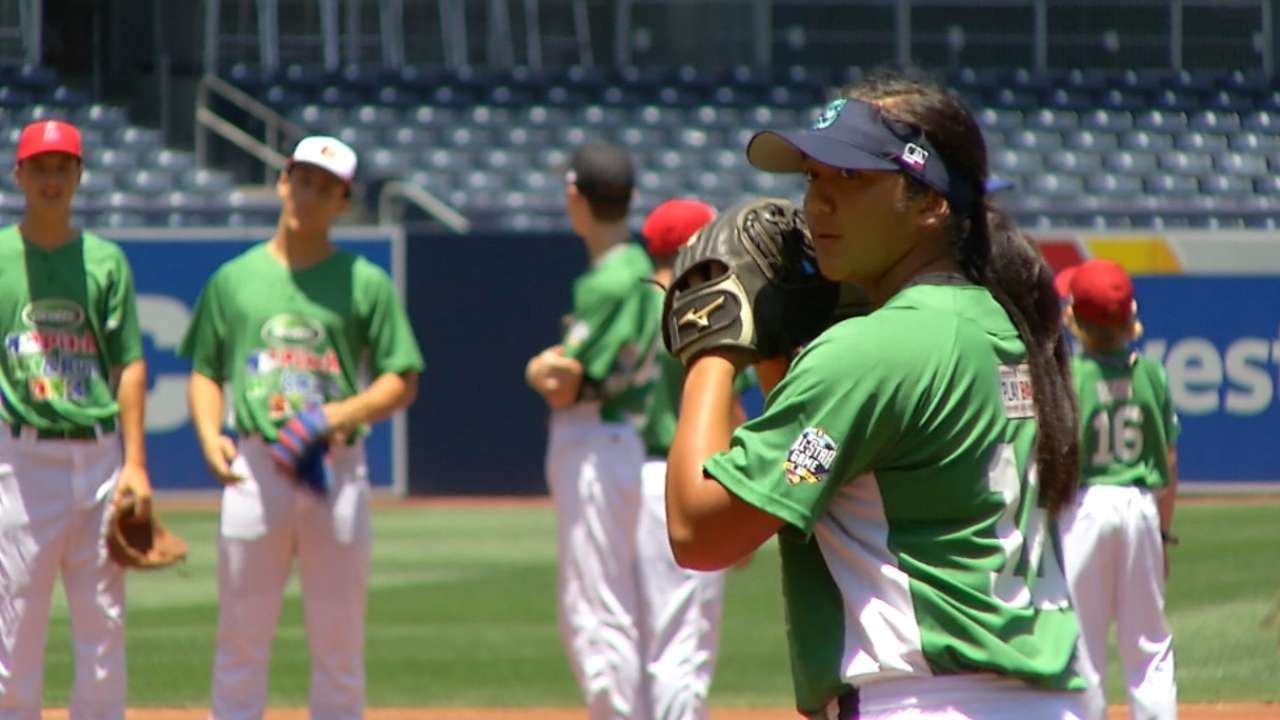 SAN DIEGO -- Prior to the big league All-Stars taking the field for the 2016 T-Mobile Home Run Derby on Monday night, some of the top talent in youth baseball got a chance to showcase their skills at Petco Park in the Scotts Pitch Hit & Run national finals. Three kids in each age group -- 7/8, 9/10, 11/12 and 13/14 -- competed in both boys baseball and girls softball as part the Play Ball and youth activities that have been happening in San Diego throughout All-Star Week.
The highlight of the event came when the 13-14 baseball division champion Jack Bulger of Bowie, Md., launched a ball to dead center field and one-hopped the outfield wall. Two days after finishing second in the T-Mobile Jr. HR Derby National Finals, Bulger was ecstatic to come out on top.
"It feels like redemption," Bulger said. "I wanted to get back on the field and see if I could make up for that -- and I did. I just put in everything I have. My first swing was pretty good, so I could just unload on all the rest and watch it fly."
The 2016 All-Star Game presented by MasterCard and staged at Petco Park is set for Tuesday, with coverage starting at 7:30 p.m. ET on FOX.
To take home the PHR championship, each participant competed in three different categories. The first involved six chances to pitch a softball from 35 feet away (for the girls) or a baseball from 45 feet (for the boys) to a target 17 inches by 30 inches (the size of a Major League strike zone). The second event was hitting off a tee for both distance and accuracy (the goal is to hit the ball straight up the middle, as far as you can on the fly). And the final event was a timed dash from second base, around third and to home plate.
Rylee Kalocay from Upper St. Clair, Pa., and Alexander Smith from Miami took home the 7/8 softball and baseball divisions, respectively. Kate Verhoef of Aliso Viejo, Calif., and Elias Bosang of nearby Santee, Calif., won the 9/10 softball and baseball divisions, respectively. Kaiea Higa of Maple Valley, Wash., and Elijha Hammill of Oakville, Ontario, took home the 11/12 softball and baseball titles, respectively. Bulger took the boys' honors in the oldest division, while Abby Larson of Marlborough, Mass., won the 13/14 softball championship.
For Larson, she couldn't have had a better experience.
"It is so amazing," Larson said. "Actually stepping out and getting to play on the same field as MLB players was a great experience."
But while not everyone could be crowned champion, PHR representative Matt Engleka was quick to remind people that just getting to this point was a tremendous accomplishment.
"What a great opportunity for these kids to be out on the same field where the MLB stars are going to be standing," Engleka said. "They've outscored over 625,000 kids across North America and earned this trip of a lifetime. Considering the big stage these young ballplayers were placed on today, they all did outstanding."
Jake Schwartzstein is an editor for Major League Baseball. This story was not subject to the approval of Major League Baseball or its clubs.