Trout already big part of All-Star Game history
Angels slugger is just 6th AL player to make 4 starts before 25th birthday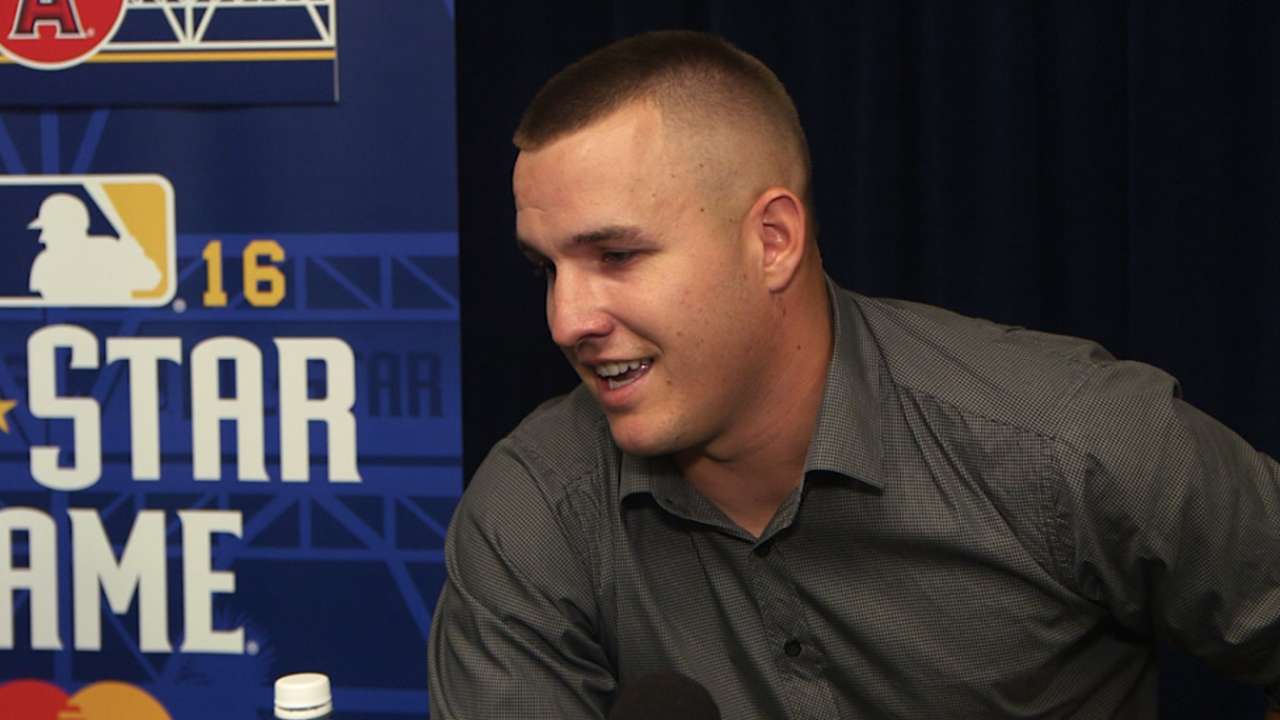 SAN DIEGO -- Angels slugger Mike Trout's third All-Star Game was the last one for Derek Jeter, and now his fifth is the last one for David Ortiz -- except Trout doesn't believe it just yet.
"I don't think Big Papi is going to retire," Trout said during Monday's media availability. "I keep telling him that. With them numbers, I wouldn't retire."
The 2016 All-Star Game presented by MasterCard and staged at Petco Park is set for today, with coverage starting at 4:30 p.m. PT on FOX. It'll be Ortiz's 10th at age 40, and Trout's fifth at age 24.
Trout, the Angels' lone representative, will bat second and play center field while becoming the sixth American League player to make four All-Star Game starts before his 25th birthday, joining Ken Griffey Jr., Joe DiMaggio, Mickey Mantle, Al Kaline and Ivan Rodriguez. In the prelude to the event, Trout was asked if he could see himself playing until age 40, just like Ortiz.
Trout smiled.
"That's the goal," he said. "I want to play as long as I can."
Trout would be the clear-cut favorite for the AL Most Valuable Player Award if his Angels weren't 15 games below .500, with 5.5 FanGraphs Wins Above Replacement to lead Major League position players.
Trout remains a hallmark of consistency, but it's the constant evolution of his game that is most impressive.
Trout entered the 2016 season with aspirations of stealing more bases and racking up fewer strikeouts. He has accomplished both without sacrificing any other aspect of his game. Trout has already stolen 15 bases, four more than he had all of last year, one fewer than he picked up in 2014 and on pace to finish with 27.
He's been caught only once.
"That was it coming into the year," Trout said. "I wanted to run more."
Trout is running at a point in his career when the public believed his evolving power would no longer let him. He has added a .322/.425/.567 slash line and 18 home runs to his stolen-base total and has struck out a career low 18.4 percent of the time, which he credits largely to being more aggressive early in counts.
On pitches up in the zone, where Trout was once believed to be vulnerable, he's batting .324/.621/.595, two years after batting just .076/.397/.152 with pitches in that location.
On 0-2 counts, Trout is batting .308 -- and the Major League average is .152.
Orioles slugger and ex-teammate Mark Trumbo called Trout "the true definition of an all-around player," then pointed to perhaps his greatest improvement of all.
"His throwing is something that really stood out," Trumbo said of Trout, who already has five outfield assists, two shy of his career high. "It's something that the league is taking notice of. That's a huge addition to him. There's absolutely no weaknesses in the guy's game now."
Trout is on pace to finish within the top two in MVP voting in each of his first five full professional seasons, a feat no one has ever accomplished. Trout will take the field on Tuesday as the only player to be named MVP of the Midsummer Classic in back-to-back seasons, to which he recently asked: "What do you think I should do next?"
Whatever Trout wants, really.
"Mike just always keeps everything so simple," agent Craig Landis said. "I think he approaches it just like he did in high school and just like he did in Little League. Every night, you want to go out and have fun with your teammates and try to win the ballgame, and that's it. It's that simple. He doesn't make it too complicated."
Alden Gonzalez has covered the Angels for MLB.com since 2012. Follow him on Twitter and Facebook, and listen to his podcast. This story was not subject to the approval of Major League Baseball or its clubs.