Cueto, Sale take mound first in ASG tonight
Harper, Trout set to shine from No. 2 spot in NL, AL lineups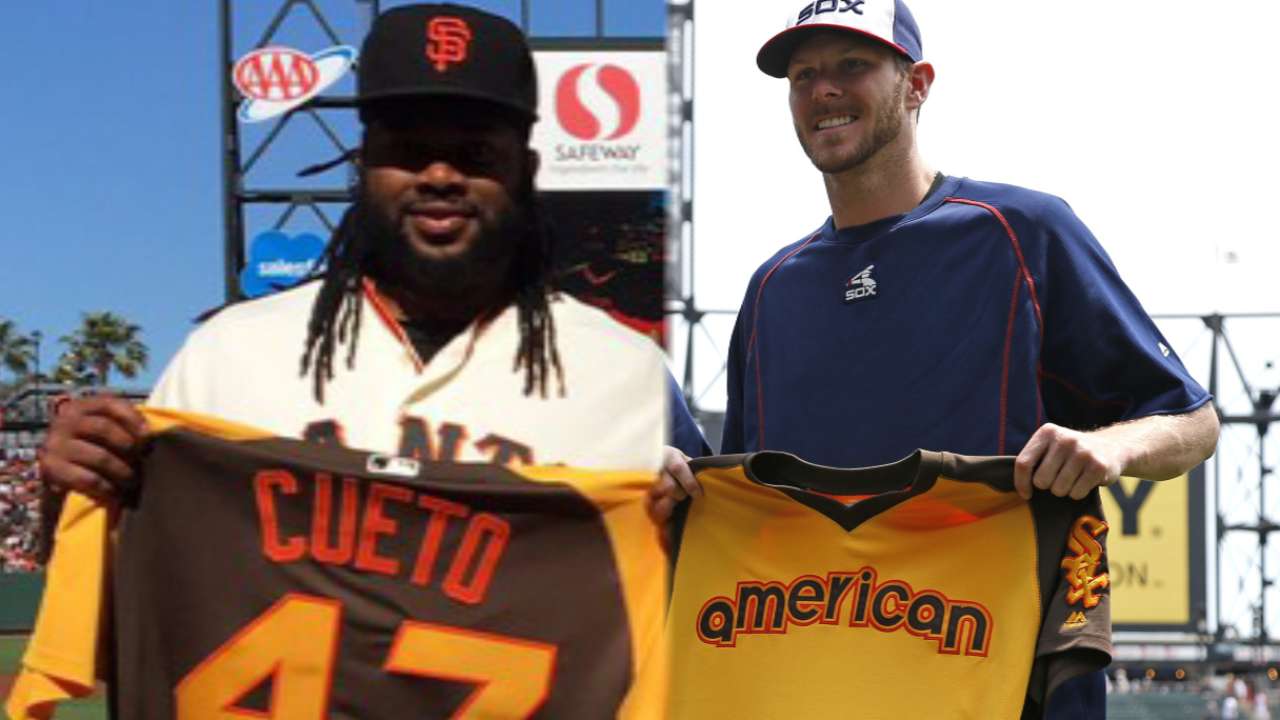 SAN DIEGO -- America's Finest City will serve as the stage for one of baseball's finest events tonight, as Petco Park hosts the All-Star Game presented by MasterCard for the first time (7:30 p.m. ET on FOX).
A retiring Red Sox icon, a quartet of Cubs infielders and a hometown cleanup hitter will all play a central role in the first Midsummer Classic to be held in San Diego since 1992. White Sox ace Chris Sale (14-3, 3.38 ERA) gets the ball for the American League, while the Giants' Johnny Cueto (13-1, 2.47 ERA) starts for the National League.
Both managers revealed their starting lineups during Monday's pre-All-Star Game news conference, with AL skipper Ned Yost opting to bat Red Sox designated hitter David Ortiz in the cleanup spot.
"I'm trying to have fun and make sure I enjoy my last ride here," Ortiz said. "So many good things happen during the All-Star Game. It's you and your family, and they get to be around the best players in the world. It's something you don't get to see every day."
Ortiz, who plans to retire at season's end, is batting .332 while leading the AL in on-base percentage (.426) and slugging percentage (.682). Through the years, Ortiz has often lived up to his billing as one of baseball's best performers under the bright lights, batting .313 with a homer in eight prior playing appearances in the Midsummer Classic.
• Interactive All-Star Game rosters
In the NL, skipper Terry Collins had the choice regarding his own DH, a position that wasn't voted on by fans, and he didn't disappoint the hometown fans. Not only did Collins choose San Diego first baseman Wil Myers, but he put Myers fourth in the lineup, making him the first Padre to hit cleanup for the NL since Fred McGriff did so in the 1992 edition at Jack Murphy Stadium.
Myers is batting .286/.351/.522 and took home the NL Player of the Month Award after setting a franchise record with 11 homers and 33 RBIs in June.
"I'm very excited about that opportunity," Myers said. "I'm very excited to be called out into the starting lineup in front of the home crowd. It's going to be a cool moment for me, and it's going to be a cool moment for San Diego."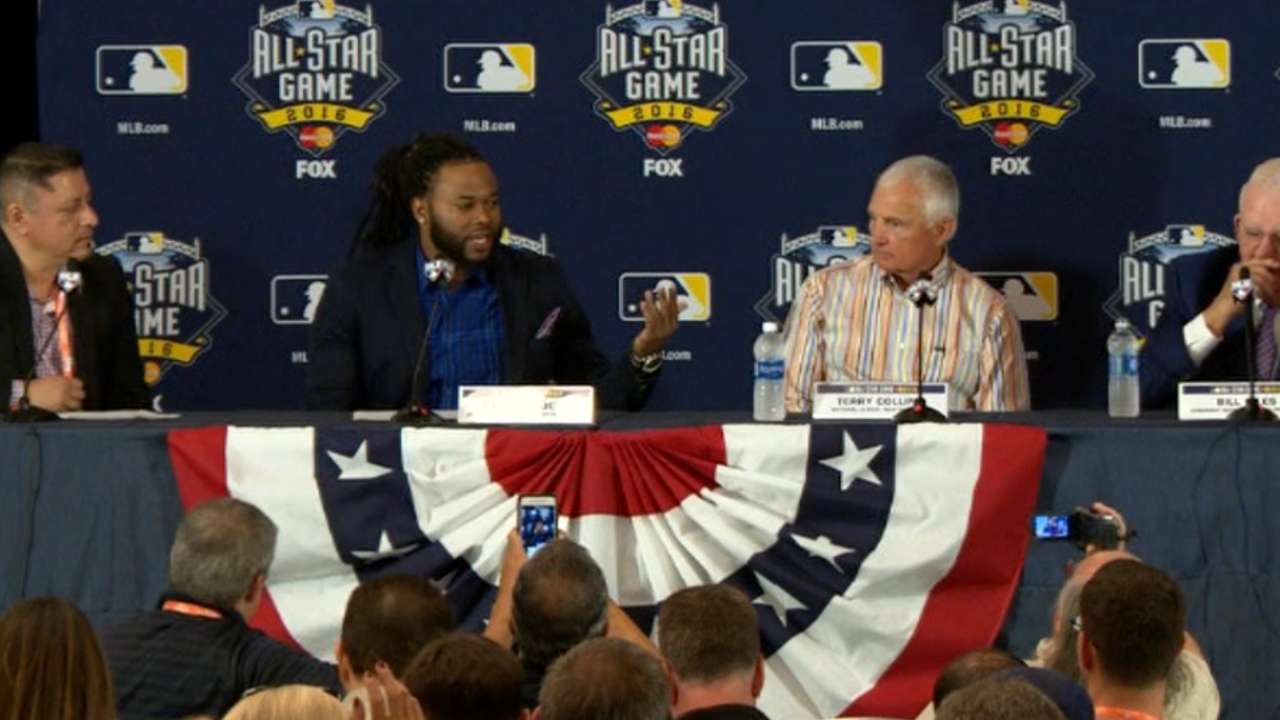 With Anthony Rizzo, Ben Zobrist, Addison Russell and Kris Bryant, the Cubs will be just the second team in history to start all four of its infielders in an All-Star Game, joining the 1963 Cardinals.
Of course, those North Siders will be greeted immediately by a South Sider on the hill. Yost said his decision to start Sale was a virtual no-brainer.
In fact, he had planned to do so at last year's All-Star Game, before Sale threw a lengthy outing on the Saturday before the event. Sale leads the Majors with 14 wins -- the most by a left-hander before the break since the Blue Jays' David Wells in 2000.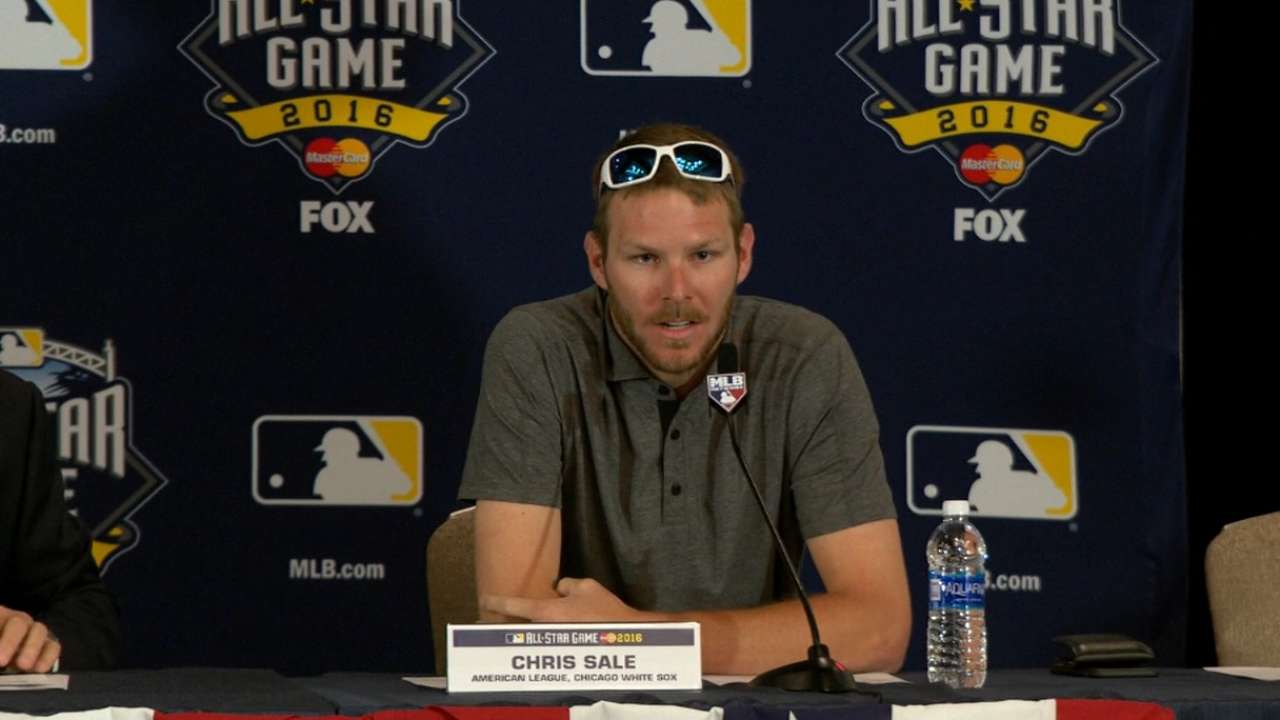 "For me, it was a real easy choice," Yost said. "Chris being in my division [AL Central], I've had a chance to watch him really develop into a superstar pitcher."
Yost named the four pitchers who will follow Sale, tabbing Corey Kluber of the Indians, Cole Hamels of Rangers, Aaron Sanchez of the Blue Jays and Jose Quintana of the White Sox for the second, third, fourth and fifth innings, respectively. Then, Yost said he'll turn the game over to his bullpen.
Collins wouldn't tip his hand as to which pitchers will follow Cueto, who will appear in an All-Star Game for the first time. Cueto, who was also selected in 2014 but didn't pitch, has thrown more innings (131 1/3) than anyone in the Majors this season and trails only Madison Bumgarner and Clayton Kershaw with a 2.47 ERA.
"This guy has pitched the best in this first half of the season," Collins said. "And he deserves this opportunity for what he did -- and for what he did to us in the World Series last year."
Even though the game will be contested in an NL ballpark, the the AL will be the home team, with Major League Baseball rotating home games between the two leagues. Tonight's game will be the second of four consecutive games in which an NL team has hosted.
The stakes, of course, remain as high as ever, with the winner earning home-field advantage in the World Series. Six of the sport's last seven champions have done so with the benefit of home field.
"It's vitally important," said Yost. "We've got a room full of tremendously talented players, and if we win this game, it's going to effect somebody or somebodies in that room. Home-field advantage is huge."
NATIONAL LEAGUE STARTING LINEUP
Ben Zobrist, 2B
Bryce Harper, RF
Kris Bryant, 3B
Wil Myers, DH
Buster Posey, C
Anthony Rizzo, 1B
Marcell Ozuna, CF
Carlos Gonzalez, LF
Addison Russell, SS
Johnny Cueto, P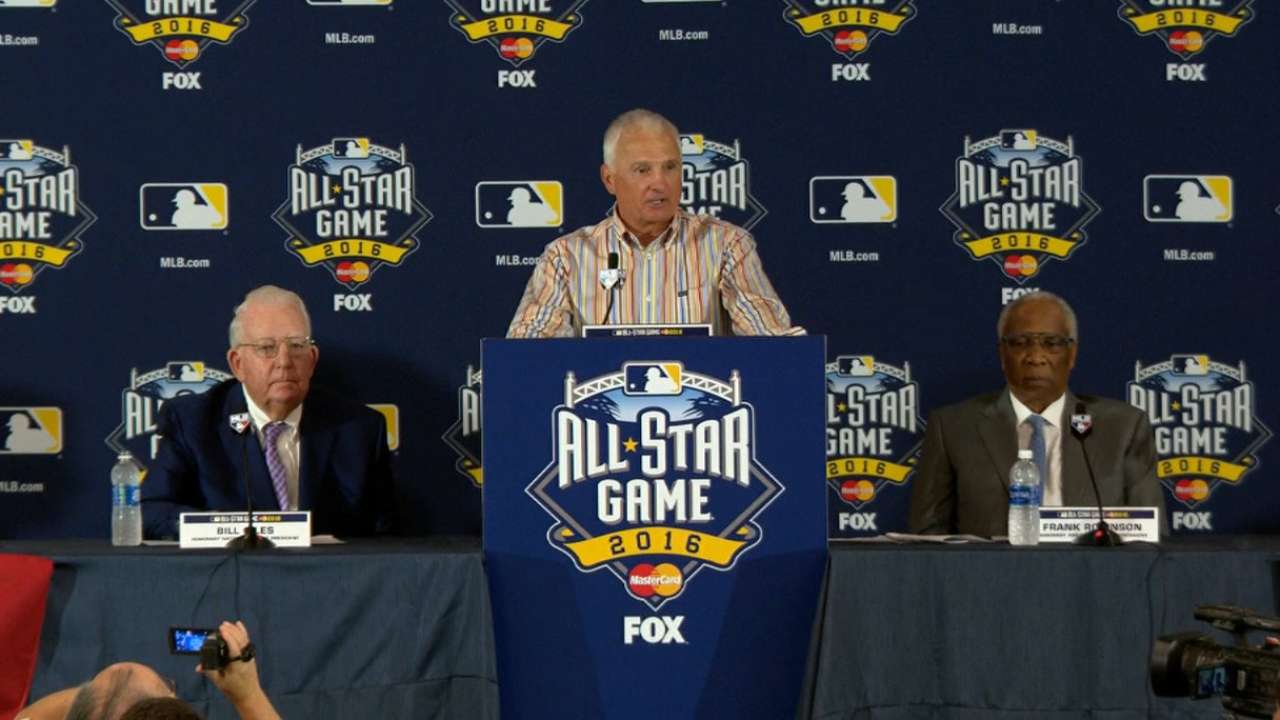 AMERICAN LEAGUE STARTING LINEUP
Jose Altuve, 2B
Mike Trout, CF
Manny Machado, 3B
David Ortiz, DH
Xander Bogaerts, SS
Eric Hosmer, 1B
Mookie Betts, RF
Salvador Perez, C
Jackie Bradley Jr., LF
Chris Sale, P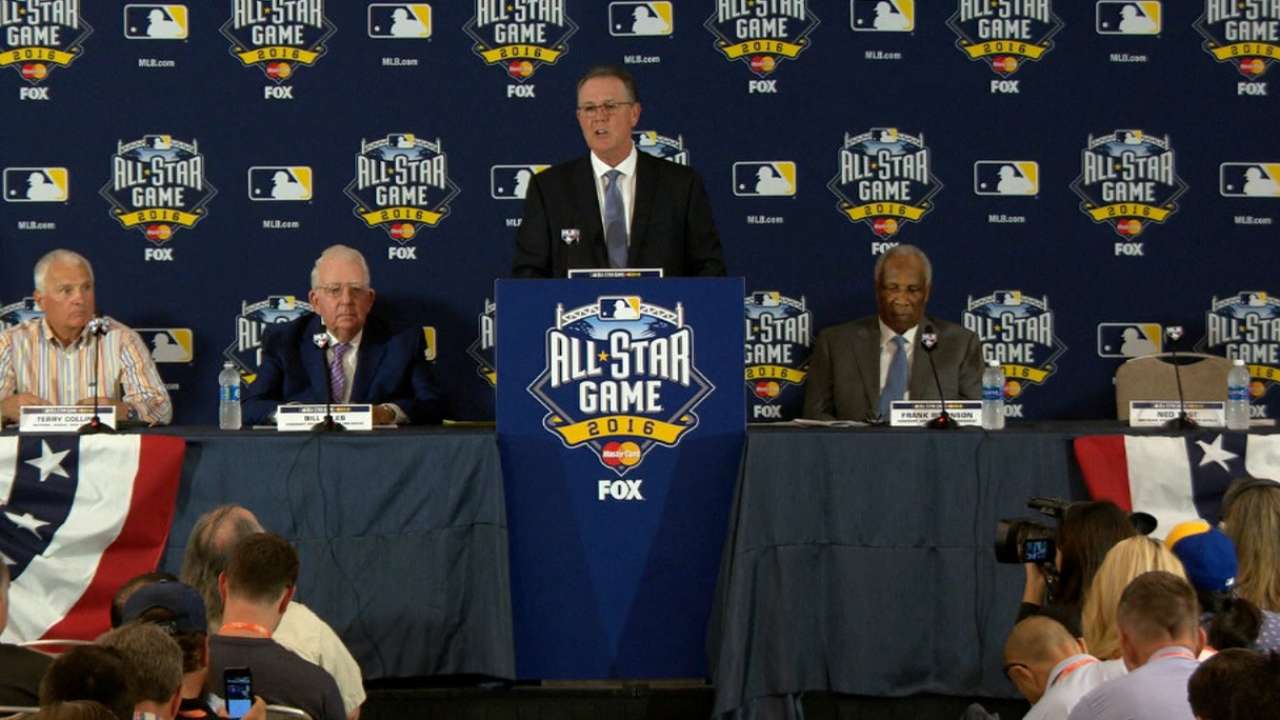 AJ Cassavell covers the Padres for MLB.com. Follow him on Twitter @ajcassavell. This story was not subject to the approval of Major League Baseball or its clubs.