Futures Game studs to stash in fantasy leagues
Stars of tomorrow could end up making or breaking your 2016 season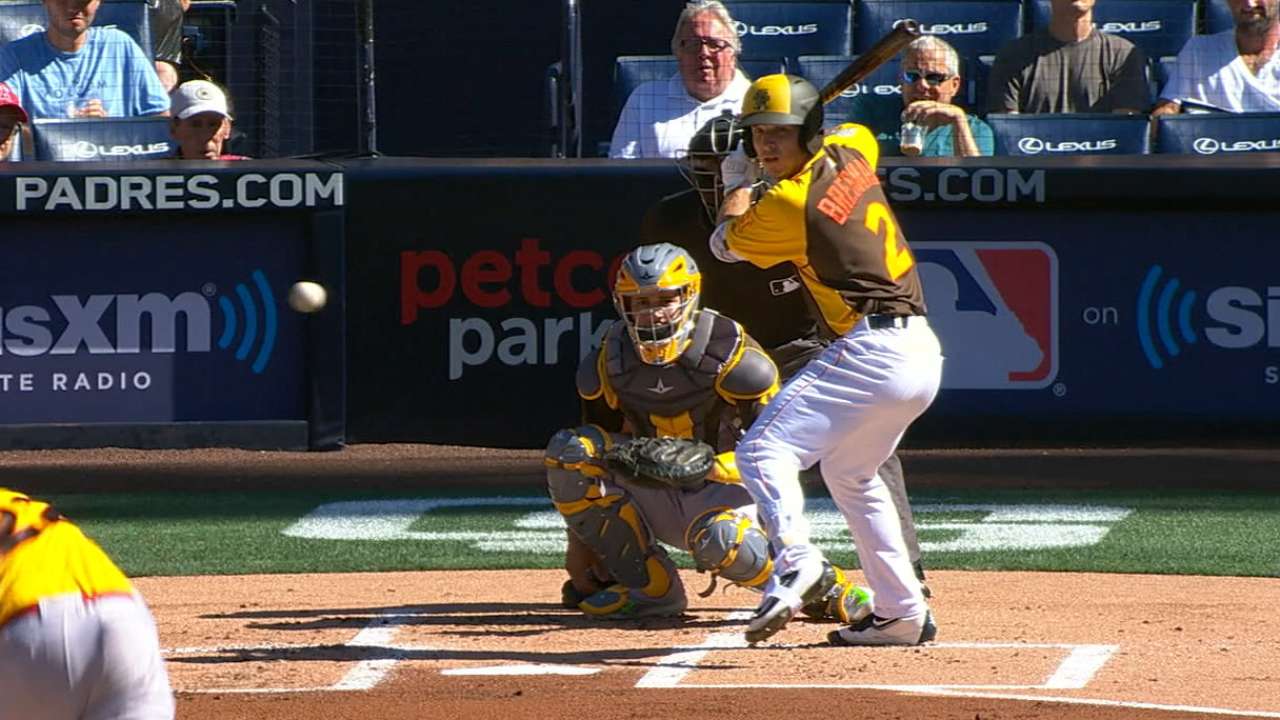 Not to be cliché, but the future of fantasy arrived today.
During a Sunday matinee at the Padres' Petco Park, some of baseball's top prospects converged for the 2016 SiriusXM All-Star Futures Game.With lofty potential ceilings, the following players -- all 24 or younger -- are banging on their respective big league clubs' doors and worth watching in 2016 redraft leagues.
Hunter Renfroe, Padres outfielder/U.S. team: Hitting .335 with 21 homers and 76 RBIs across 315 at-bats with Triple-A El Paso this season, Renfroe is likely on the verge of his Major League debut. Entering the All-Star break in fourth place in the NL West, the Padres may soon clear space for promising youngsters such as Renfroe by making trades or sending veterans to the bench. Despite a lack of plate discipline (15-to-70 walk-to-strikeout ratio in 2016), the 24-year-old could use his plus pop to impact mixed leagues.
"It's almost impossible not to think about," Renfroe said of a potential callup. "It's the daily grind of us being in Triple-A and having the TVs right there, watching the Padres after our game. We're saying, 'We could be there one day, we will be there one day.'"
As for his potential fantasy impact in 2016, the Padres' No. 3 prospect per MLB Pipeline is confident that his strength will translate from the hitter-friendly Pacific Coast League to the NL and San Diego's historically pitcher-friendly venue.
"I think [my power] translates pretty well. I've played in a lot of big league stadiums growing up," Renfroe said. "The ball flies there as much as in the PCL; sometimes the balls actually travel farther. It'll be interesting to see, over a 162-game schedule, what happens, but I think it'll translate pretty well."
Projected big league debut: Aug. 1
Worth stashing in: 15-team mixed leagues
Greatest fantasy impact could come in: Home runs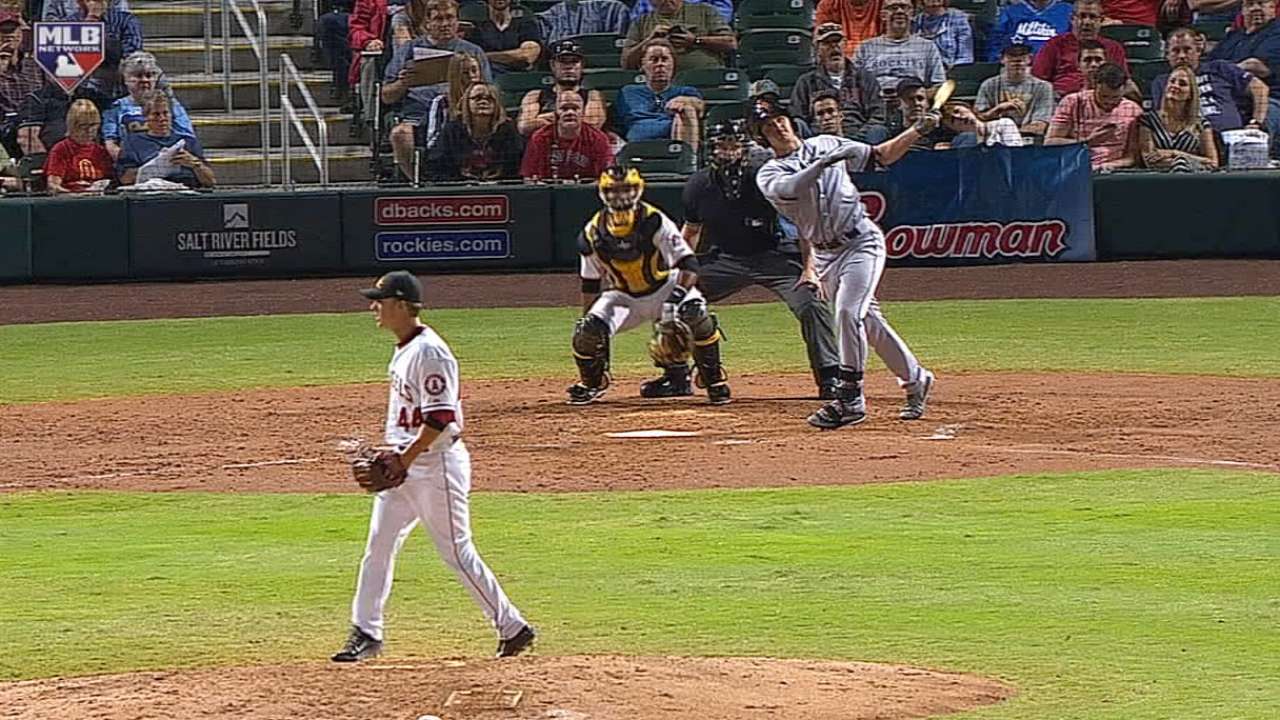 Manuel Margot, Padres outfielder/World team (Dominican Republic): Batting .299 with 23 steals across 379 plate appearances alongside Renfroe in El Paso this year, Margot may also be on the brink of starting his big league clock. Although San Diego's top prospect (per MLB Pipeline) is unlikely to impact fantasy leagues significantly this year, he should be regarded as a potential mixed-league contributor for '17 given his solid plate skills and plus speed.
Projected big league debut: September
Worth stashing in: NL-only formats
Greatest fantasy impact could come in: Stolen bases
Andrew Benintendi, outfielder/U.S. team: Even in a loaded Red Sox farm system, Benintendi stands out as a special prospect. Although his ceiling is lower than that of Double-A teammate and Futures Game participant Yoan Moncada, Benintendi may have the better chance of the two to impact fantasy owners this year.
Having struggled to find solid production in left field as well as on the pitching front, Boston will likely target arms on the non-waiver Trade Deadline market and give Benintendi -- the owner of a lifetime Minor League .312/.392/.537 slash line -- a chance to join the postseason push.
"I am going to control the things I can control [in the Minors], and that's to go out and play hard," Benintendi said. "I have no idea [what categories I will most help fantasy owners with, but I have to hopefully get there first, to the big leagues. It'll take care of itself."
Projected big league debut: August (to share playing time)
Worth stashing in: 15-team mixed
Greatest fantasy impact could come in: Batting average, RBIs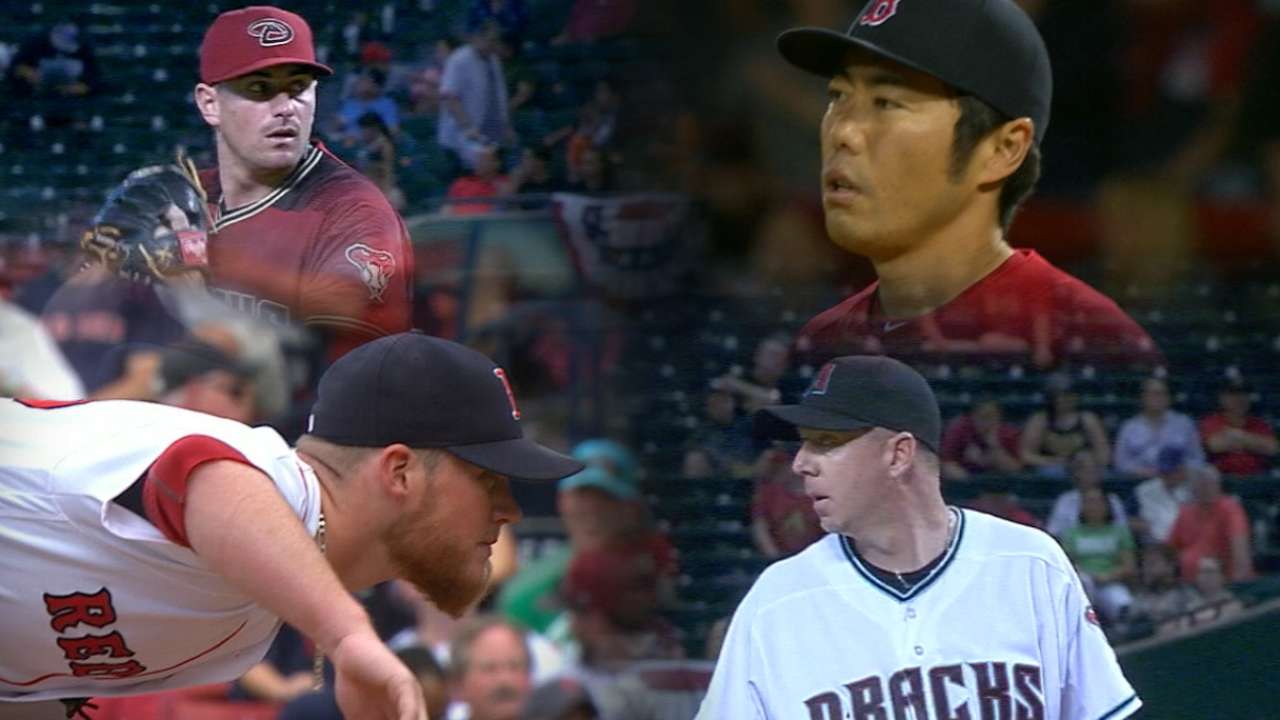 Moncada, Red Sox second baseman/World team (Cuba): Just 21 years old, Moncada has hit .295 with a .397 on-base percentage and 89 steals in 100 tries since joining Boston's farm system last season. The second baseman may not reach the Red Sox this year seeing as how they're pretty set at the keystone, but the Cuban is toolsy enough that Boston could give him a look at third base or left field. He's an extremely coveted dynasty-league asset given his potential to impact mixed leagues as soon as next year. Moncada is a future five-category stud and a dynasty-league untouchable.
Projected big league debut: Possibly September
Worth stashing in: AL-only
Greatest fantasy impact could come in: Steals as a late-season callup; 5-category star down the road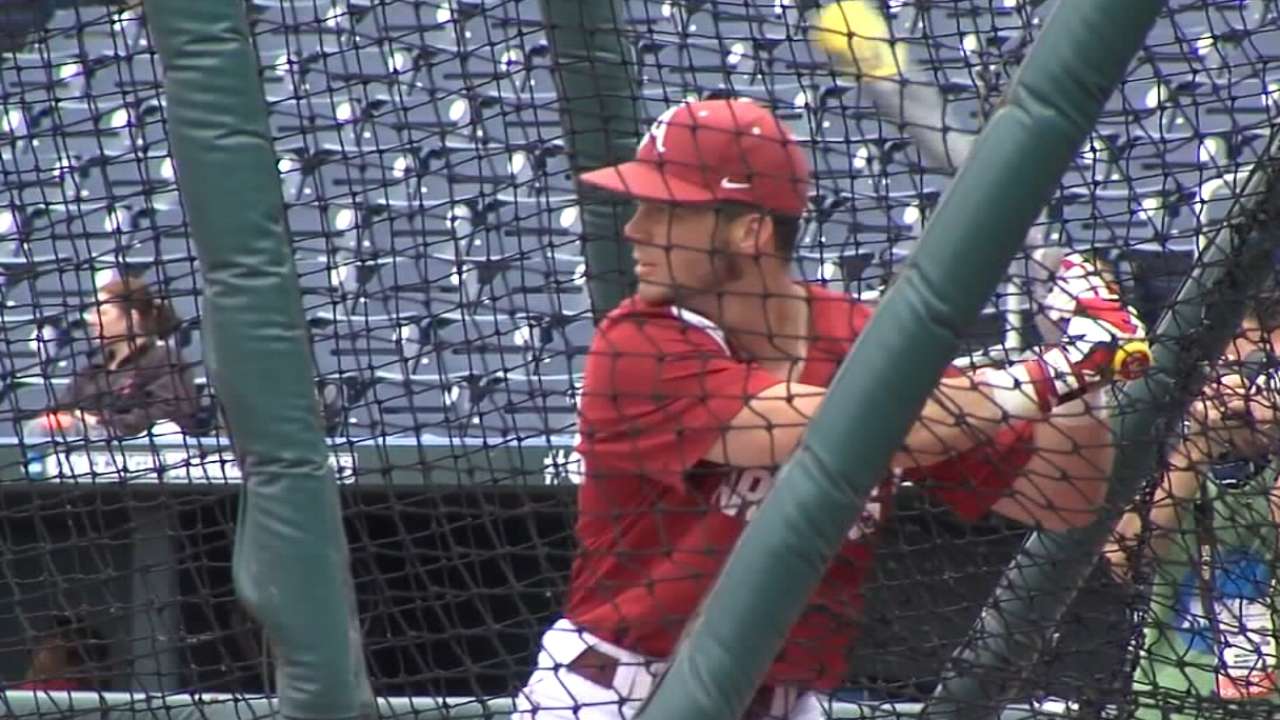 Alex Reyes, Cardinals right-hander (World team's starting pitcher): Reyes has the potential to rank among baseball's elite arms in his prime thanks to a career 12.1 K/9 Minor League rate, including a 13.3 mark with Triple-A this season. The right-hander still has work to do before becoming a finished product as his lifetime 4.6 BB/9 rate suggests, but he remains a cherished asset in dynasty formats.
"A call to the big leagues is the ultimate goal. Something I try not to think about, and just go out in Triple-A and give my team a chance to win," Reyes said.
The 21-year-old warrants mixed-league attention if added to St. Louis' rotation after the All-Star break, but he may have to settle for a late-season relief role. As for Reyes' ability to assist fantasy owners with his power arm, the right-hander remained humble.
"I try not to think about strikeouts. I try to get quick outs. Stuff that just happens, I try not to think about. Ultimately, I would love to be a starter, but whatever the team needs me to do to help out [this year] is what I am willing to do."
Projected big league debut: August
Worth stashing in: 15-team mixed
Greatest fantasy impact could come in: Strikeouts
Alex Bregman, third base/U.S. team: The Astros could elect to fill a position of need by shifting Bregman, a natural shortstop, to third base upon his promotion. With a .309 average, 19 homers, 60 RBIs and 64 runs between Double-A and Triple-A this season, he would likely be an improvement over Houston's current hot-corner man (and lifetime .232 batter), Luis Valbuena.
Projected big league debut: Post All-Star break
Worth stashing in: 10-team leagues
Greatest fantasy impact could come in: Average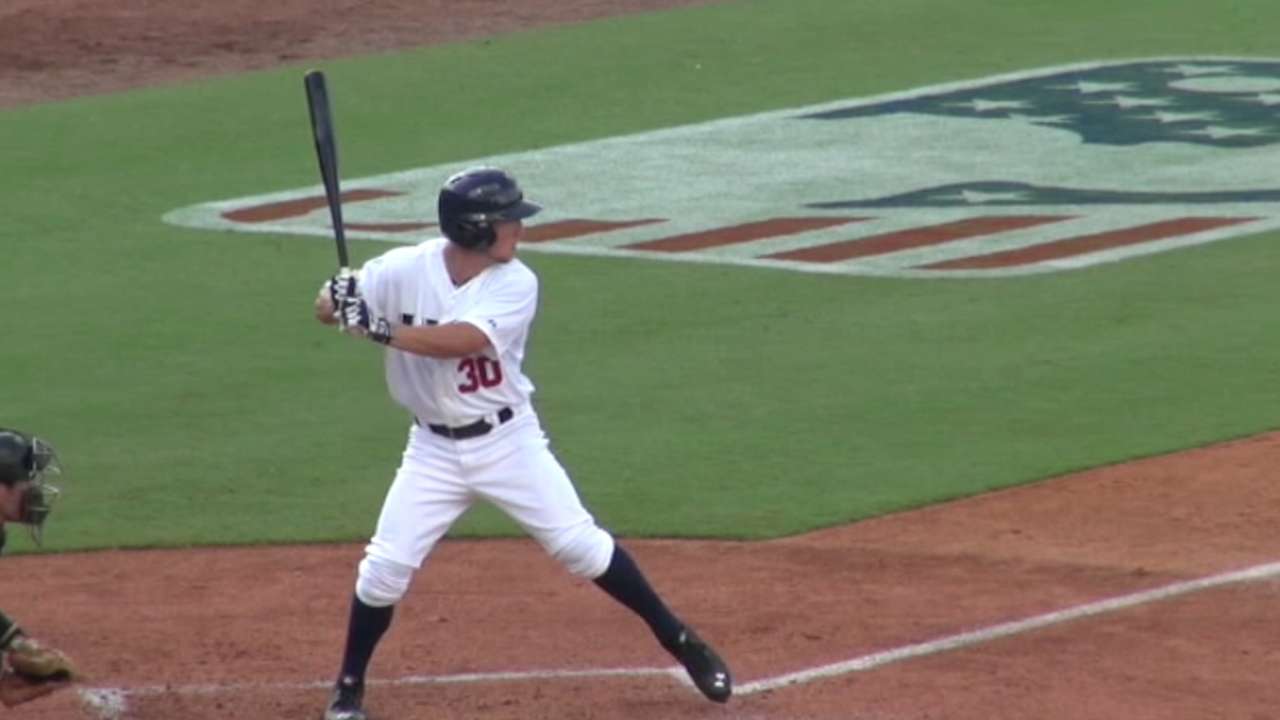 Josh Hader, left-hander/U.S. team: With 2.56 ERA, a 1.21 WHIP and an 11.6 K/9 rate in the Minors this season, the left-handed Hader is likely nearing his big league debut. Although Hader has toed the rubber just five times in Triple-A with mixed results, Milwaukee's No. 4 prospect could wind up logging second-half starts in a Brewers rotation that lacks reliable options. With a starting quintet exclusively comprised of right-handers, Milwaukee could use a southpaw with swing-and-miss stuff.
Projected big league debut: August
Worth stashing in: NL-only formats
Greatest fantasy impact could come in: Strikeouts
Zachary Finkelstein Is MLB.com's fantasy editor. This story was not subject to the approval of Major League Baseball or its clubs.