MLB.com Columnist
Jonathan Mayo
Polling Futures Gamers: Who impressed you?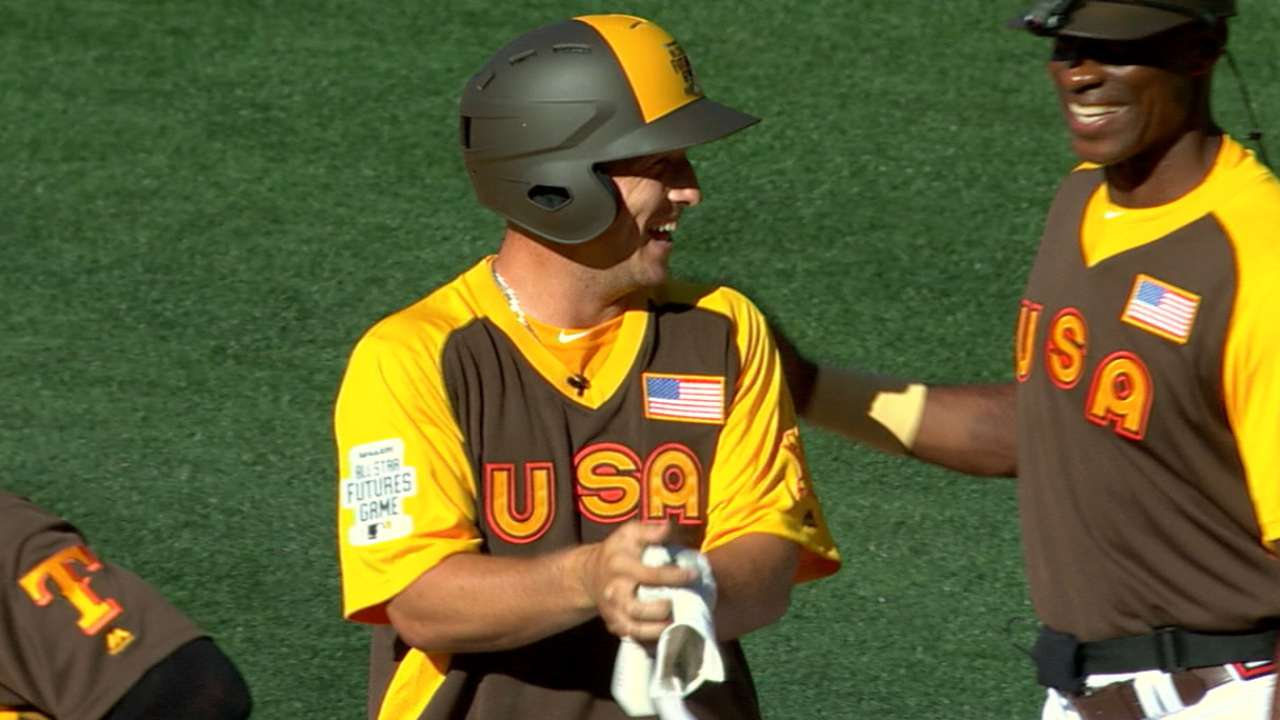 SAN DIEGO -- Once again, the SiriusXM All-Star Futures Game provided many memorable moments. On both sides of the ball, the participants in the 18th edition of the prospect showcase provided the kinds of thrills in the 11-3 World Team win fans will look back at when these players are doing the same kind of thing at the big league level.
Those who played in the game were also observers, taking in every second of the experience. And they were as impressed with their teammates' and opponents' performances as anyone else. While Yoan Moncada was a deserving MVP for his go-ahead home run (not to mention his single and stolen base) in the eighth inning, he's far from the only one who stood out among the Futures Gamers.
"Moncada's an unbelievable player," Padres prospect Carlos Asuaje said. "Eloy Jimenez with that home run that almost cleared the Metal Supply building. There are guys with so much power and so much talent here that it's truly impressive."
Asuaje also had a solid day, going 2-for-2 and a walk and being denied an RBI by David Dahl's throw to nail Josh Naylor at the plate. It's something that didn't go unnoticed by Hunter Renfroe, his teammate with Triple-A El Paso, even though he was in the other dugout on Sunday.
"Carlos had great at-bats up there," Renfroe said. "He put some good swings on the ball."
With all of the late scoring by the World Team, it might be easy to forget Chance Sisco's homer in the fourth inning, a solo shot that gave the United States a 3-0 lead. But Dahl remembered, while also giving a shout out to the MVP.
"I think Sisco's opposite-field home run was pretty impressive, and then Moncada, he was good," Dahl said.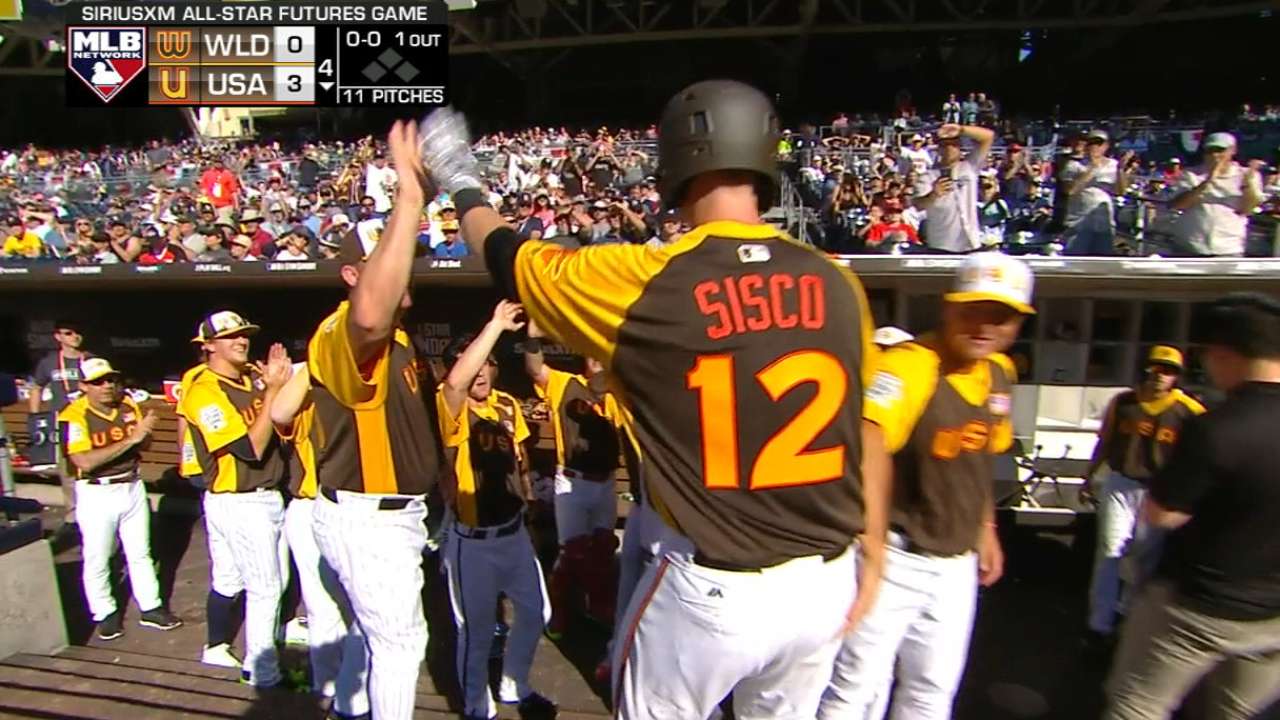 Had the players been the ones voting for MVP, it's quite possible the award might have gone to someone on the losing side. Everyone wanted to talk about the day Astros prospect Alex Bregman had. Who can blame them? Perhaps the player in the game who will impact the big leagues the most in 2016, Bregman tripled, doubled and singled in his first three at-bats, and he even had two chances to complete the cycle, though he wasn't able to get the long ball. No one was more impressed than the guy who gave up his three-base hit.
"Bregman was definitely a guy who opened my eyes," Cardinals pitcher Alex Reyes said. "He stayed back on a curveball and hit it foul. I threw him a fastball and he got enough bat on it to get a triple. He can definitely swing the bat."
That fastball, by the way, was clocked by Statcast™ at 98 mph. Bregman also turned around a fastball from Blue Jays lefty Angel Perdomo for a double in the third and then showed he can handle breaking stuff, lining a single off a slider from another Blue Jays prospect, Francisco Rios.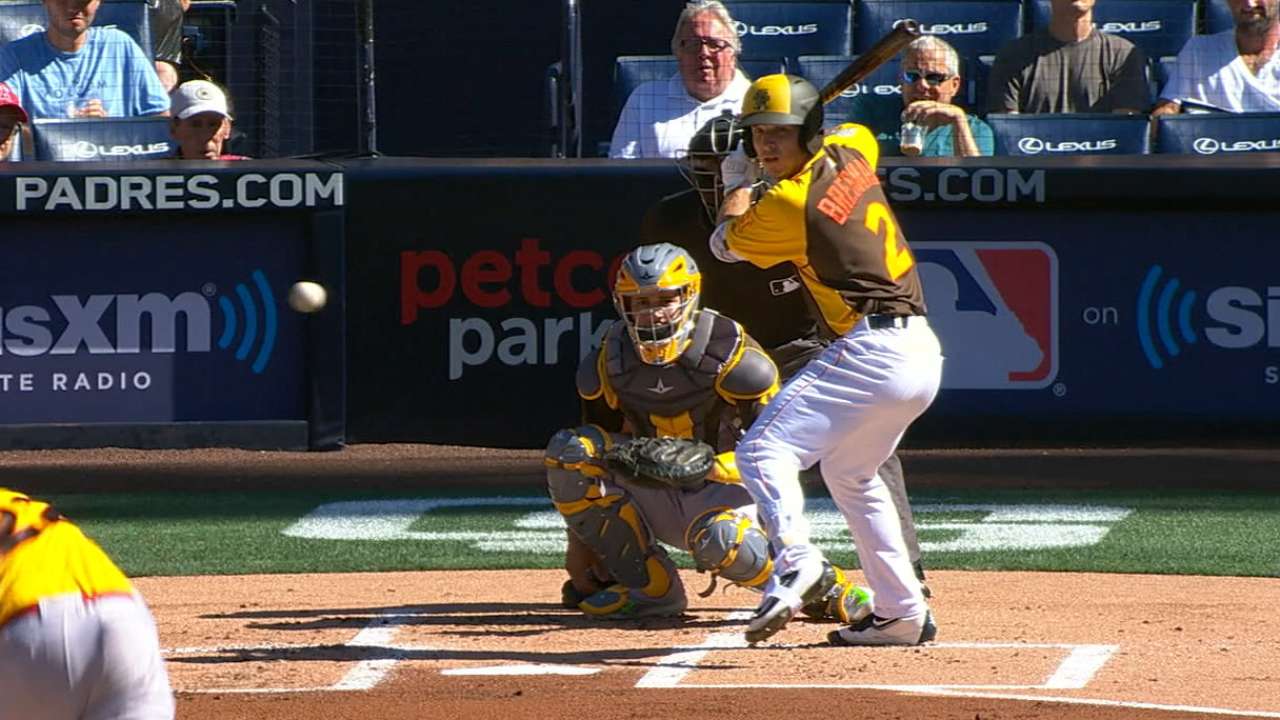 "That guy is special," Naylor said. "He's a special hitter. He did everything well today. The MVP should go to him. He did probably the best today."
"That is what Bregman does," Rangers first baseman Ronald Guzman said. "I've seen him do a very good job before. We played against each other in Double-A, so how he played today does not surprise me at all. He's a really good player. That's who he is right there."
Renfroe summed things up, giving credit to A's infielder Ryon Healy for solid at-bats. But he understands why the hardware went to the top Red Sox infielder.
"Bregman of course had an outstanding day, and Healy as well," Renfroe said. "I think they both had great days, and MVP-worthy performances. But Moncada had the blast. Everybody likes the long ball."
Jonathan Mayo is a reporter for MLBPipeline.com. Follow him on Twitter @JonathanMayo and Facebook, and listen to him on the weekly Pipeline Podcast. This story was not subject to the approval of Major League Baseball or its clubs.