Moncada first from Cuba to win Futures MVP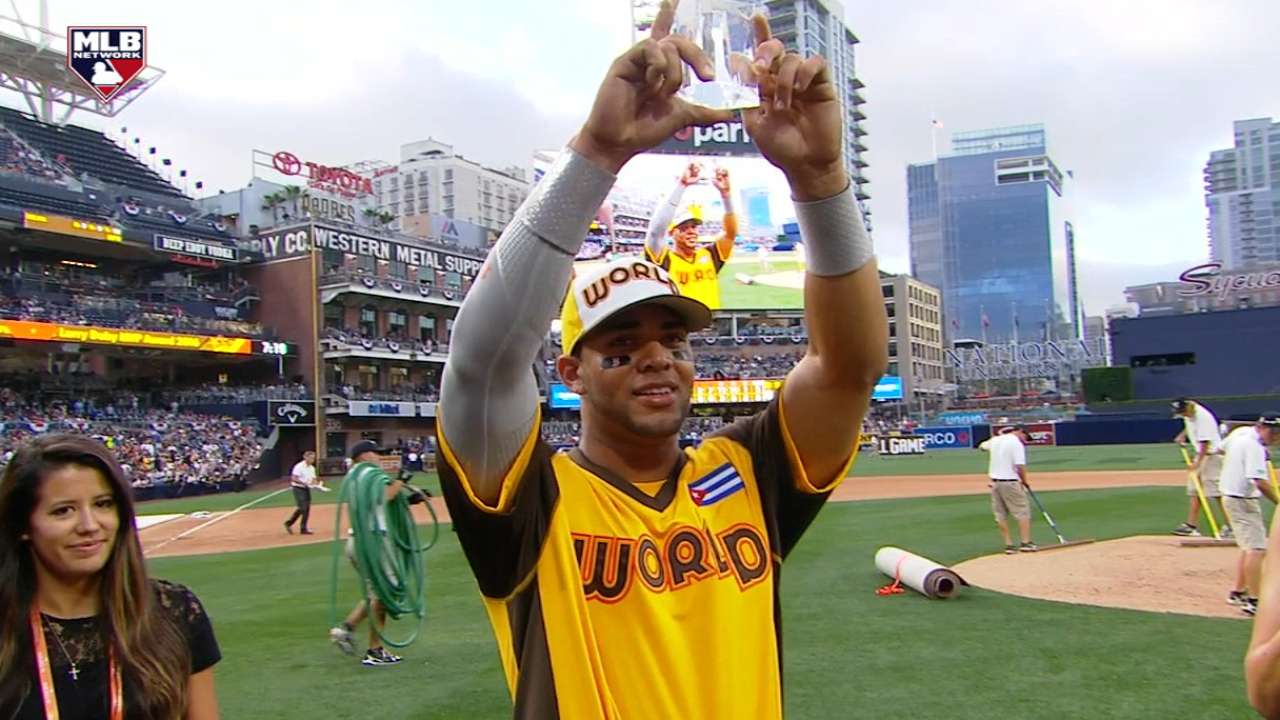 SAN DIEGO -- It was few minutes before Yoan Moncada, Boston's top prospect, was set to bat in the eighth inning, and he was feeling anxious.
The 21-year-old second baseman patted down customized Red Sox eye black and fiddled with a bright yellow shin guard that read "Moncada" across the back. He tightened his shiny silver wrist bands and matching arm sleeves a couple of times.
Moncada's thick gold chain peeked out of the top of his No. 11 jersey with every move. His stylish red, white and blue glove rested near him on the bench.
But Moncada didn't just look like a big leaguer in Sunday's 11-3 victory over the U.S. team in the SiriusXM All-Star Futures Game -- he played like one. For one fabulous afternoon at Petco Park, the World belonged to him and his teammates. But the Most Valuable Player trophy belonged to Moncada alone. He is the first player from Cuba to win the award.
"I feel really happy, and I celebrate this award with my family who watching me back in Cuba," Moncada said in Spanish. "I'm so grateful to be here in this position."
The switch-hitting Moncada had two hits, including a two-run homer from the right side in the eighth inning that gave the World team a 4-3 lead it would not relinquish. The homer was his first of the year from the right side. All nine of Moncada's long balls between Class A Advanced Salem and Double-A Portland have come against right-handed pitchers.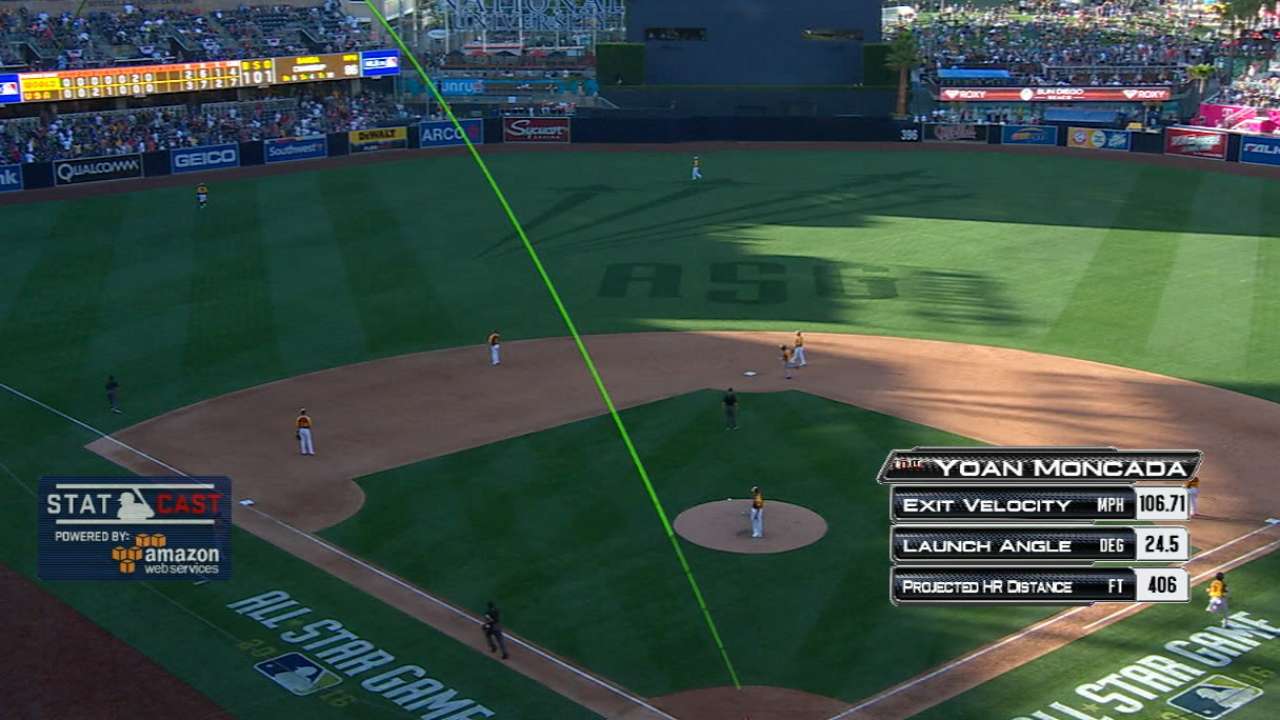 It's too bad Moncada will never get to use that bat again. Following Sunday's victory, representatives from the National Baseball Hall of Fame collected it to take back to Cooperstown.
Moncada grinned when he was told the news. He said he'd like to be in Cooperstown one day, too. But first things first.
"In my future I see myself in the Major Leagues," Moncada said. "That's my dream. We'll see if it's this year or the next. That's not something I can control."
Moncada, who signed a record-setting $31.5 million deal for an international amateur in February 2015, is batting .328 with five home runs, 15 RBIs and a 1.023 OPS in his first 16 games for Double-A Portland since June 21. He could be headed for a position change with second baseman Dustin Pedroia signed through 2021, but he's not thinking about that right now.
"For the second half, I'm going to keep working hard and doing what I do," Moncada said. "It's as simple as that."
In the meantime, Moncada is going to enjoy the moment before rejoining his Minor League teammates on Monday.
"I'm really happy with the game I had and how we all united as a team the entire game," Moncada said. "This is the first time I've played in a big league stadium. This was a great experience for me to be part of the All-Star Game."
Jesse Sanchez is a national reporter for MLB.com based in Phoenix. Follow him on Twitter @JesseSanchezMLB and Facebook. This story was not subject to the approval of Major League Baseball or its clubs.