Keuchel starting to round into Cy Young form
Astros lefty allows just one run on four hits over seven strong innings vs. A's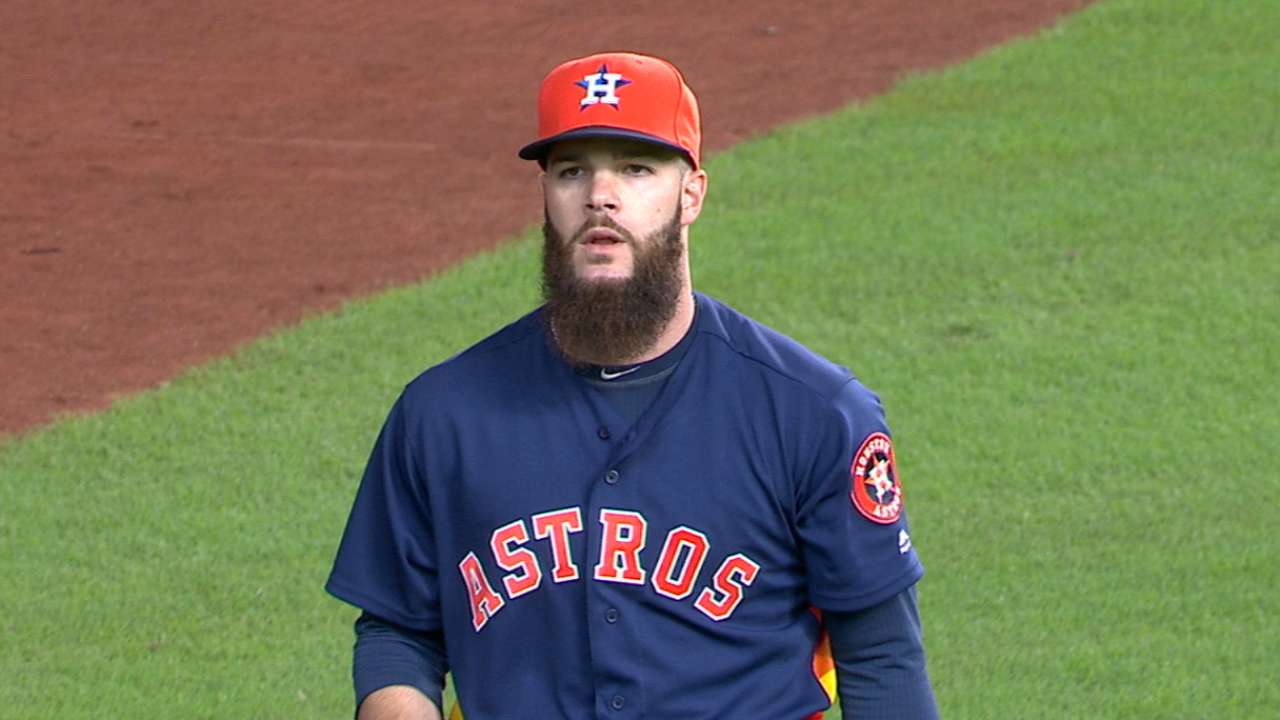 HOUSTON -- Dallas Keuchel is starting to look like himself again.
The left-hander went seven innings against the A's in Sunday's 2-1 win at Minute Maid Park, allowing only four hits and a run on a broken-bat single while striking out five in one of his best starts of the season.
"You can tell he had a little bit of swagger," Astros manager A.J. Hinch said. "He had a little moxie. He had a little bit of competitiveness in the dugout. He was into it, and he competed as Dallas Keuchel competes."
It was a good way to end the first half of the season, especially considering that the first half didn't exactly treat Keuchel well at times.
"Feeling better," Keuchel said. "That's good to end the break like that."
For most of the first half of the season, the Astros' ace barely resembled the 2015 version of himself that won 20 games and the American League Cy Young Award.
"Maybe just a little bit of lag from all the innings and not really knowing what to expect the next year," Keuchel said. "... That was the first full year of playoffs involved as well. Just hitting my stride now, so that's nice to see."
Keuchel had seemingly lost his command from a year ago and struggled to be the same dominant presence he was in 2015. He lost four of his first six starts, allowing 19 runs in the four losses, and things got worse from there before they got better.
The low point was a May 12 game against the Red Sox in which Keuchel allowed 10 hits and eight runs in six innings. By June 12, Keuchel had nine losses and a 5.54 ERA to his name.
But Keuchel's season has started to change course in the last month or so. The Astros have won each of Keuchel's last five starts, and the pitcher hasn't allowed more than four runs in any game during that stretch after doing so six times in the 14 games before.
"A couple of things [didn't] go his way early in the season," Astros outfielder Jake Marisnick said, "and now it just shows what kind of competitor he is."
With the All-Star break now here, the Astros have to hope the Keuchel they saw in the last month continues to look more and more like the Keuchel who won a Cy Young.
"He's certainly an anchor for us," Hinch said. "... I hope this is a sign of things to come for him and for us."
Jordan Ray is a reporter for MLB.com based in Houston. This story was not subject to the approval of Major League Baseball or its clubs.