MLB.com Columnist
Anthony Castrovince
All-Star Monday brings big talkers, big hitters
Players and managers meet the press, then Derby sluggers take stage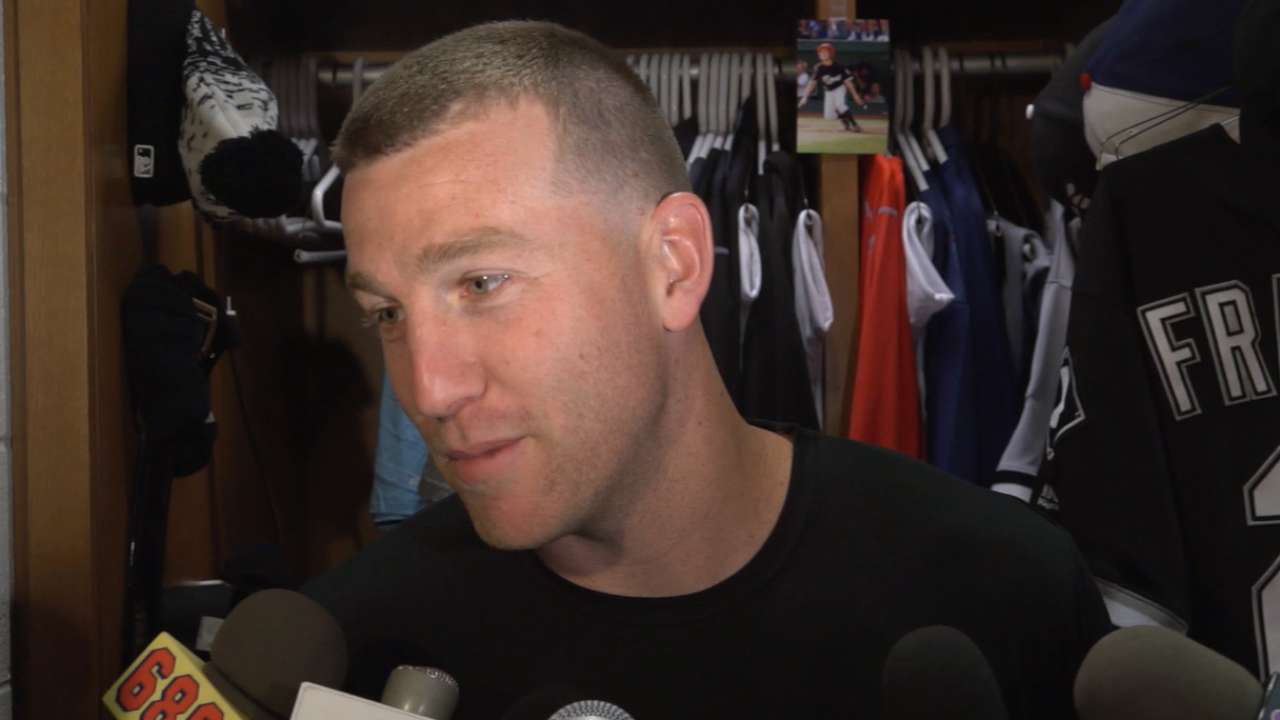 SAN DIEGO -- The All-Star festivities in and around Petco Park are just getting started.
As a prelude to Tuesday's 87th All-Star Game presented by MasterCard (7:30 p.m. ET/4:30 p.m. PT on FOX), Monday is a jam-packed day for big swingers, big talkers and big announcements. It's Gatorade All-Star Workout Day, and while the T-Mobile Home Run Derby is the main event, it's not the only one.
Monday doubles as Media Day, and part of Media Day -- beyond the players being asked questions both sophisticated ("How has the prevalence of advanced defensive shifts affected your plate approach?") and silly ("Is a hot dog a sandwich?") -- is the news conference in which each manager unveils his starting lineup, batting order and starting pitcher. That begins at 1:30 p.m. ET/10:30 a.m. PT.
You can bet American League manager Ned Yost and National League skipper Terry Collins -- not unlike your average 8-year-old concocting his or her dream lineup -- have thought long and hard about these choices. And the pitching decisions are anything but easy. For Collins, the selection became a bit more pained when, in no particular order, Clayton Kershaw hit the DL with a bum back, Stephen Strasburg pulled out, Madison Bumgarner got nixed because of his Sunday start, Noah Syndergaard left Friday's outing with arm fatigue and pulled out and Jake Arrieta's recent struggles continued Friday in Pittsburgh. Yost's choice could be complicated given Chris Sale's eight-run, ERA-inflating outing Friday against the Braves after he was the presumptive favorite for the AL honor.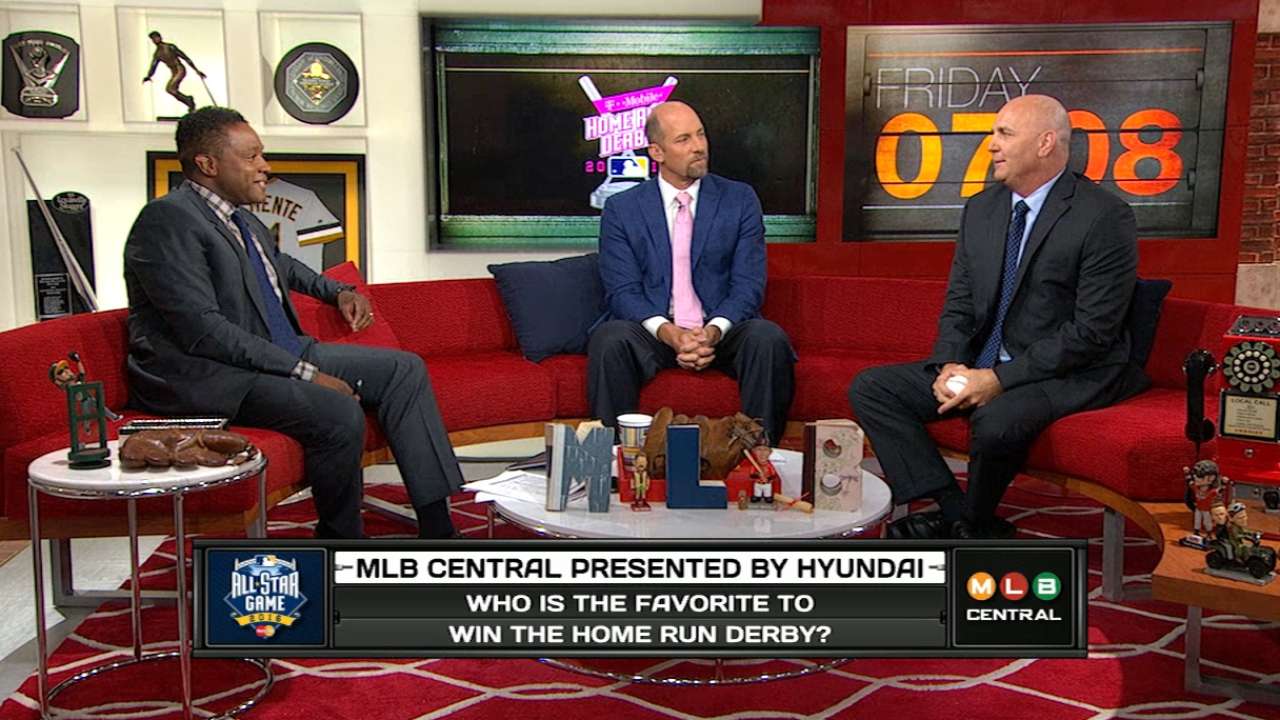 No such mystery rests with the field for the Derby, which takes place at 8 p.m. ET/5 p.m. PT on ESPN and simulcast on MLB.com. And it's notable that two of this year's participants -- defending champion Todd Frazier and Marlins slugger Giancarlo Stanton -- have dismissed their would-be day off (neither guy was selected as an All-Star) to take their hacks.
Frazier might be a good bet to repeat, because while Petco Park isn't a favorite of power hitters in general, it is better-suited for the kind of right-handed pull power that made Frazier the hometown hero in Cincinnati last summer. And Stanton might be a good bet to win, because, well, he's Giancarlo Stanton, Statcast™ darling and monster masher.
• Power up: Eight to aim for fences, Derby crown
But those guys will be challenged by the rest of the field: Mariners second baseman and 2011 Derby winner Robinson Cano, Padres first baseman Wil Myers (who will certainly have the crowd behind him), Orioles outfielder and Major League home run leader Mark Trumbo, Rockies outfielder Carlos Gonzalez, Reds rookie outfielder Adam Duvall and Dodgers rookie shortstop Corey Seager.
In case you've forgotten, a phenomenal new Derby format was unveiled last year, with playoff-type seeding and a clock involved. In the first round, No. 1 seed Trumbo takes on No. 8 seed Seager, with the winner facing the winner of No. 4 Cano and No. 5 Stanton. On the other side of the bracket, No. 3 seed Duvall and No. 6 seed Myers will square off for the right to face the winner of No. 2 seed Frazier vs. No. 7 seed Gonzalez.
• Play Home Run Derby Bracket Challenge
The rounds will last four minutes, beginning with the release of the first pitch, though each batter is entitled to one 45-second "time out" in the first round and semifinals. In the finals, each batter gets two 45-second time-outs.
Furthermore, 30 seconds of bonus time will be awarded for two home runs that each equal or exceed 440 feet, per the Statcast™ measurements. And ties in any round will be broken by a 60-second swing-off with no time stoppage.
So for one night and one night only, we'll be able to describe Petco as a hitter's park.
Speaking of parks, Monday also brings some important community events. Early in the day, Commissioner Rob Manfred and the Padres will unveil renovations to the Boys & Girls Club All-Star Complex in Tijuana, Mexico, and the renovated baseball, softball and T-ball fields at the Jackie Robinson YMCA in San Diego. MLB and the Padres have donated approximately $5 million through MLB Charities and the Padres Foundation toward several All-Star Legacy improvement projects, with a portion of the funds raised from Workout Day.
As is always the case, the All-Stars not participating in the Derby will be gathered in foul territory to take in the slugging spectacle. Though the Midsummer Classic itself always presents some lasting memories, Monday's a day players often recall fondly as well. It's a time for bonding with their brethren during batting practice, giving their sons or daughters a front-row Derby seat and snapping photos and taking videos for posterity.
Basically, for them, it's a day to soak in everything it means to be an All-Star. And for us, it's an awesome appetizer to all that awaits Tuesday night.
Anthony Castrovince has been a reporter for MLB.com since 2004. Read his columns and follow him on Twitter at @Castrovince. This story was not subject to the approval of Major League Baseball or its clubs.