MLB.com Columnist
Anthony Castrovince
Bean, Pride forge bonds with stars of Futures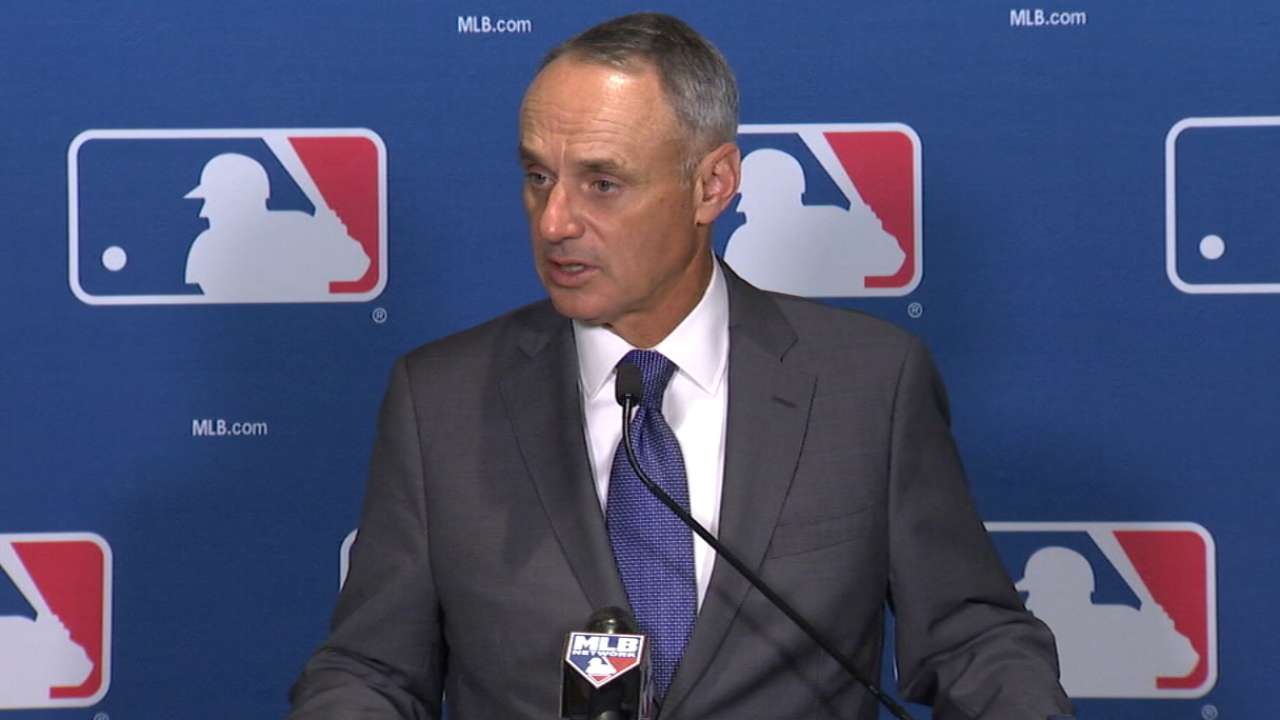 SAN DIEGO -- Billy Bean and Curtis Pride spend quite a bit of time thinking about and talking about the future of Major League Baseball. They visit with every club, fostering environments, in both front offices and clubhouses, that embrace diversity and make people comfortable regardless of their sexual orientation or physical disabilities.
It was fitting, then, for Bean and Pride to be involved in Sunday's SiriusXM All-Star Futures Game. After all, the players who were performing here at Petco Park represent the game's next wave of talent, its next core of stars and figureheads.
So having Bean, who is MLB's vice president of social responsibility and inclusion, on the U.S. coaching staff and Pride, who is MLB's ambassador for inclusion, on the World staff, was meaningful. These are interactions that Bean, who is gay, and Pride, who is deaf, hope will have a lasting impact on this next generation of stars.
"Players like Curtis and I used to feel like we were on the margins," Bean said. "We're just beginning the conversation, but today, I think, is a pretty big day for baseball's message. I think the closer people look, they'll see a message of inclusion and acceptance that is pretty profound as a leader in all sports leagues."
Bean didn't feel it appropriate or necessary to make a speech in the U.S. clubhouse that echoes his usual line of dialogue, in part because many of these players were already familiar with him from Spring Training.
But Bean, who played parts of six seasons in the big leagues in the late 1980s and early '90s with the Tigers, Dodgers and Padres, did feel the experience of being in uniform and working with these youngsters has tangible value.
"These guys are going to be the leaders of our sport soon," Bean said. "They'll have this day under their belt and say, 'You know what, he threw batting practice to us, he threw to us in the cage, he was rooting for us in the dugout.' … I feel like the message today is going to be big enough to them."
Pride hadn't worn a Major League uniform since his big league career ended with the Angels in 2006. But he's spent the past eight years coaching at Division III Gallaudet University, a school in Washington, D.C., for the deaf and hard of hearing, and he was appointed to his position with MLB early this year.
"It's been a great learning experience for me," Pride said. "I want to make a difference in baseball. I want to see baseball become more inclusive for people with disabilities, and basically I want people with disabilities to have a great experience at the ballpark."
Pride's experience here was admittedly limited.
"I let all these guys do the work," he said with a laugh, gesturing to his fellow World coaches during BP. "And I only speak a little Spanish. Un poquito. But it's a good feeling to be back. It brings back good memories. And I've been trying to talk to a few of these guys so they can get a feel for me and get to know me better."
The pair also got to take part in the All-Star Legends and Celebrity Softball Game that followed the Futures Game. Both former big leaguers hit home runs, and Bean even robbed Pride of extra bases when he made a sliding catch in the fourth inning.
Relationships are what ultimately break down barriers, and for Bean and Pride, this was a day to build those relationships and do their part to ensure the future is, indeed, in good hands.
"It's an honor," Bean said, "to be a part of this coaching staff and to see where baseball is going."
Anthony Castrovince has been a reporter for MLB.com since 2004. Read his columns and follow him on Twitter at @Castrovince. This story was not subject to the approval of Major League Baseball or its clubs.