MLB.com Columnist
Barry M. Bloom
Hoffman enjoying All-Star moments in S.D.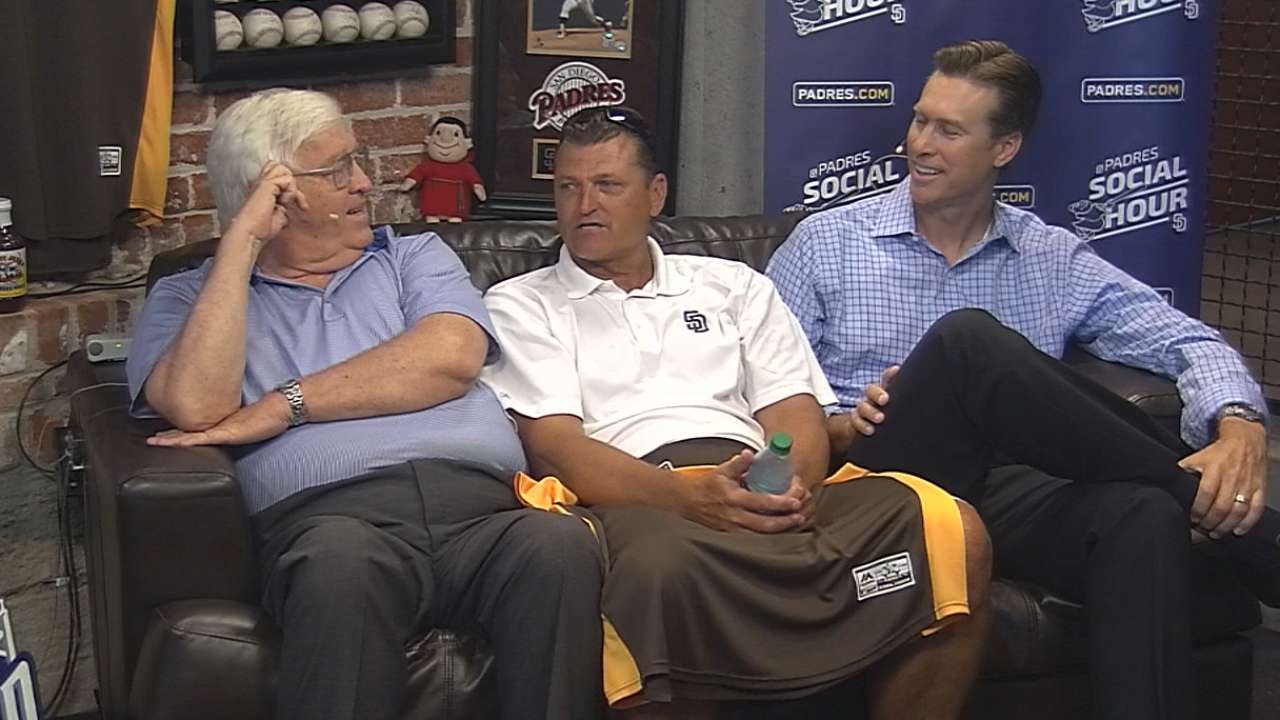 SAN DIEGO -- Trevor Hoffman never played in an All-Star Game here. The top closer in National League history, with 601 saves -- 552 of them for San Diego -- was named to eight NL squads, but in 1992, the last time the event was held in what was then called Jack Murphy Stadium, Hoffman was still about a year away from joining the Padres.
That was Tony Gwynn's All-Star Game. The eight-time NL batting champ, who passed away just two years ago, was one of five Padres representatives.
But Hoffman has been all over the 87th edition of the All-Star Game, presented by MasterCard, at 5 p.m. PT on Tuesday, with coverage beginning at 4:30 p.m. on FOX. Along with Hall of Famer Dave Winfield and current San Diego first baseman Wil Myers, Hoffman has been an All-Star ambassador, representing the Padres around town at various events. Myers and left-hander Drew Pomeranz are representing the club in the game.
On Sunday, Hoffman managed the U.S. Team in the SiriusXM All-Star Futures Game against counterpart Moises Alou on the World side.
"I've been pretty busy," Hoffman told MLB.com in an exclusive interview before Sunday's festivities. "Not just because of the basic commitments to FanFest, but things going on around the ballpark.
"The one thing I will take away from all this is just walking around town, there is such an energy again here in San Diego. I don't think everyone really understood the magnitude that this stage really is."
After pitching nearly 16 of his 18 big league seasons for the Padres, Hoffman is a senior advisor in baseball operations for the club under general manager A.J. Preller. His job is to coordinate the pitching from the top of the organization down.
Hoffman's No. 51 is retired, and he's one of 11 members in the newly opened Padres Hall of Fame beyond the ballpark's left-field corner. At the end of this year, he'll be on the National Baseball Hall of Fame ballot for the second time. Hoffman is on the cusp, having missed by just 34 votes (67.3 percent) this past year, but he isn't taking anything for granted.
"It's a totally different process now. They eliminated a lot of voters," said Hoffman, noting that the electorate had been trimmed to 440 voters from 549 in 2015. "You just never know how that's going to play into it. I don't know if it's easier or harder to get in."
Hoffman, who never started a game, would be only the second pure reliever elected to the Hall, following Bruce Sutter, who in 12 seasons saved 300 games without a start. Even Mariano Rivera, who's eligible in 2019, started 10 games for the Yankees during the 1995 season. Rivera has the regular-season saves record, with 652, and made it clear earlier this year how he feels about the man he passed to set the all-time mark.
"Everything has its time," Rivera said. "It's his time. I think he has to be there. He held the record for so many years and did a tremendous job and did it with quality and dignity and respect for the game. That's what you think when you see a guy like that, a guy who always tried to bring the best to his team. To do it the way he did every day, day in and day out, he has my vote."
Hoffman broke Lee Smith's record of 478 saves on Sept. 24, 2006, against the Pirates right here at Petco Park.
But Hoffman had never managed a game until Sunday. To that end, he said he relied heavily on bench coach and former teammate Mark Loretta, first-base coach Fred McGriff, pitching coach Mark Prior, third-base coach Garry Templeton, hitting coach Jim Thome and bullpen coach Kirk Champion.
That's a lot of talent.
But Hoffman did give the pregame clubhouse speech, and as an inspirational speaker, he's one of the best.
"I didn't know many of these kids," he said. "The one thing I wanted to impact on them was that they're close to touching the big leagues. This is going to be very similar to what Tuesday's game is going to feel like. You guys are really the next wave.
"You've developed over a time where the pyramid gets tighter and tighter the higher in the Minors you go. The percentage of all those guys making the big leagues is actually pretty good. So pay attention to how you treat people. Enjoy the process. Respect the fact that you came from the hometowns you did. A lot of friends and family helped you get here. But go out and enjoy the moment."
Hoffman is certainly enjoying his.
Barry M. Bloom is a national reporter for MLB.com and writes an MLBlog, Boomskie on Baseball. Follow @boomskie on Twitter. This story was not subject to the approval of Major League Baseball or its clubs.