Veterans' mental gaffes costing Reds
Defensive miscues elongate innings in loss in first-half finale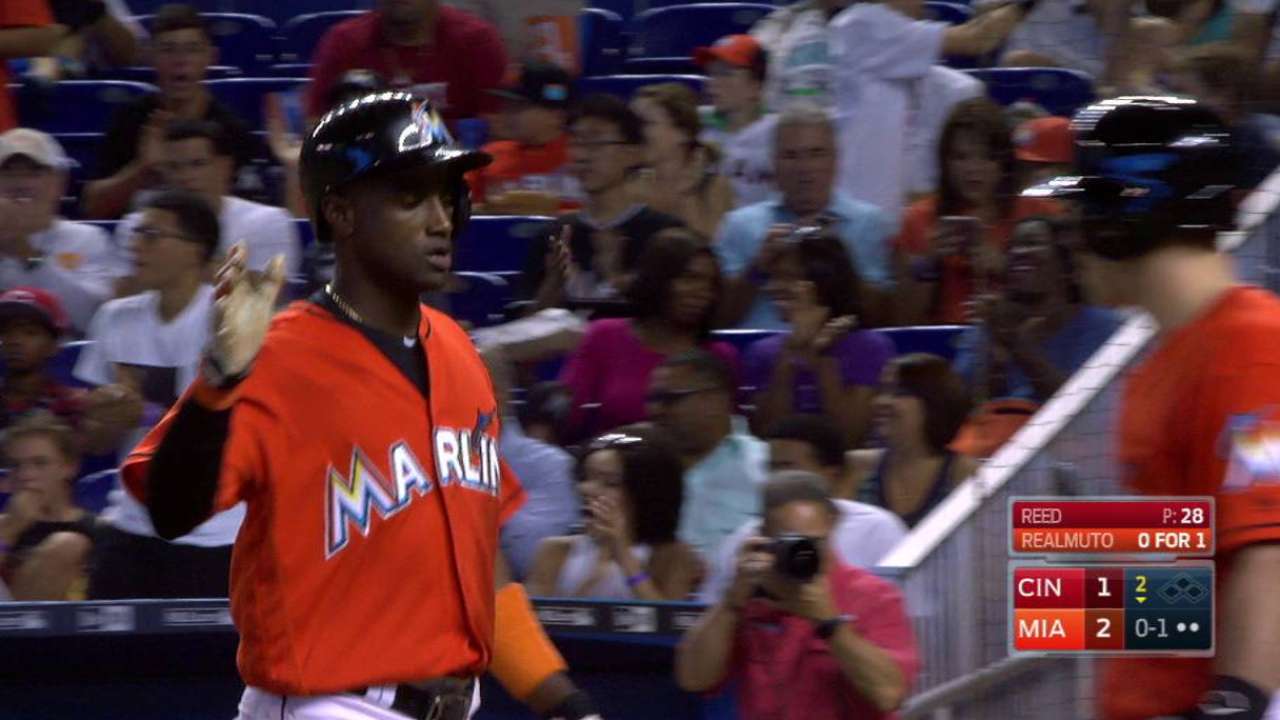 MIAMI -- The Reds knew that a rebuilding season could at times expose some weaknesses, such as some inexperienced pitchers making mistakes or younger players making hustle blunders. What wasn't expected was frequent mental lapses that created defensive gaffes, especially by veterans.
Those mental errors on defense were rampant during the Reds' 7-3 loss to the Marlins on Sunday afternoon that concluded a three-game series sweep. It was the second game in a row that defense cost manager Bryan Price's team, but it's been a season-long issue.
"It's been bad. It hasn't been what we're used to," Price said. "We stay on top of the defensive routines. These guys practice the same way. The veteran players practice the same way now as they did before. … I wish I could tell you I could put a finger on it. But we just haven't been very good."
At 32-57 heading into the All-Star break, the Reds are on pace for 104 losses, three more than the club record of 101 set in 1982. While pitching problems have been well documented, Cincinnati's 64 errors are tied for the third most in baseball, and the Reds entered Sunday ranked 28th out of 30 clubs in fielding percentage.
Right fielder Jay Bruce misjudging Martin Prado's fly ball in right field cost the Reds two runs and the game in Saturday's 4-2 loss. But there were many more issues on Sunday.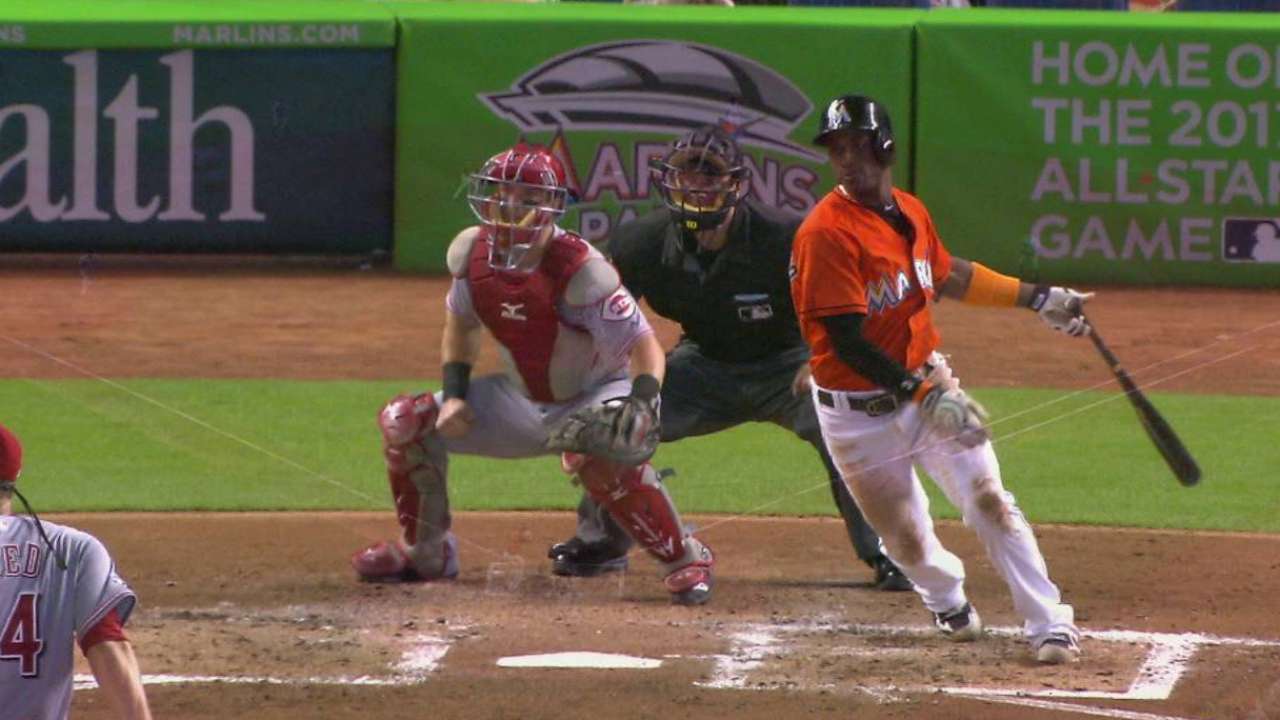 • In the second inning on Adeiny Hechavarria's RBI single to right field, Bruce's throw to plate to attempt get to get the scoring Miguel Rojas sailed up the line and allowed Hechavarria to advance to second base.
• Hechavarria then scored from second base on a passed ball as Cody Reed's pitch clanked off of catcher Tucker Barnhart's shin guard. The ball went up the dugout rail, where neither Barnhart nor first baseman Joey Votto got it in time.
• In the third inning on Christian Yelich's grounder, the ball bounced off of Votto's chest. He then made a poor toss to first base, while Reed was also late covering the bag. Votto admitted he had a lapse, but Reed took responsibility for the misplay.
"It's on me. I should have been there quicker," Reed said.
• A disastrous three-run sixth inning started when Rojas hit a grounder to the right side. It was second baseman Brandon Phillips' ball all the way, but Votto broke to get it before Phillips gloved it. The second baseman had to wait for Votto to get in position for the throw back at the bag. Rojas had a leadoff single, and later scored on J.T. Realmuto's two-out RBI single.
"Initially, I took a step that way. I misread it and was late covering first," Votto said.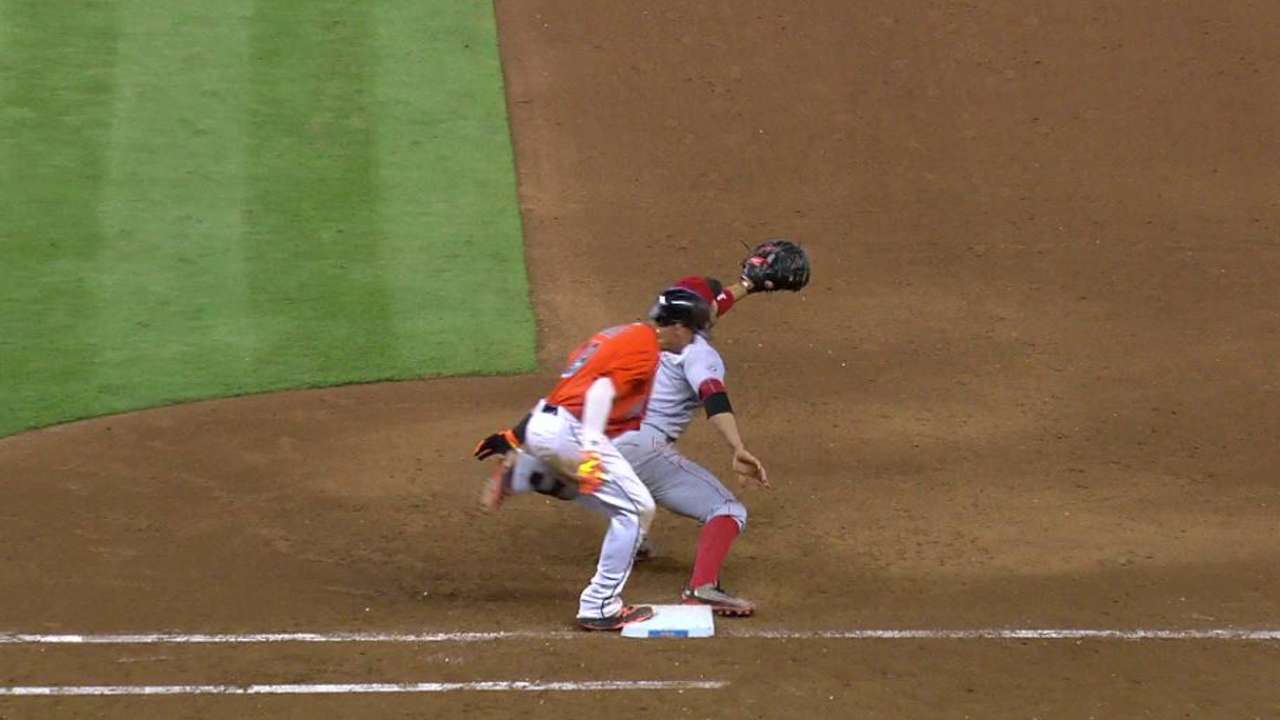 • As Realmuto broke to steal second base with Prado batting, Barnhart anticipated and called a pitchout. Realmuto was still safe.
"I think Brandon got there a little late and the throw bounced. Bad combination," Price said.
• On Yelich's RBI single to center field, Billy Hamilton's throw to third base went into the camera well, forcing in a second run.
"We were awful today defensively," Price said.
Mark Sheldon has covered the Reds for MLB.com since 2006, and previously covered the Twins from 2001-05. Follow him on Twitter @m_sheldon and Facebook and listen to his podcast. This story was not subject to the approval of Major League Baseball or its clubs.