Yankees' bats deliver vs. strong Indians rotation
New York takes 3 out of 4 against Cleveland to close 1st half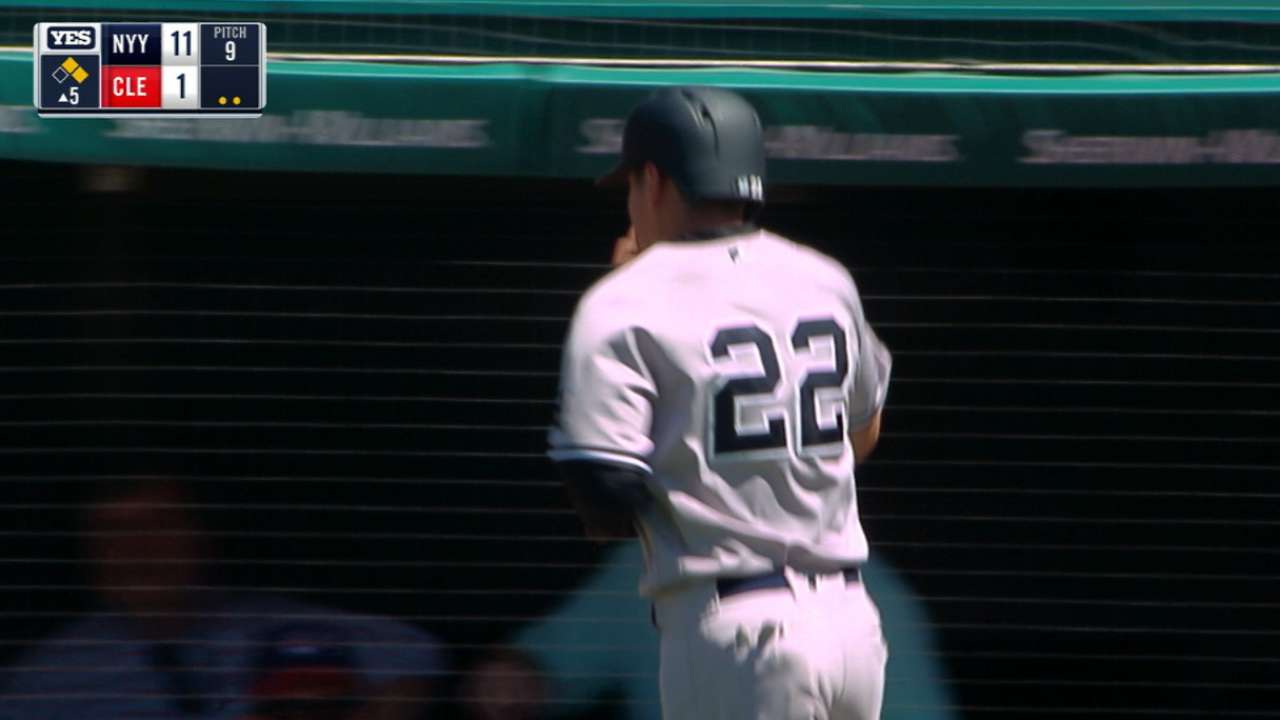 CLEVELAND -- Yankees center fielder Jacoby Ellsbury took a few steps toward first base, and as he bent down to rip off his shin guard, he heard it. Home-plate umpire Ramon De Jesus belted a called-strike roar on a pitch that looked to be well outside.
In the second inning of Sunday's 11-7 win over the Indians, Ellsbury turned and began to argue the call before ultimately stepping back into the batter's box to face Tribe starter Carlos Carrasco.
On the next pitch, Ellsbury hammered a 3-2 changeup over the right-center wall. His three-run blast capped a four-run second inning for the Yanks, who took an early lead and never looked back.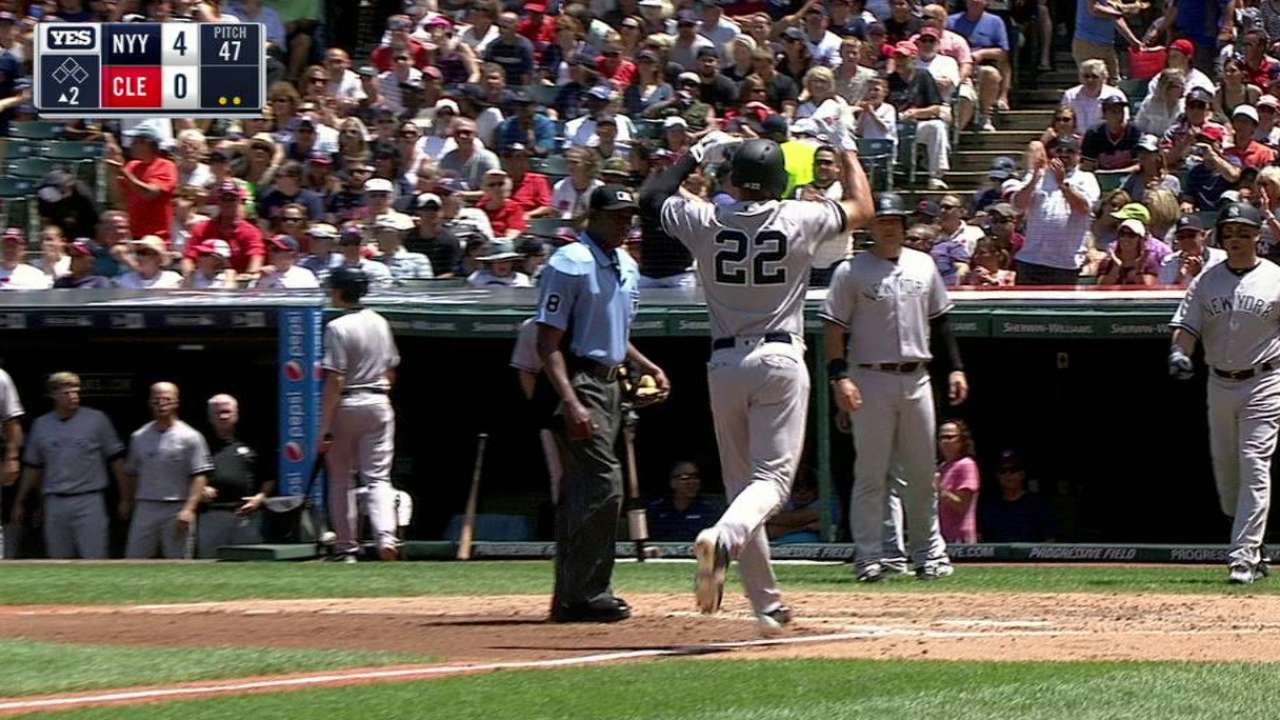 "It's a big at-bat," Ellsbury said. "If I walk, Carlos [Beltran] is up with the bases loaded. That can go either way. Fortunately, I hit a home run. It was a big three runs for us. It end up working out. I guess I'm happy he made that call."
The play was microcosm of the entire four-game series for New York. The Yankees entered the series with inconsistencies on offense, and they were going up against the league's best rotation. As a result, the game plan going in was to take what the Tribe gave them.
New York did that and so much more in the series win over one of the hottest teams in baseball to even its record at 44-44 at the All-Star break.
"It's a big series for us, big win," Ellsbury said. "Going into the All-Star break with momentum. Hopefully, we can carry that the rest of the way."
New York plated 25 runs across four games in Cleveland. The most impressive feat was that the majority of the runs came against the elite rotation.
On Thursday, the Yanks chased right-hander Trevor Bauer out of the game after 5 2/3 innings of five-run ball, ultimately snapping an 11-inning scoreless streak by Bauer. Two nights later, they scored six runs off All-Star Danny Salazar.
Then in the series finale Sunday, Carrasco exited after just 3 2/3 innings. New York plated five runs (one earned) off the big righty.
"We felt like we put good at-bats against those guys," Beltran said. "There is no doubt that Cleveland has a great pitching staff. We were able to score runs against them. To be able to take three out of four games really means a lot."
The Yankees' lone loss came when Tribe starter Corey Kluber held them to one run over eight innings on Friday.
Now the Yanks can only hope the offense can pick up right where it left off in the second half. New York has a crucial 10-game homestand beginning Friday, which features three series against teams with better records, including two American League East foes -- Boston and Baltimore.
"Sometimes, you wish it would continue," Yankees manager Joe Girardi said. "But our guys could probably use a little bit of a break."
Shane Jackson is a reporter for MLB.com based in Cleveland. This story was not subject to the approval of Major League Baseball or its clubs.