South County finishes on top at Wiffle Series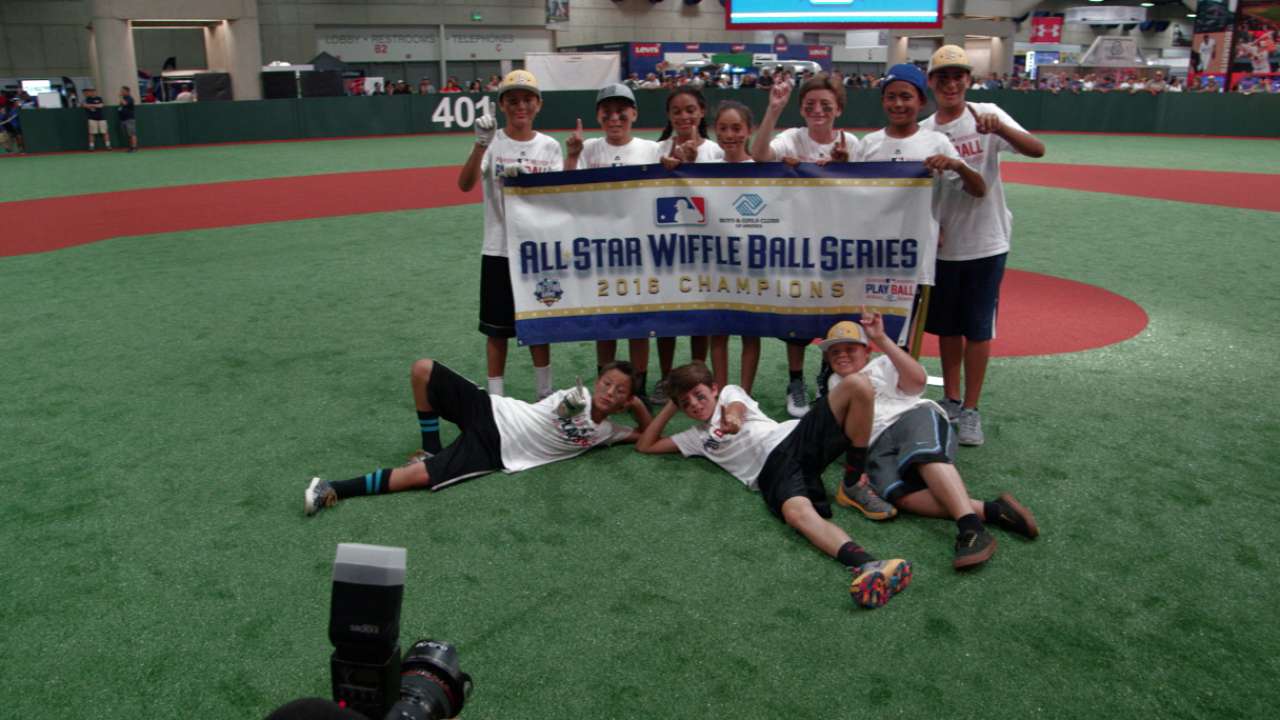 SAN DIEGO -- The Boys & Girls Club of South County San Diego took home the title for the second annual All-Star Wiffle Ball Series Sunday morning at the All-Star FanFest Diamond.
South County won the competition with a 6-2 victory over the Boys & Girls Club of San Marcos. The three-day event pitted teams of 10-12-year-olds from Boys & Girls Clubs around San Diego in a single elimination tournament.
"It was pretty cool, people were lined up all around the walls," said Julien Olande, who had three hits in the finale for South County. "I got a hit and I was on the big screen and I didn't know what to do, so I just stood there and was like, 'Wow.'"
To get to the finale, South County, whose players are mostly from Imperial Beach, won in the quarterfinals on Friday at PLAY Ball Park and in the semifinals Saturday at Petco Park, before winning the championship on Sunday. On top of getting to play in front of a packed crowd in the finale, the participants got to meet former Major Leaguers Bobby Jones, Steve Finley and Juan Eichelberger before the game. But the winners of the competition enjoyed more than just the thrills that accompanied their championship.
"It was fun to win and everything, but being together as a team the last three days was the best part," South County pitcher Hunter Thomas said.
South County jumped out to a 3-0 lead in the second inning of the five-inning contest, but San Marcos came back with two runs in the third to make things interesting. Most players on the South County team also play together in Imperial Beach Little League, and their camaraderie helped them keep their composure.
"They tried their best, and they started to come back at the end and made it close," Olande said. "We were all pretty nervous when that happened, but we gave each other confidence and stayed calm to come back and win."
Thanks to winning the competition, South County will get to attend All-Star Sunday activities at Petco Park, including the SiriusXM All-Star Futures Game and the All-Star Legends and Celebrity Softball Game.
The second annual All-Star Wiffle Ball Series was coordinated by the Boy & Girls Clubs of America, an official charity of Major League Baseball.
On Tuesday, watch the 2016 All-Star Game presented by MasterCard live on FOX, and during the game visit MLB.com to submit your choice for the Ted Williams Most Valuable Player Award presented by Chevrolet via the 2016 MLB All-Star Game MVP Vote. The 87th All-Star Game, in San Diego, will be televised nationally by FOX, in Canada by Rogers Sportsnet and RDS, and worldwide by partners in more than 160 countries via MLB International's independent feed. ESPN Radio and ESPN Radio Deportes will provide national radio coverage of the All-Star Game. MLB.com, MLB Network and SiriusXM will also provide comprehensive All-Star Week coverage. For more information, please visit allstargame.com.
Ryan Posner is a reporter for MLB.com based in Texas. This story was not subject to the approval of Major League Baseball or its clubs.