A gem for Folty in first-half finale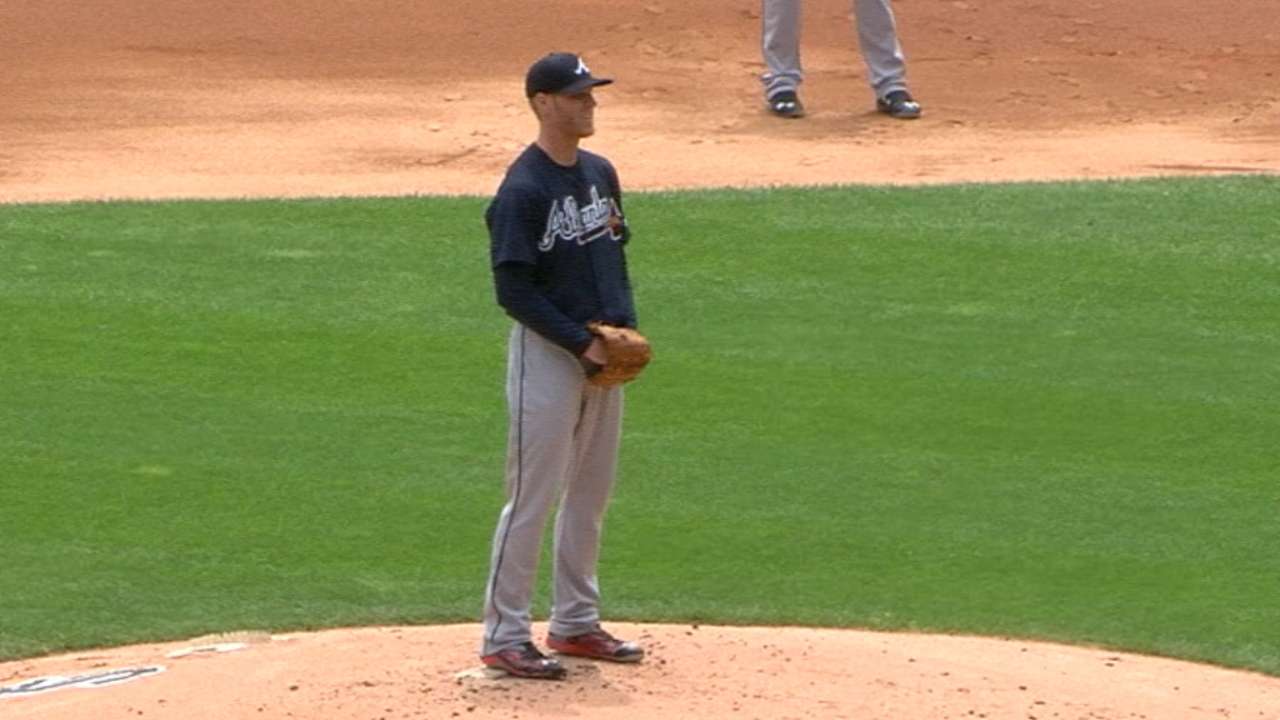 CHICAGO -- When the Braves limited Mike Foltynewicz's Minor League rehab stint to one outing and brought him back to fill spot in their injury-depleted rotation two weeks ago, they primarily wanted him to make three starts before the All-Star break and hopefully enter the season's second half in confident fashion.
It seems safe to assume everything went according to plan for the Braves, who watched Foltynewicz record a career-high 10 strikeouts over seven scoreless innings during Sunday afternoon's 2-0 win over the White Sox at U.S. Cellular Field. The 25-year-old right-hander's effort, which included no walks, provided strong indication that he's quickly regained the successful form he had before being shut down in early June with a bone spur in his right elbow.
"It's really encouraging," Braves manager Brian Snitker said. "He was 98 [mph] with his last pitch. It was a great progression. This is exactly what we wanted him to do with this start, the third one back from the rehab. That's just a glimpse of what this kid is capable of."
Foltynewicz notched four strikeouts and limited the White Sox to four hits through the first four innings. But the Chicago-area native saved his best for the final portions of his 106-pitch effort. He retired 12 of the final 13 batters faced and struck out six of the final 10, including each of the three batters Chicago sent to the plate during a perfect seventh inning.
Though his evolution from prospect to potential frontline starter has coincided with his ability to more consistently command his breaking pitches, Foltynewicz's primary weapon remains a high-octane fastball which touched 98 mph three times during his final inning.
"I thought he was the one wild card coming into this season that we hadn't seen what he can do," Braves outfielder Jeff Francoeur said. "Right now, what a huge pickup for us."
Foltynewicz is living up to the tremendous expectations that surrounded him when he became Atlanta's top prospect after he was acquired as the centerpiece of the Jan. 2015 trade that sent Evan Gattis to the Astros. He endured growing pains throughout most of last season and then missed all of September because of a blood clot that limited him during the offseason and prevented him from joining Atlanta's rotation until May.
Foltynewicz surrendered three first-inning home runs to the Mets during his May 2 season debut and allowed four more home runs in Philadelphia on Tuesday, as he completed what was essentially his first full start (rain had limited his previous start to three innings) since returning from the disabled list. But when given a chance to get in a groove, he has displayed his capabilities and in the process surrendered two earned runs or less in six of this season's nine starts.
"Coming off a game like this, puts more confidence in me and we all get to relax now," Foltynewicz said.
Foltynewicz has struggled with harnessing his emotions in the past. He surrendered seven earned runs in just 4 2/3 innings while pitching in front of friends and family members who traveled approximately 45 minutes from his native Minooka, Ill. to watch him pitch at Wrigley Field in August.
But with this same group in attendance on Sunday, the young hurler provided clear indication that his development is moving in the right direction.
"It was a huge sigh of relief," Foltynewicz said. "It was fun being out there, just trying to put my family and friends in the back of my head while staying aggressive. I stayed aggressive the whole game."
Mark Bowman has covered the Braves for MLB.com since 2001. This story was not subject to the approval of Major League Baseball or its clubs.