Mets set franchise record for first-half homers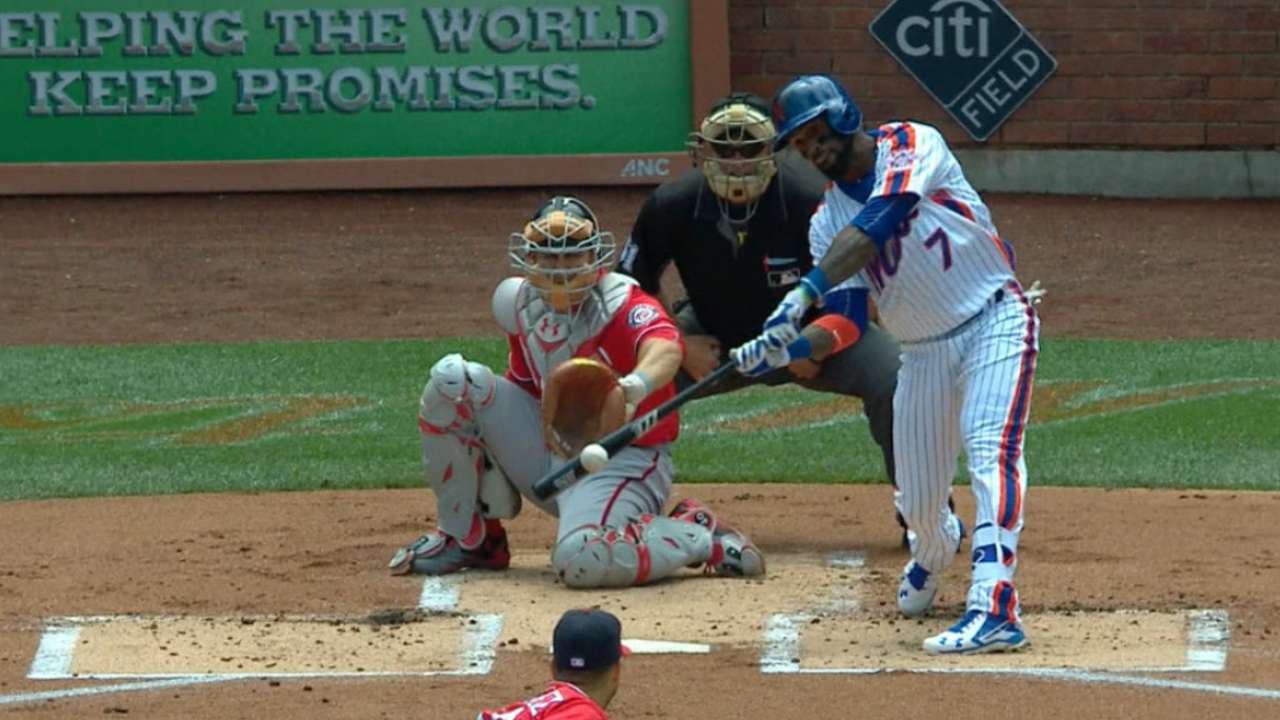 NEW YORK -- Terry Collins understands the merits of individual achievements. They lead to players signing lofty contracts. But team records? Those only hold weight if they lead to wins.
With a couple of solo dingers from Jose Reyes against the Nationals on Sunday, the Mets set a franchise record with 122 home runs in the first half. But they came in a 3-2 loss, pushing the Mets to six games behind Washington in the National League East in the final game before the All-Star break. So, no, Collins wasn't ready to praise his team's achievement.
"In the second half, if we have another record of home runs, hopefully we are 20 games above .500 because of it," Collins said.
The Mets have scored 53.1 percent of their runs via home runs, a mark that leads the Major Leagues. The team's reliance on the long ball has proved beneficial in some scenarios -- but hurtful in others.
In Thursday's slugfest against the Nationals, the Mets came out on top, 9-7, after hitting four home runs. Washington led, 4-1, in the fourth and 6-4 in the fifth, but the Mets used the long ball to fight back both times. Wilmer Flores gave the Mets a 7-6 lead with a three-run shot in the fifth, and Asdrubal Cabrera added a solo blast the following frame.
Sunday's series finale, though, represented the other end of the spectrum.
Each of Reyes' home runs came with no one on base. And each time, he held onto his helmet as he rounded the bases to cheers.
"That second one, that ball was crushed," Collins said.
The Mets only managed to move one runner into scoring position. That came in the first, when Flores reached second on Cabrera's single. Juan Lagares struck out swinging, ending the rally.
After Nationals closer Jonathan Papelbon induced two outs in the ninth, Travis d'Arnaud sent the first pitch into left field for a single, bringing Alejandro De Aza to the plate with the Mets trailing by one.
After a seven-pitch battle, De Aza swung through an 88-mph splitter, holding his stance in the batter's box for a couple moments as catcher Wilson Ramos passed by to celebrate the Nationals' series victory with Papelbon.
The Mets retreated to the clubhouse with a sparkly new addition to the record books, but a sour taste in their mouths.
"Team numbers are nice when you're winning. They're great," Collins said. "They don't amount to much if you're not winning."
Joshua Needelman is a reporter for MLB.com based in New York. This story was not subject to the approval of Major League Baseball or its clubs.