Gregorius impressing with power surge
Despite denying being home run hitter, shortstop slugs career high before break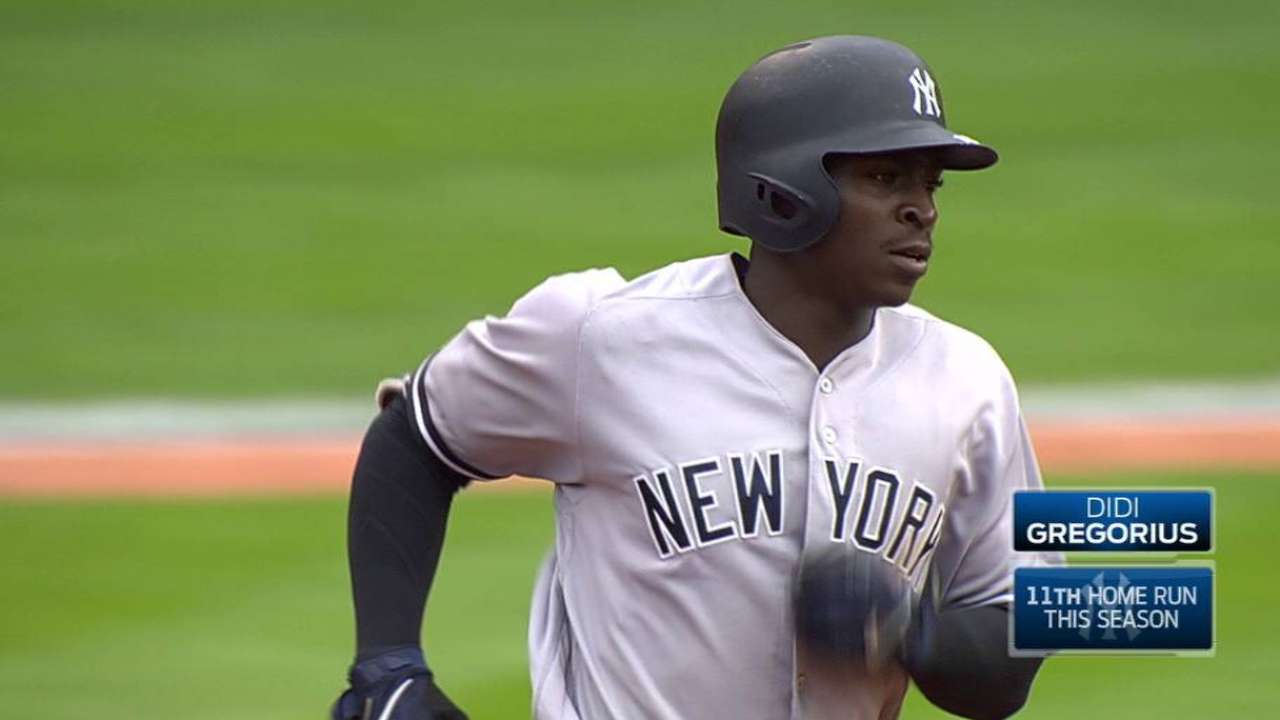 CLEVELAND -- Yankees shortstop Didi Gregorius stood in front of his locker and denied that he is a home run hitter -- a statement he says he's going to continue to deny throughout his baseball career.
"I'll keep saying that every day," Gregorius said. "I'm just trying to hit line drives. I'm not a power hitter. [I'm] trying to put good swings, and they turn into home runs."
But the shortstop's recent track record is becoming increasingly hard to ignore. The Yankees' 7-6 win over the Indians at the Progressive Field on Saturday was the latest example.
With the score tied, 1-1, in the third inning, Gregorius stepped up to the plate with one on and two away against Tribe All-Star Danny Salazar. Gregorius fouled off a slider to start the at-bat, then he swung through a 96-mph fastball to get behind, 0-2. Salazar went back to the heater again and Gregorius made him pay for it, ripping a line drive over the right-field wall for a two-run homer.
"He's a talented player that is just figuring it out," Yankees manager Joe Girardi said. "He's getting a chance to play every day and not looking over his shoulder. His talent is just emerging."
Doing that against the American League's best rotation is no easy task, especially against an All-Star. In fact, it was just the second time all season that a Cleveland starter surrendered a two-out homer on an 0-2 count.
For Gregorius, it pushed him to a career-best 11 homers for the season, and it was his second in the series against the Indians. He is just the second Yankees shortstop to slug at least 11 homers before the All-Star break, joining Derek Jeter.
"He's unbelievable," left-hander CC Sabathia said. "He's our most exciting player. He does everything all around for us."
Gregorius' recent home run surge -- five in his past 10 games entering Sunday -- is just one example of his recent hot stretch. He batted .370 (34-for-92) with seven homers and 20 RBIs over the 23 games since June 14. That stretch raised his batting average from .266 to .298.
"He's on another level," catcher Brian McCann said. "What he's doing with the bat, both sides of the ball, he's going next level."
But through it all, Gregorius will continue to shy away from the title of home run hitter and stress that his game plan is to hit to gaps. That's similar to former Yankee Curtis Granderson, who hit 41 home runs in 2011 and 43 in '12, the second most in the AL each season.
"He hit 42, I don't think I'm going to hit 42," Gregorius said with a laugh.
Shane Jackson is a reporter for MLB.com based in Cleveland. This story was not subject to the approval of Major League Baseball or its clubs.