Montgomery continues mastery over Royals
Mariners lefty fires 6 1/3 strong frames in win over his former club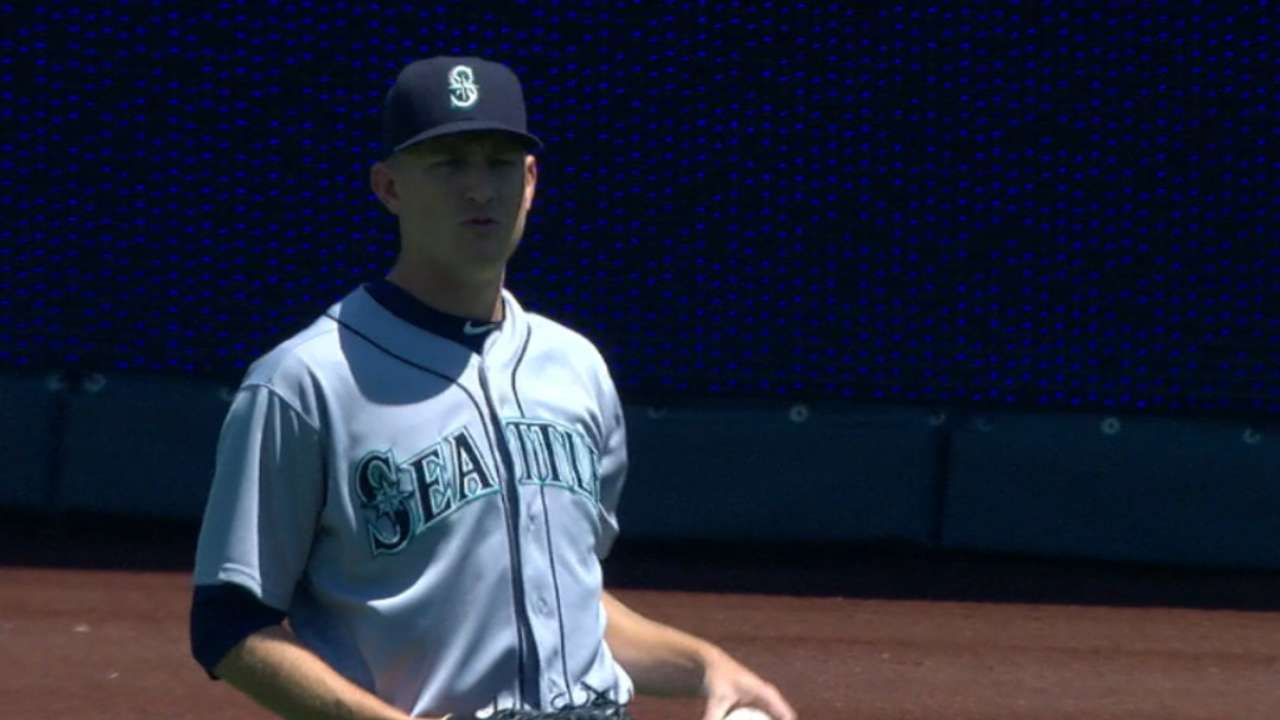 KANSAS CITY -- As Mariners left-hander Mike Montgomery threw his final pitch over the plate, he knew he'd made a mistake. The crack of Brett Eibner's bat connecting with the ball confirmed it. The home run traveled 417 feet according to Statcast™, stopping only after connecting with the back wall of the Royals' bullpen in left field.
Fortunately for Montgomery, it was his only mistake in logging 6 1/3 strong innings in the Mariners' 8-5 win on Sunday. All in all, Montgomery went 16 innings against the team that drafted him in 2008 before giving up a run.
"Outstanding. Great effort today." Mariners manager Scott Servais said. "Really happy for him ... [He] really stepped up today."
Montgomery said he didn't feel too much added emotion pitching against the Royals, although he acknowledged it was special to finally make a start at Kauffman Stadium. He had previously pitched twice against the Royals at Safeco Field, including a shutout in 2015.
Through the first six innings on Sunday, it looked like Montgomery might be on his way to he repeat of that performance. He sliced through the Royals' lineup, facing just two batters over the minimum through six.
"He's just a good pitcher," Royals manager Ned Yost said. "He's starting to figure things out."
And when Montgomery needed to rely on his defense, it came through. Shortstop Ketel Marte and third baseman Kyle Seager made several difficult plays to thwart potential rallies. That led to a conversation between Montgomery and Seager in which Seager jokingly told Montgomery he felt overworked.
"He said, 'Hey, that's all you're going to get. Let them hit it somewhere else,'" Montgomery said. "'I said, 'Hey, I'm making you work today.'"
All kidding aside, as Servais walked out to the mound to make a pitching change in the seventh, Seager went right up to Montgomery and congratulated him.
"I thought he was phenomenal," Seager said.
Servais only added on to that praise. Before the game, he was asked what a reasonable expectation for Montgomery would be, quipping back "a complete-game shutout." Afterward, the skipper amended his statement.
"It was way better than I was expecting," Servais said with a smile.
Scott Chasen is a reporter for MLB.com based in Kansas City. This story was not subject to the approval of Major League Baseball or its clubs.