8 prep sluggers battle it out in High School Home Run Derby
Storz, Brueser win right to compete in between breaks of Monday's T-Mobile Home Run Derby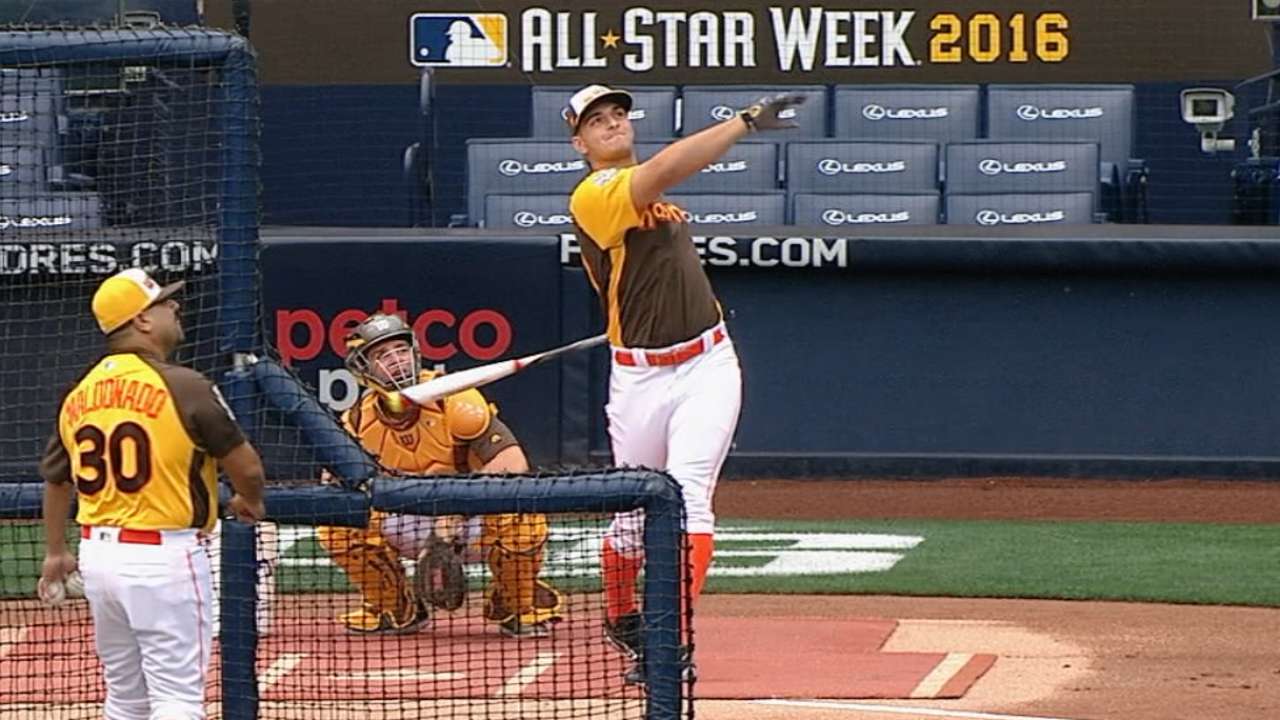 SAN DIEGO -- The music echoed throughout an immaculate Petco Park early on Sunday morning. Families and friends watched from seats behind the home dugout, while scouts scattered through the stands took notes.
Then, the big league dreamers stepped up to home plate and swung for the fences.
This year's High School Select Home Run Derby featured a total of eight high school sluggers -- selected by Major League Baseball, USA Baseball and Major League Baseball International -- and it was a hit.
The top two finalists -- Nicholas Storz and Nick Brueser -- will compete in between breaks of the T-Mobile Home Run Derby on Monday. Storz paced Sunday's competition, while Brueser finished second.
"It's unreal. I still can't believe it's going to happen, and I'm going to be on the field with some of the best players in the game," Storz said. "Some of these guys are the ones I look up to and want to be one day. I'm just going to take it in and embrace everything."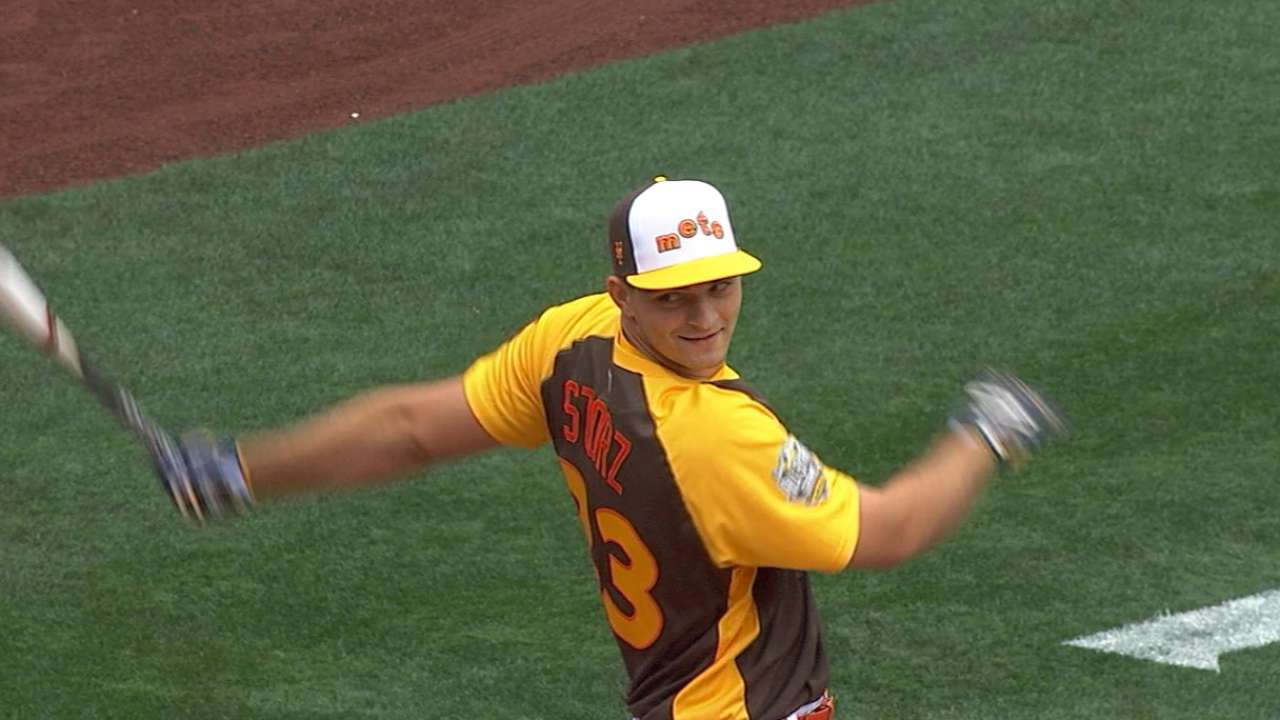 Six of the players in Sunday's contest participated in USA Baseball's Tournament of Stars in late June: Jordan Adell (Prospect, Ky.), Brueser (Chandler, Ariz.); Jayson Gonzalez (Covina, Calif.); Hunter Greene (Stevenson Ranch, Calif.); Royce Lewis (Aliso Viejo, Calif.) and Storz (Brooklyn, N.Y.).
Storz won the Tournament of Stars home run derby, while Adell finished second.
"This has been surreal," Brueser said. "I can't even put into words how they have treated us. They've treated us like celebrities here, and it's been just awesome. I can't even put into words how awesome it has been."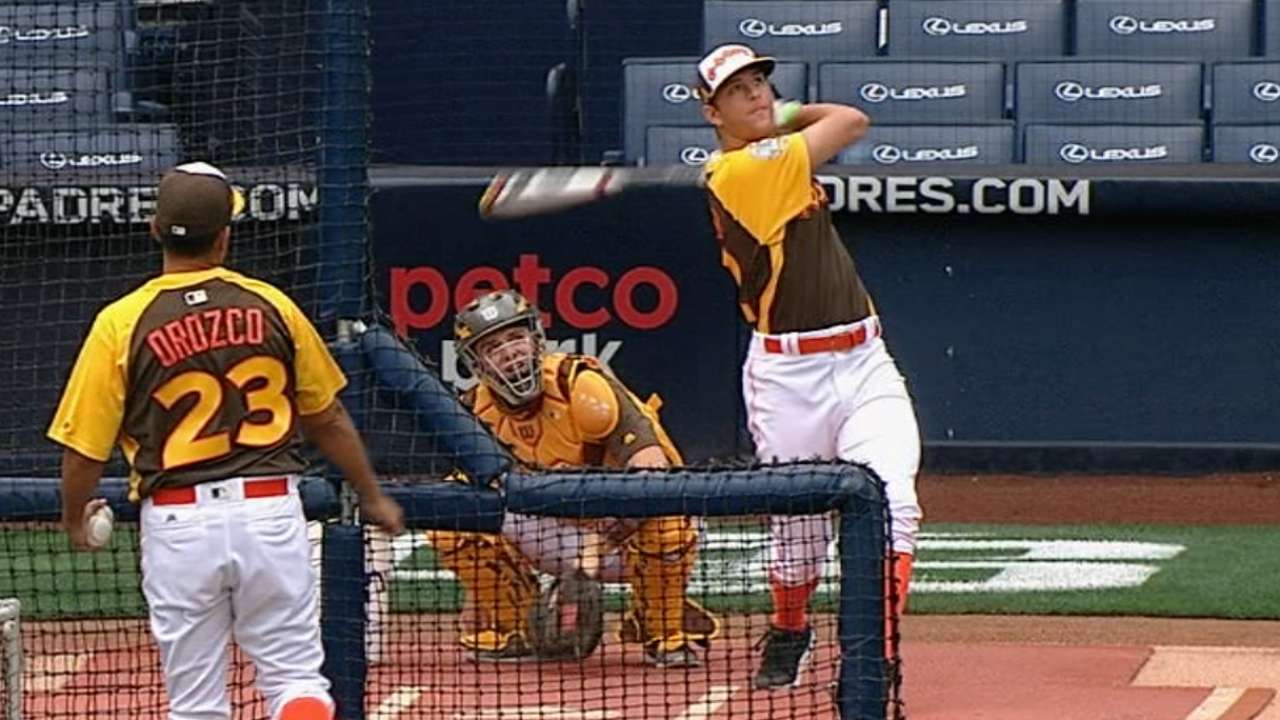 There was an international element to this year's contest. Carlos Pacheco of Saltillo, Mexico, and Jonathan Rodriguez of Toa Baja, Puerto Rico, also took their cuts.
"This was an incredible experience, and I'm extremely grateful to be part of it," Pacheco said in Spanish. "This is something I'll never forget."
Rodriguez, who played on the same travel team as top prospect Delvin Perez, drafted in the first round by the Cardinals last month, was all smiles after the event.
"To be here and to represent Puerto Rico is an honor," Rodriguez said. "God willing, one day I will get drafted and be able to start my professional career. But I know I have to work."
What the future holds for this talented field is to be determined. This much is certain: There is a history of success with players who participate in the High School Home Run Derby.
Last year's event featured 2016 draftees such as Andrew Yerzy, selected in the second round by the D-backs; William Benson, selected in the first round by the Indians, Nicholas Quintana, picked by the Red Sox in the 11th round; Carlos Cortes, selected in the 20th round by the Mets; and Joey Wentz, a supplemental first-round pick by the Braves.
The 2014 field in Minneapolis included 2015 draftees like first-rounder Josh Naylor, taken No. 12 overall (Marlins), second-round pick Chris Betts (Rays) and fifth-rounder Jason Heinrich (Orioles). Jacob Gatewood, who was picked 41st overall by the Brewers in 2014, starred in the inaugural contest at Citi Field in 2013.
"There are times when you think, 'That could be me one day,' but you want to focus on embracing the situation you are in, right now, and enjoy it," Storz said. "This is just a humbling experience and I'm very honored to be here."
Jesse Sanchez is a national reporter for MLB.com based in Phoenix. Follow him on Twitter @JesseSanchezMLB and Facebook. This story was not subject to the approval of Major League Baseball or its clubs.