MLB.com Columnist
Alyson Footer
Stefani thrills crowd at MLB All-Star Concert Series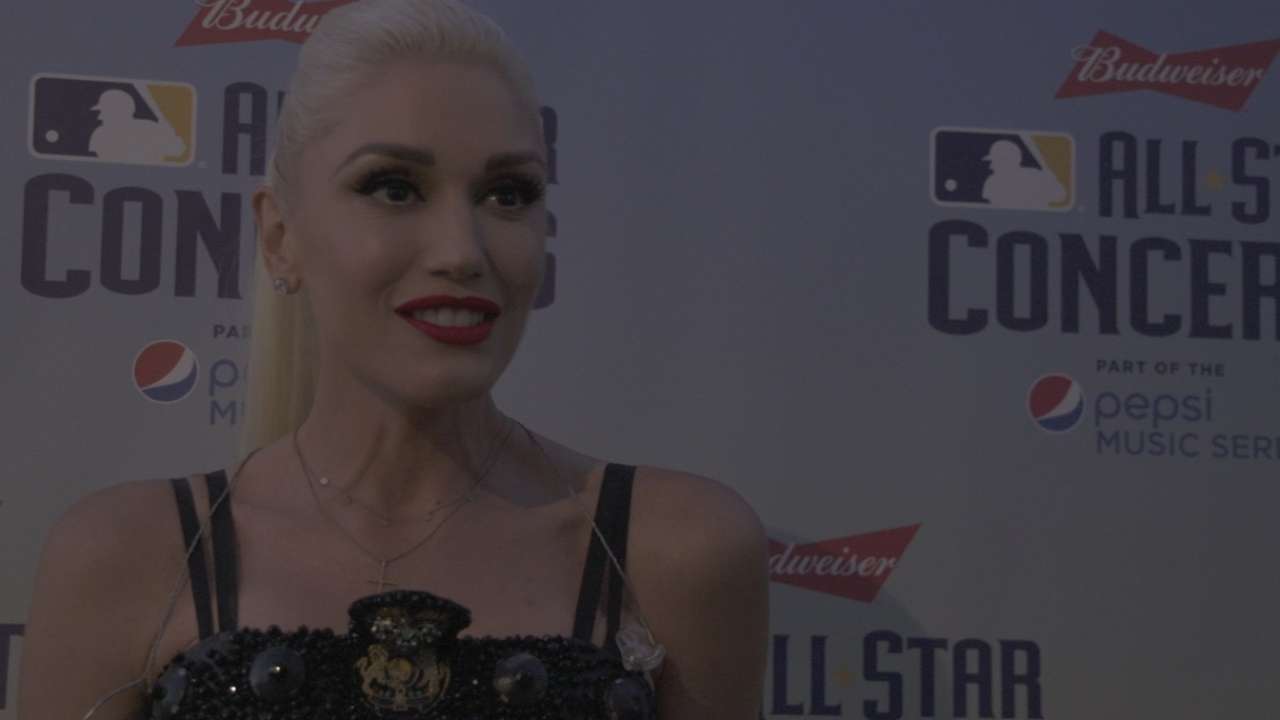 SAN DIEGO -- The Budweiser MLB All-Star Concert Series featured a total of six artists and bands, each bringing to the stage their own brand of star power. The buildup throughout the two-day extravaganza, however, ended with a particular singer on Saturday night who knocked it out of the park, so to speak, as the headliner of a full slate of musical performances scheduled for All-Star week.
Three-time Grammy Award winner Gwen Stefani hasn't been on tour in seven years. She's about to embark on that journey later this summer, and she used her high-energy time on stage Saturday night as a warmup, or tune-up, for her upcoming "This is What the Truth Feels Like" tour.
"How about the fact that I'm doing a show right now?" she said right before she went on stage at the Embarcadero Marina Park South near Petco Park. "How excited am I? I feel like I'm in a dream. I was backstage getting ready thinking, I have not played on tour in seven years. I couldn't be more excited or grateful. I love San Diego."
Stefani performed for about 90 minutes, mixing old favorites with songs from her new "Truth" album. Early in the show, she performed "Let It Slide," "Wind it Up," "Baby Don't Lie," and "Obsessed."
The evening continued with "Make Me Like You" and "Misery." Toward the end of the performance, Stefani brought back some of the old faves -- "Rich Girl," "Hollaback Girl," and "The Sweet Escape."
"I never thought I'd have a new record," she said. "I just didn't expect to have new music, and it just came out of the sky and my heart and it feels so good to have that creative outlet after such a crazy year. To be able to share it and go live with it ... I had no plans for that. We're here now and it's such a trip to do live music again."
The show began with an opening act featuring hip-hop recording artist Eve, who has collaborated with Stefani in the past and will join her on her upcoming tour.
Eve performed several of her best-known songs, including "Gangsta Lovin'" from her Eve-olution album in 2002 and "Tambourine."
"Who loves hip-hop?" Eve yelled to the crowd, introducing her next song, "Let's Go."
Eve said later the set was representative of her tour show and she was happy to feed off the enthusiasm of all All-Star crazy crowd.
"They were looking to have fun," she said. "Their hands were in their air, they were dancing. It was great."
Though not a huge baseball fan by nature, seeing the crowds on Saturday gave Eve a bit of a tug.
"This makes me want to go to a baseball game," she said. "I've never actually wanted to, but pulling up and coming in, and seeing all the kids with their baseball hats and their parents, I actually want to go to a baseball game."
Then with a laugh, she added, "Can I get some tickets?"
The day began with a noon concert featuring Tori Kelly with special guest All Time Low.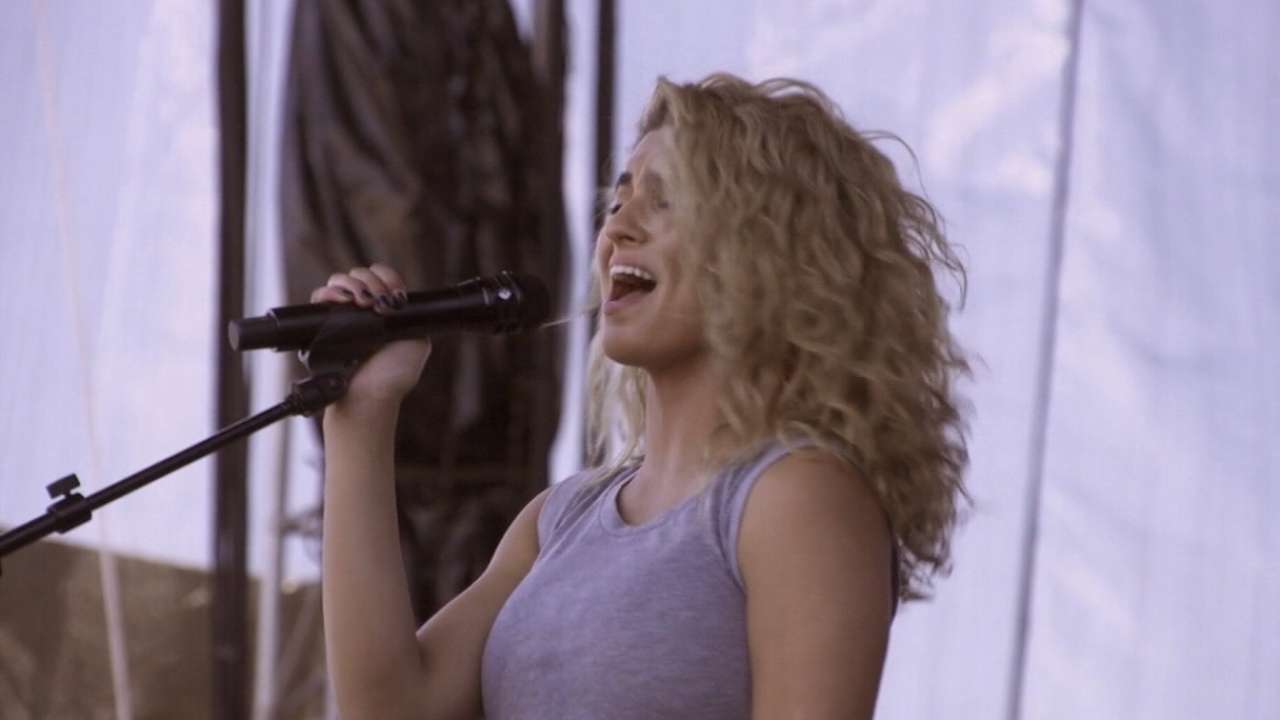 The 23-year-old Kelly, a 2016 Grammy Award nominee for Best New Artist, opened the show with "Where I Belong," followed by the title song of her debut album "Unbreakable Smile." She also dedicated a brief part of her show to the recently deceased Prince with slow, melodic versions of "When Doves Cry" and "Purple Rain."
"We love you, Prince," she said at the end.
Kelly's 17-song performance also included "Daydream," a song she told the audience she wrote to her "younger self, when she doubted herself."
"She wasn't feeling the love -- her own love," Kelly continued. "It was written to tell that little girl the things I've learned along the way."
Formed in 2003, All Time Low hails from Towson, MD, a suburb of Baltimore. Unsurprisingly, the band members are die-hard Orioles fans, an allegiance they haven't waivered from no matter where their travels take them.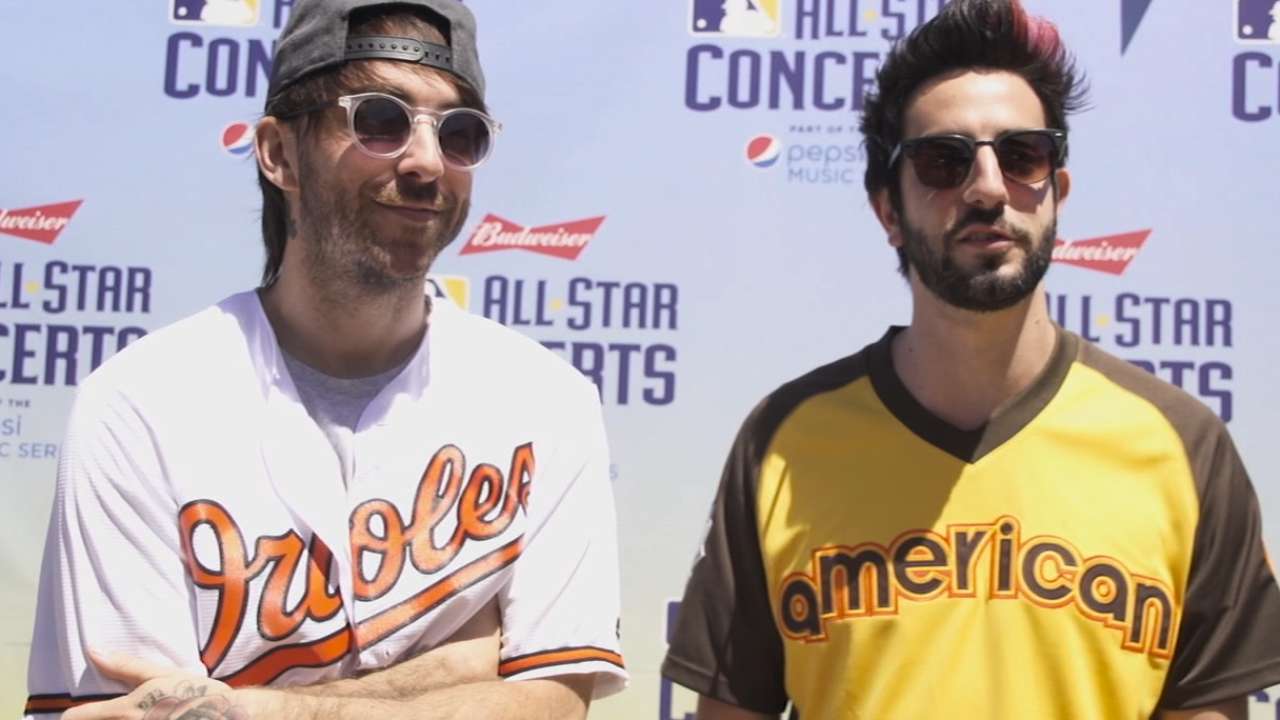 Although they were very young during the Orioles glory years of the mid-1990s, the band members can reflect upon the era of Cal Ripken Jr., Brady Anderson, Roberto Alomar and B.J. Surhoff and realize how lucky they were to be coming of age as baseball fans at the same time that the Orioles were such a powerhouse.
"They were just killing it at the time," lead singer Alex Gaskarth said. "It was a good time to be an O's fan."
Such is still the case today, Gaskarth was quick to point out.
"This is our year," he said. "We've got it. Most home runs in the league -- I think we've got this one. It's a productive team."
All Time Low performed 12 songs, including "Kids in the Dark," "Backseat," "Weightless" and "Dear Maria." Engaging with an obvious liking to playing to the crowd, the band fit in well with the festive, loose scene at the Embarcadero.
"There's no better thing than playing an awesome show outside when it's this beautiful," Gaskarth said. "It's a free show, there's a lot of people here hanging out, excited about baseball, excited about music."
Alyson Footer is a national correspondent for MLB.com. Follow her on Twitter @alysonfooter. This story was not subject to the approval of Major League Baseball or its clubs.