#RallyHawk soars as Rox offense roars
Bird glides around Coors Field during Colorado's 6-run sixth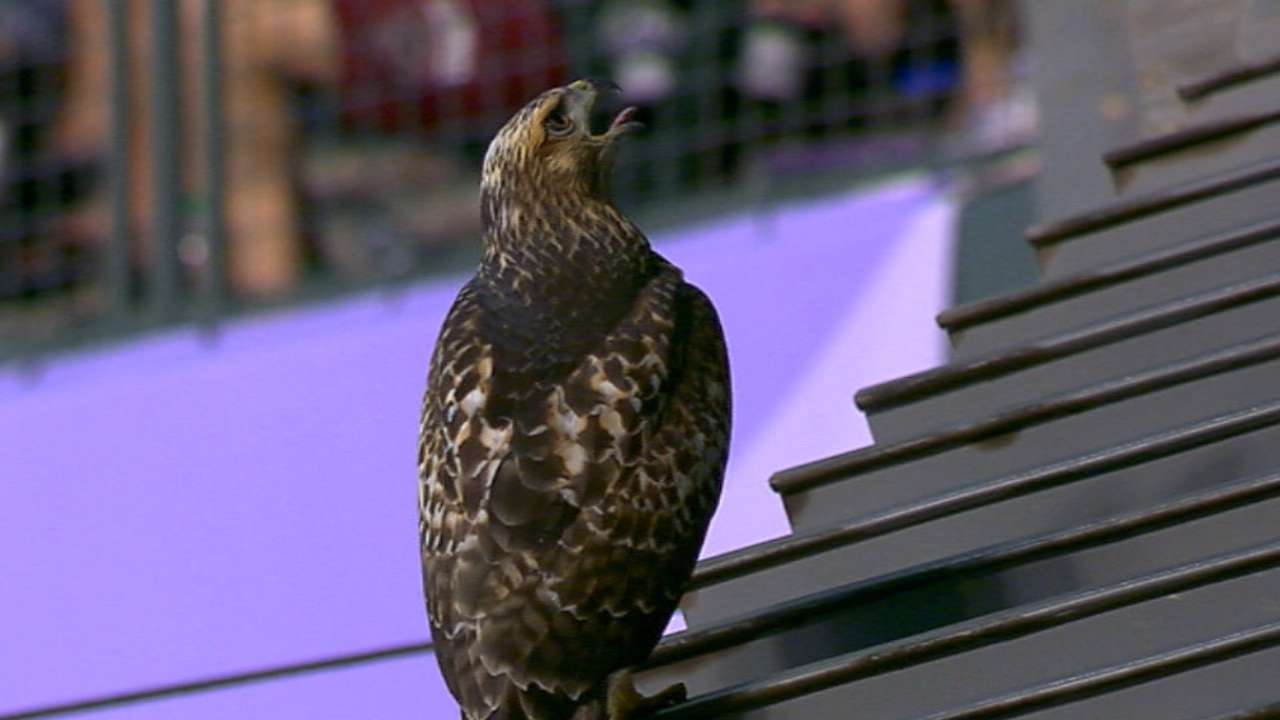 DENVER -- Rockies outfielder Brandon Barnes felt a surge when he doubled in the final run of a six-run sixth inning in Saturday night's 8-3 victory over the Phillies at Coors Field. Just maybe, he was spurred by the awesome power of #RallyHawk.
A family of red-tailed hawks lives in the light tower above the scoreboard in left-center. One of those family members decided to leave the nest and check out the Rockies, who began their rally as the bird began circling the park. It even perched above the press box behind home plate.
"Maybe that's what gave me the power to hit the double," Barnes said, smiling. "I was feeling it.
"But I didn't know it was flying around when I was at bat. I knew it was flying around when I was in the outfield. It went over me one time and I put my glove up, just in case it went to the bathroom. Hawks are awesome."
It may have been a good time for #RallyHawk -- it had a hashtag on social media before the end of the inning, which included four hits, a hit batter and two walks, including Mark Reynolds' free pass with the bases loaded from Phillies pitcher Jerad Eickhoff -- to venture away from the nest. With a raucous crowd of 48,105 and postgame fireworks about to light up the sky behind the nest, why not find some peace and take in a ballgame.
#RallyHawk made several rounds, more or less tracing the outside of the field, possibly inspiring the Rockies to follow suit around the bases.
#RallyHawk

(popcorn) pic.twitter.com/OstomcpqLS

— Colorado Rockies (@Rockies) July 10, 2016
It didn't bother any players. When the Phillies came to bat, #RallyHawk made its way to one of the trees in center field. Fans leaned over the retaining wall for a good view.
"It's pretty cool," said shortstop Trevor Story. "I'd never seen anything like that. That was pretty cool. He's our rally hawk."
Starting pitcher Tyler Anderson, who homered in the fifth, said he "saw him during that six-run inning right before Tony [Wolters] hit that triple."
Wolters, whose triple came just before Barnes' double, said, "Wonder if we can have a trained bird, like a California condor or something?"
But perhaps #RallyHawk can handle this job alone.
"I didn't know if that was part of a skit or what was going on there," Rockies manager Walt Weiss said. "Do we have bird trainers in town or something? But the thing looked pretty trained. I caught a glimpse of it."
At least one hawk has lived in the park since 2013, and another showed up last year. The nest was discovered by television cameras in May.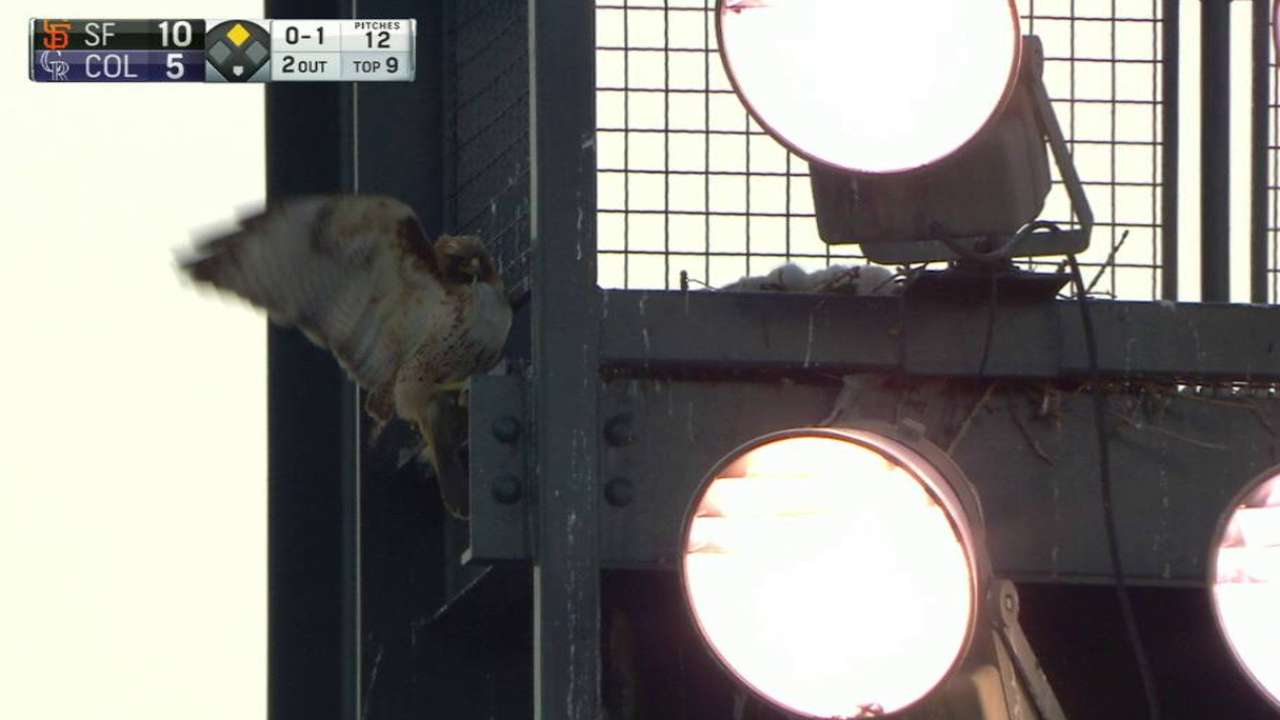 Folks who work in the stadium say they have noticed pigeon guts, so these birds know their way around the park and have plenty to eat.
The Rockies sit third in the National League West at 40-47, behind the Giants and the Dodgers, who have their own feathered friends.
Seagulls the size of some leadoff hitters descend upon the Giants' AT&T Park after -- and sometimes during -- games. As for the Dodgers, they planned a July 4 celebration involving Chinook, a trained bald eagle from the Los Angeles Zoo. Chinook, however, had other ideas; it flew out of the Dodger Stadium, rather than to its handler on the field. The ending was happy, though; it flew back to the zoo van and was returned home safely.
"Our birds stay with us," Weiss said.
Thomas Harding has covered the Rockies since 2000, and for MLB.com since 2002. Follow him on Twitter @harding_at_mlb, listen to podcasts and like his Facebook page. This story was not subject to the approval of Major League Baseball or its clubs.