Rosario 'letting it fly' upon return from Triple-A
Twins' outfielder gets four hits, three for extra bases, in second chance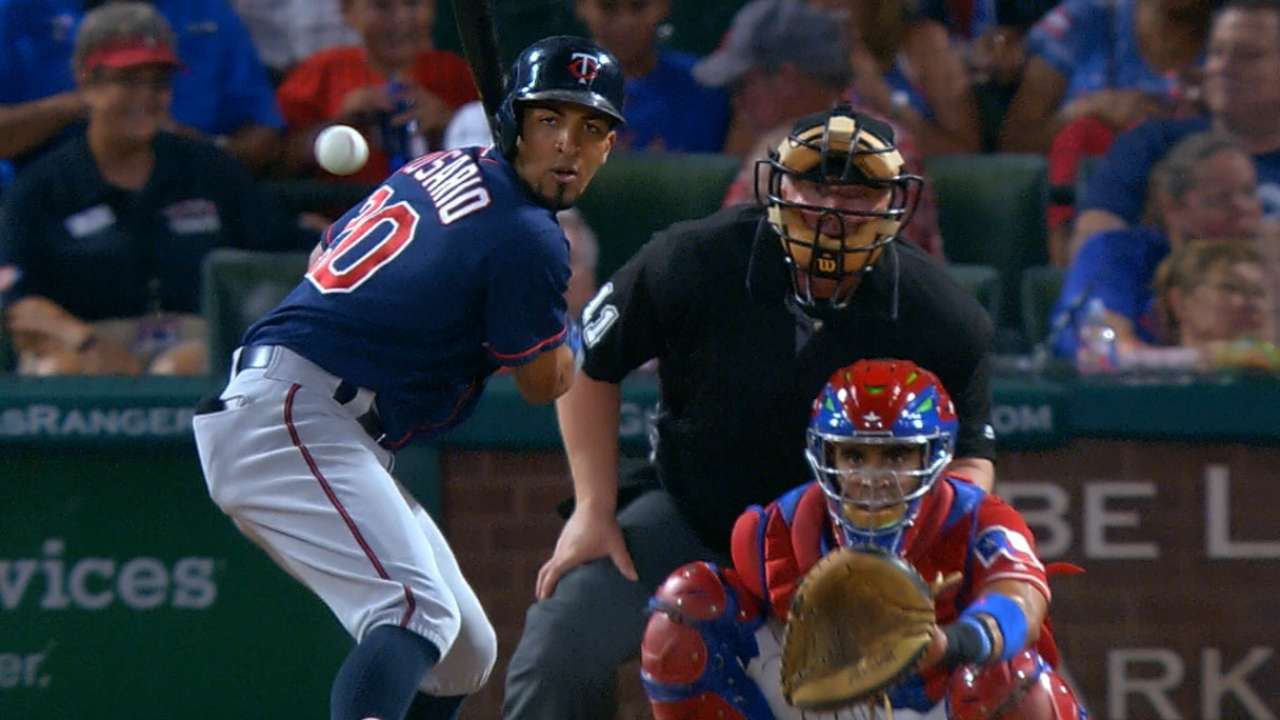 ARLINGTON -- Eddie Rosario is trying to make the most out of his second chance with the Twins this season.
Rosario, who had a breakout rookie season last year, failed to build on it early this season, getting optioned to Triple-A Rochester on May 9. But he returned on July 3 and has fared well since then, especially on Saturday, as he went 4-for-5 with a homer, two doubles and four runs scored to help the Twins to an 8-6 win over the Rangers at Globe Life Park.
Rosario, who was hitting .209/.227/.330 when he was sent to Triple-A, is hitting .346 with three doubles, a triple and a homer in six games since his return.
"I think we've seen a little bit of last year's Eddie and a little bit of the early-season Eddie, but for the most part he's getting a chance and letting it fly with a little bit more discipline," Twins manager Paul Molitor said. "I thought his home-run swing was compact. He didn't do too much and just squared it up, and the ball went plenty far. So he's learning."
Rosario's solo homer came in the fifth off right-hander Kyle Lohse and was a rocket to the second deck in right field, as it left the bat at 106 mph and went 446 feet.
"Sometimes you don't need to swing hard," Rosario said. "You just need to make good contact and have a good swing."
The free-swinging Rosario has been working on his plate discipline this year, and while he has yet to draw a walk since coming back up, he's swinging at better pitches and not chasing as much out of the zone. He hit everything hard on Saturday and became the third Twins player with at least nine total bases in a game this year, joining Brian Dozier and Kurt Suzuki.
"I had a good day and felt good hitting," Rosario said. "I was selecting good pitches to hit. I've been feeling good. I've felt the same as I did in Triple-A, but it's a different level. It's difficult here."
Rosario also might've had a shot at the cycle if he didn't have Kennys Vargas in front of him in the second, when he doubled into the right-center field gap, but Vargas was held at third. Rosario, though, joked that he was fine with that because he likes having his fellow countryman batting ahead of him.
"He's slow," Rosario said with a laugh. "But I like to see my Puerto Rican brother in front of me."
Molitor said Rosario's play is earning him more playing time among a crowded outfield that includes Max Kepler, Byron Buxton, Robbie Grossman and Danny Santana.
"We've got five outfielders and we're kind of mixing and matching, but I'm going to try to find ways to get him in there," Molitor said. "He's capable of doing things you saw tonight."
Rhett Bollinger has covered the Twins for MLB.com since 2011. Read his blog, Bollinger Beat, follow him on Twitter @RhettBollinger and listen to his podcast. This story was not subject to the approval of Major League Baseball or its clubs.