Dravecky offers words of hope to fighters
Former All-Star encourages teens at Make-A-Wish reception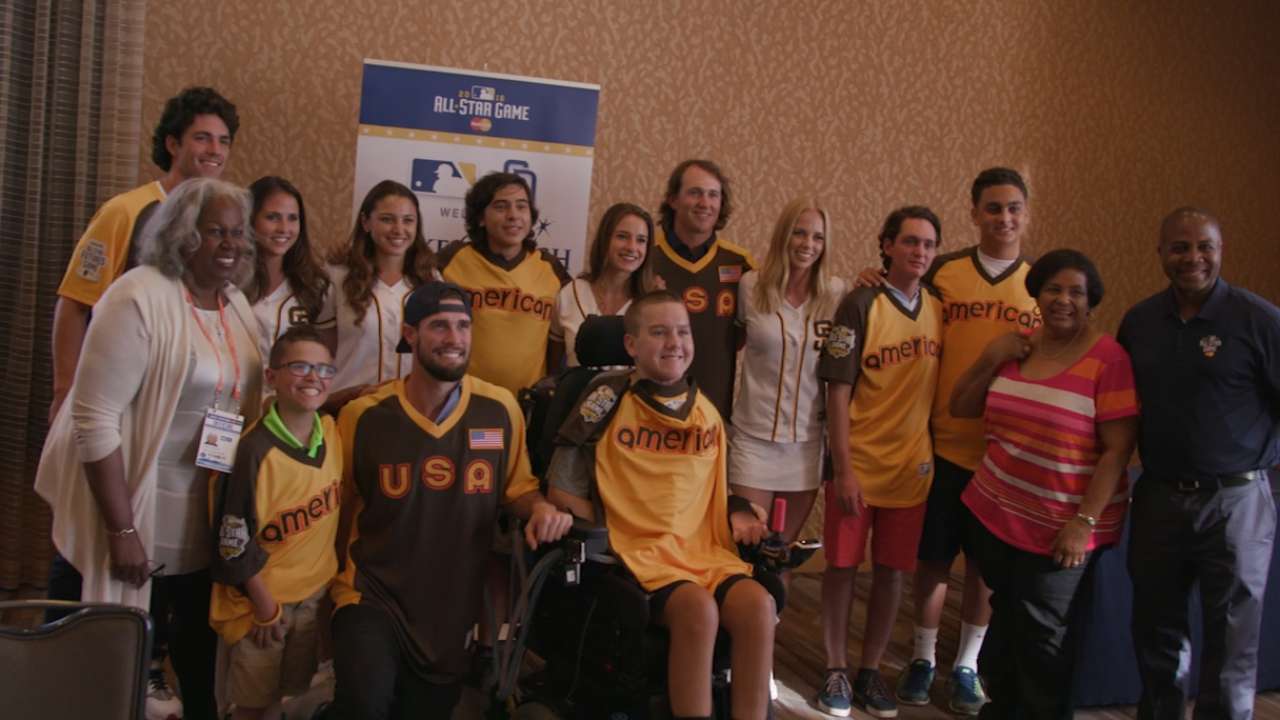 SAN DIEGO -- Dave Dravecky was walking with Fred Lynn to All-Star FanFest on Saturday at the San Diego Convention Center, where they were scheduled to sign autographs for a couple of hours. Lynn brought up the 1983 All-Star Game, but not because he had hit a grand slam and was named MVP after leading the American League to its only victory in a 20-year span.
"When I think back on the All-Star Game today, I saw Freddy Lynn today for the first time in a long time," Dravecky said. "One of the first things he said to me was, 'Hey, Dave, how you doin', man? I still remember you striking me out in that All-Star Game.' And I thought to myself walking away after talking to him, 'Man, I didn't want to boast about that, but I'm really glad he said it.'"
Dravecky has gone through a quarter-century without his left arm that once struck out an All-Star MVP while representing the Padres early in his career. It was taken from him by cancer in 1991, but he continues to live fully as a motivational speaker and author, and on Saturday night he gave an especially inspirational address to five battling teenagers and their families who were welcomed by Major League Baseball and the host Padres at the annual Make-A-Wish reception.
There was Aidan, 12, from Rochester, N.Y.; Christian, 17, from Atlanta; Cordero, 17, from McKinney, Texas; Jake, 18, from Santa Clarita, Calif., and Tony, 16, from Madera, Calif. Their dream was to be here for All-Star Week, to totally soak in the full access and unimaginable happiness.
"We want you to escape into what we like to say in baseball, something that is fantasy -- it's not reality," Dravecky told them at the Hilton Bayfront. "Let's not forget to keep this in perspective, because there are so many wonderful things in life. . . . The truth is, you guys, you guys and these families, are the real heroes in this room. You're the real heroes."
Three players from the SiriusXM All-Star Futures Game, scheduled for Sunday, were in the room to meet with the Make-A-Wish children: Carson Fulmer (White Sox organization), David Dahl (Rockies) and 2015 No. 1 overall Draft pick Dansby Swanson (Braves). Other dignitaries included MLB goodwill ambassador Vera Clemente, wife of late Hall of Famer Roberto Clemente; MLB educational programming consultant Sharon Robinson, Jackie's daughter; Tom Seidler, the Padres' senior vice president of community and military affairs; Chris Sichel, president and CEO of Make-A-Wish San Diego; and Tom Brasuell, MLB vice president of community affairs.
Dravecky was asked afterward about how his words of hope, as a cancer survivor, could help kids who have had tough breaks with serious medical conditions.
"I think it revolves around something important: Remembering that I was once a kid with a dream," Dravecky said. "I had the unique privilege of seeing that dream come true, and not forgetting the significance of the platform we are given as Major Leaguers, whether we're current or retired. And how we can be an encouragement or help to others, using that platform for a kid.
"At 60 years of age, and out of the game for 25 years now, one of the things I have realized is that you don't take anything for granted. Nothing. So being here and being a part of this is powerful in relationship to the encouragement that one can get in being a part of the All-Star Game."
He thought back to that 1983 game and what it had meant to him, showing up at Comiskey Park that day with a 12-5 record and seeing his own locker filled with goodies.
"Being there at old Comiskey Park for the [54th] All-Star Game, and to be there with some of the greatest players of the time, and names we still talk about today, it meant so much," he said. "This kid from Youngstown, Ohio, with a dream to be a Major League player, and now he's an All-Star. You can imagine how I felt. I was like a kid in the candy store."
Dravecky had surgery in 1988 to remove part of his left arm to remove cancerous cells. With the Giants in '89 during their run to the World Series, he made a determined comeback and during an August start at Montreal, his humerus bone snapped while facing Tim Raines. Dravecky's cancer returned, and in '91 his left arm and shoulder were amputated. His story is often told, and he has spread his message of faith far and wide, now most recently to a quintet of kids on a selfie binge during All-Star Week.
"The Midsummer Classic: This is where you stop and you pause to bring the best of the best that have been voted into this game," Dravecky said. "What's really cool is that Make-A-Wish enters that story and gets a chance to experience wishes come true for kids who have been through so much. Just to be a small part of that today, and in the bigger picture realizing the significance of that, is a gift to me. I feel like a kid again. This is like my wish come true."
Make-A-Wish started in 1980, and MLB and its 30 clubs have been a partner since the outset, granting hundreds, if not thousands, of wishes for kids.
"The wonderful thing from Make-A-Wish's perspective, when we ask something for a kid, Major League Baseball has never said no," Sichel told the families. "We are able to do amazing things for families because of partners like MLB and the Padres."
The 87th All-Star Game will be televised nationally by FOX, in Canada by Rogers Sportsnet and RDS, and worldwide by partners in more than 160 countries via MLB International's independent feed. ESPN Radio and ESPN Radio Deportes will provide national radio coverage of the All-Star Game. MLB.com, MLB Network and SiriusXM will also provide comprehensive All-Star Week coverage. For more information, please visit allstargame.com.
Mark Newman is enterprise editor of MLB.com. Read and join other baseball fans on his MLB.com community blog This story was not subject to the approval of Major League Baseball or its clubs.