Mariners touting O'Neill as their Futures star
Outfielder set to represent club in Sunday's game at Petco Park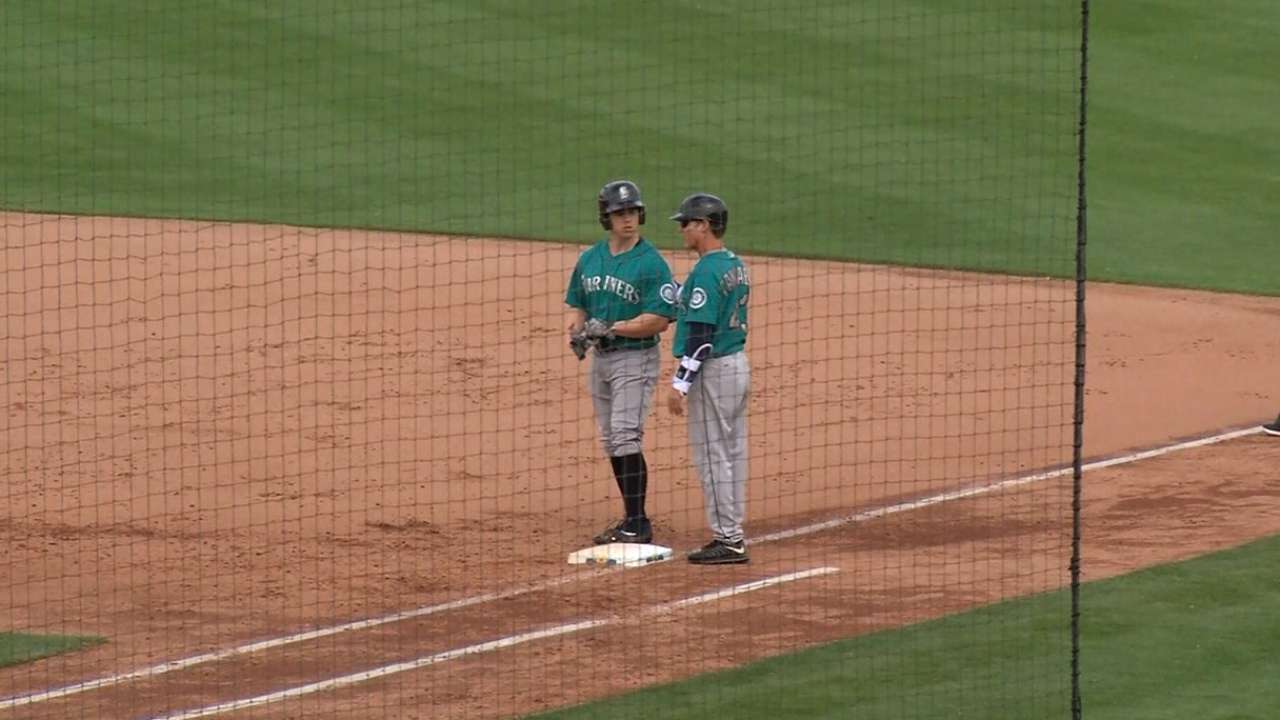 SEATTLE -- When Mariners general manager Jerry Dipoto and his new regime took over last October, they inherited a young power-hitting outfield prospect named Tyler O'Neill whose resume was heavy on home runs and strikeouts.
That didn't seem to fit well with Dipoto's "control-the-zone philosophy" built on high on-base percentage hitters, but O'Neill listened to his new bosses, adjusted his approach and has performed so well for Double-A Jackson this season that he represented the Mariners in Sunday's SiriusXM All-Star Futures Game in San Diego.
He got off to a rocky start in the first inning when he was unable to cut off a line drive in right field from Astros prospect Alex Bregman that went all the way to the wall for a triple. He was unable to make any noise offensively, grounding out in his two at-bats out of the No. 5 spot in the World Team lineup.
The 21-year-old Canadian seems to have a far better chance of being part of the Mariners' future as well after showing his ability to change his approach. After hitting 32 homers with 29 walks and 137 strikeouts and a .260/.316/.733 line in 106 games for Class A Advanced Bakersfield last year, O'Neill has opened 2016 by hitting 15 homers with 32 walks and 85 strikeouts with a .303/.369/.532 line in 79 games for Jackson.
"He's been incredibly consistent with his approach at the plate," said player development director Andy McKay. "He's made tremendous strides from last year with all the things we've talked about with him about controlling the zone. And the power numbers have not suffered to this point. From top to bottom, none of us could be any happier with Tyler."
O'Neill, who was selected in the third round of the 2013 Draft out of Maple Ridge, British Columbia, played for the World Team in its 11-3 win. Jackson teammate Dylan Unsworth, a right-handed pitcher from South Africa, was also named to the World Team, but was unable to compete as he's on the disabled list with a hamstring injury.
O'Neill's dad, Terry O'Neill, is a former Mr. Canada body building champion and Tyler is a powerfully built 5-foot-11, 210-pounder who has also spent a lot of time in the weight room. Baseball teams used to frown on players lifting too much with the belief it would reduce flexibility, but O'Neill is proof that doesn't have to be the case.
"You don't achieve a body like that without consistent effort for a long time," McKay said. "When he hits a ball and it comes off the bat the way it does, he's earned it with a lot of hard work. It's not only time and effort in the weight room, it's also diet and nutrition. It shows discipline and a desire to be great."
O'Neill is the Mariners' No. 4 prospect, according to MLBPipeline.com. D.J. Peterson, the team's No. 6 prospect and first-round Draft pick in '13, was recently promoted to Triple-A Tacoma after also putting together a strong stretch at Jackson.
But Peterson is three years older than O'Neill, since he was drafted out of college, and the Mariners aren't in a rush to push O'Neill to Tacoma.
"There's always a chance and conversation to be had," McKay said. "But he's the second-youngest player in the Southern League. What he's doing to Southern League pitching at that age is fairly remarkable. I'm never going to say there's no chance of him going up. But I don't think anybody is in a hurry to move him."
McKay said Unsworth is about two weeks from coming off the DL, but that his selection was also well-deserved.
"He's been one of the most-consistent starting pitchers we've had in the organization at any level," McKay said. "I couldn't have been more excited for him. Unfortunately that hamstring prevents him from participating, but it doesn't take away from the honor of being selected."
Unsworth, 25, is 3-1 with a 1.16 ERA in nine starts with 35 strikeouts and seven walks in 46 2/3 innings. He was replaced on the World roster by Blue Jays pitcher Angel Perdomo.
Greg Johns has covered the Mariners since 1997, and for MLB.com since 2011. Follow him on Twitter @GregJohnsMLB and listen to his podcast. This story was not subject to the approval of Major League Baseball or its clubs.