Tribe rally fizzles after critical interference call
Lindor called out after colliding with Yankees 3rd baseman Headley in 9th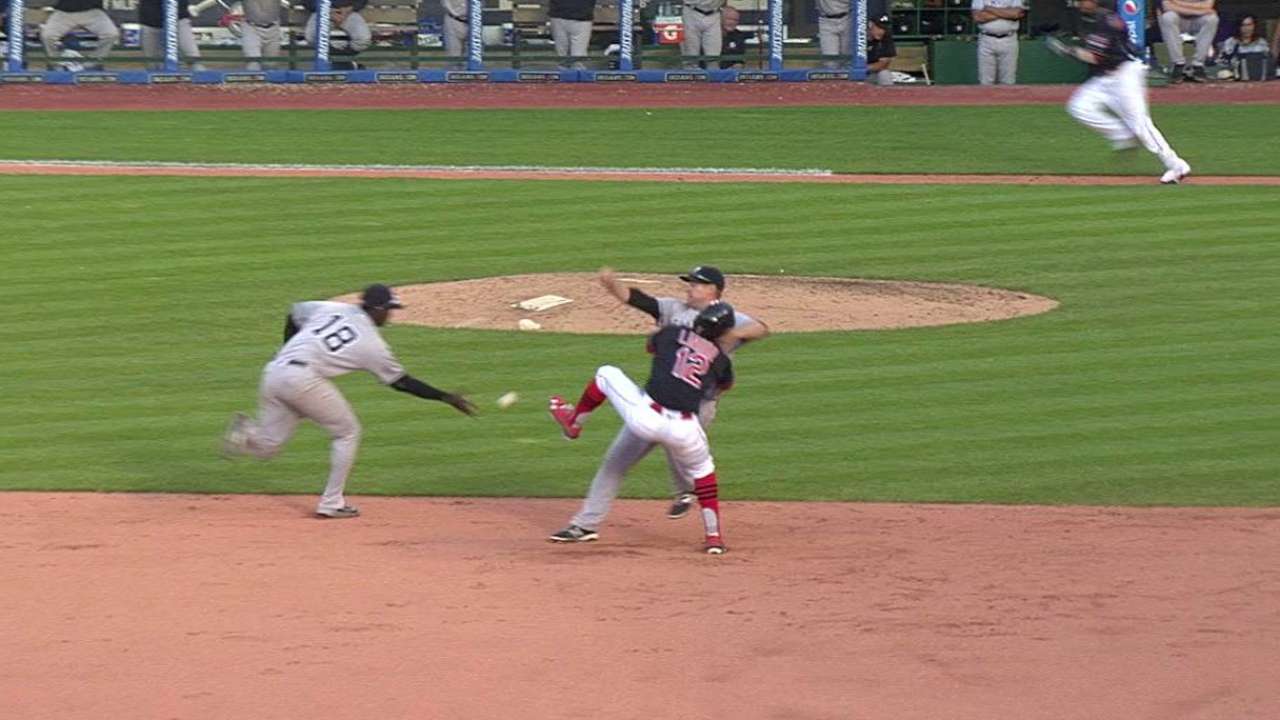 CLEVELAND -- By the time Francisco Lindor saw Yankees third baseman Chase Headley, it was too late. They collided in the infield, spun around together and Headley tumbled to the dirt. In that moment, an Indians rally dissolved due to a critical interference call in the ninth inning.
"I messed up," Lindor said after Cleveland's 7-6, 11-inning loss on Saturday.
Lindor didn't see the replay of the collision in question, and the Tribe's talented All-Star shortstop said he has no plans of reviewing it, either. He knows what happened, and he discussed it with third-base umpire Tom Hallion, who made the call that slammed the brakes on what had the look of a walk-off win in the making.
Instead of a bases-loaded, no-out situation against Yankees setup man Andrew Miller, the ill-timed crash near third base presented a less-daunting scenario for New York. With one out and runners on first and second, Miller struck out Jose Ramirez, and closer Aroldis Chapman entered and fanned Juan Uribe. Chapman then locked things down for two more frames, allowing for a Yankees comeback in the 11th.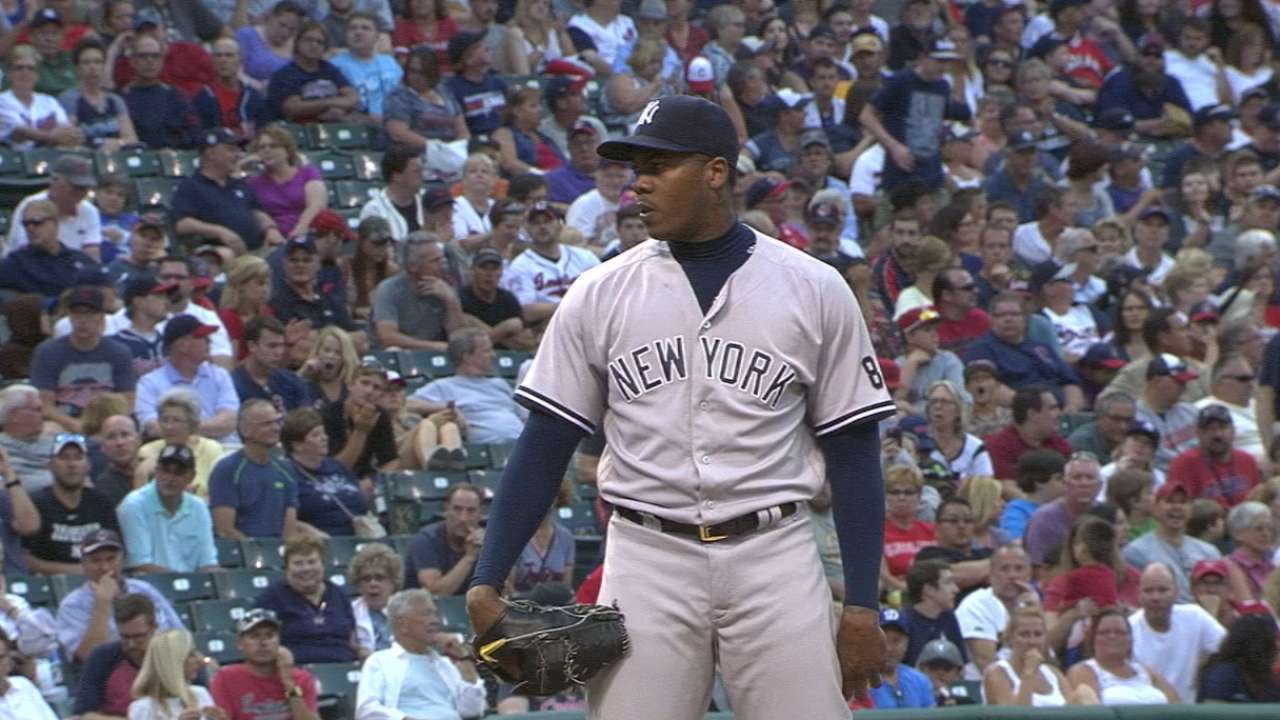 The call against Lindor loomed large in the end.
"It's unfortunate -- very unfortunate," Indians manager Terry Francona said. "I can also see why it got called. I just didn't quite agree with it."
The explanation to Lindor & Francona stemmed from Rule 6.01(a), Part 10, which deems that a runner is out if... pic.twitter.com/rAKg6a9daG

- Jordan Bastian (@MLBastian) July 10, 2016
With the game caught in a 6-6 deadlock, Lindor tried to ignite Cleveland's ninth-inning push. The shortstop stepped in against Miller and engaged in an impressive 10-pitch battle, which included seven foul balls. Miller finally flinched, allowing a leadoff single. Then, Mike Napoli drew a walk, putting runners on first and second with no outs for Carlos Santana.
Miller missed his spot with a 1-2 slider to Santana -- the offering stayed away, while catcher Brian McCann was set up inside -- but Cleveland's first baseman rolled over the pitch. As the baseball skipped through the grass on the left side of the infield, Yankees shortstop Didi Gregorius charged in and attempted to pluck the baseball from the air with his bare right hand.
Just before Gregorius tried to make that play, Lindor -- running from second to third base -- ran into Headley. The New York third baseman was also running in the direction of the grounder, but Francona did not believe he had a shot at fielding the ball. Even so, Hallion ruled it interference on Lindor, meaning the Tribe's shortstop was out and the play was dead.
This shows point of contact, and how Didi was the one fielding the ball. Headley may have had a shot at backing up. pic.twitter.com/UgY8oQNs1W

- Jordan Bastian (@MLBastian) July 10, 2016
"Tom Hallion said that you have to allow the fielder a chance to field it," Francona said. "I was just telling him I didn't think [Headley] was the guy fielding the ball. I went back and looked at it, because I wanted to make sure. I think Frankie was watching Gregorius and then the ball. And then he looked up late and saw the third baseman and hit him hard. I think because there was such severe contact, I think it kind of a leads an umpire into the call.
"I just didn't think that was his play. He was telling me it was, but he didn't have a chance. So I really disagree there. That's what I was trying to tell him: 'When you go see this, you're going to see that Gregorius called it and took it.'"
Lindor stayed away from criticizing the call, putting the blame on his own shoulders.
"I don't think they were going to get anybody out, but they both were [going for the ball]," Lindor said. "I talked with the umpire, just trying to find out what was the rule. Like I said, I messed up. He said the rule protects the fielder. You have to give them the room to catch the ball."
Francona hardly faulted Lindor for what happend.
"You try to tell guys, 'Run with your head up,' which he did," Francona said. "He's watching the guy making the play. The guy that wasn't making the play, he ran into. That was kind of my point."
Jordan Bastian has covered the Indians for MLB.com since 2011, and previously covered the Blue Jays from 2006-10. Read his blog, Major League Bastian, follow him on Twitter @MLBastian and listen to his podcast. This story was not subject to the approval of Major League Baseball or its clubs.