Smith's balk vs. O's latest in uneven 2016 in 'pen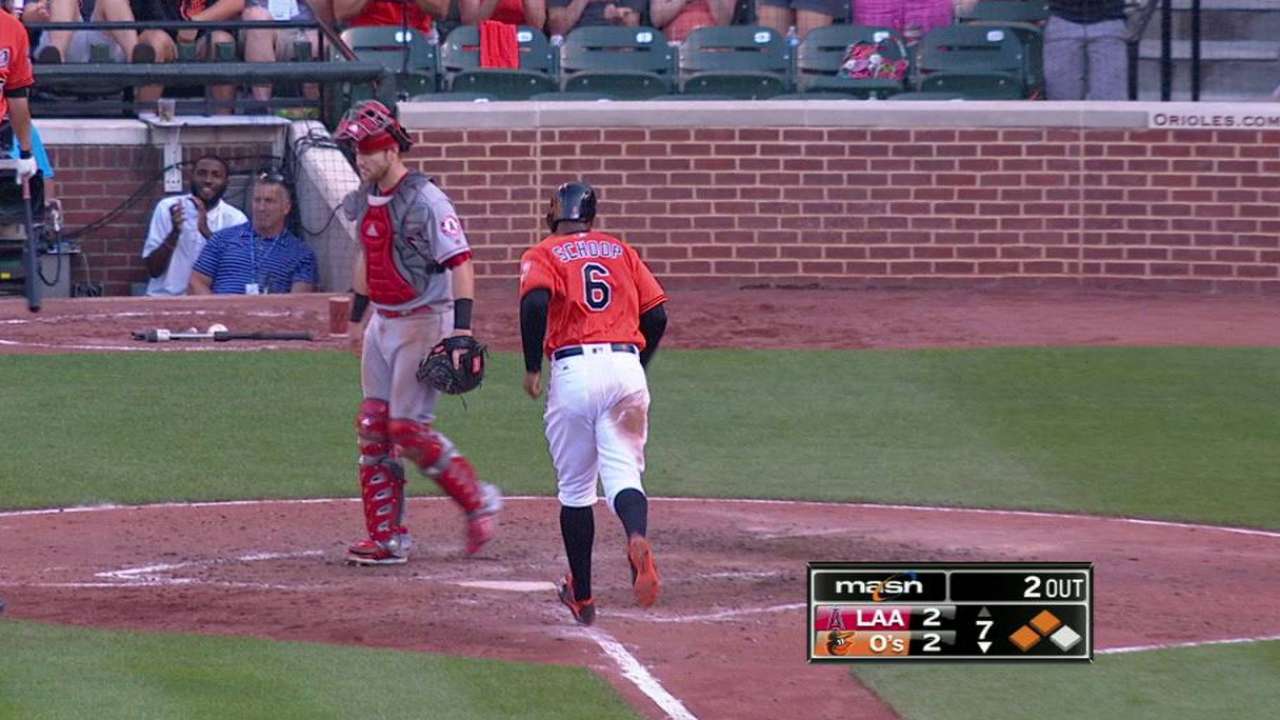 BALTIMORE -- In a frustrating season that is getting away from Angels reliever Joe Smith, it was the baseball that got away from him at Camden Yards on Saturday.
With the Angels leading by a run in the seventh inning, Smith was summoned from the bullpen with runners on second and third and two out. But before Smith could even throw his first pitch to Adam Jones, the struggling Angels reliever dropped the ball as he started his delivery. Smith was called for a balk, allowing the game-tying run to score from third.
"That's the most embarrassing moment I've ever had on a baseball field," Smith said after the Angels saw their four-game winning streak snapped in a 3-2 defeat to the Orioles. "It was 100 percent my fault.
"I just messed up. I don't really know how to sum it up."
One inning later, Smith remained on the mound in a tie game when Baltimore's Jonathan Schoop delivered the go-ahead RBI single.
In all, Smith faced six batters and recorded two outs. In addition to the balk, he allowed three hits and a walk and was charged with the eventual winning run, dropping to 1-4 on the season.
It was just the latest rough outing for Smith, who has allowed at least one run in three of his five appearances since returning from the disabled list July 1.
"Joe has shown some signs of showing some more consistency, but he's trying to work his way back in far too many counts," said manager Mike Scioscia, who has seen Smith's ERA jump to 4.80.
The right-hander missed nearly a month with a left hamstring injury and has seen his role shift from the Angels primary setup man to a reliever that can be relied upon to retire right-handed batters.
"It feels so close," Smith said of regaining his form. "That's the most frustrating part. With everything that has happened this year, it's hard to swallow. … Personally it hasn't been fun."
Issuing a balk in front of 43,288 fans at Camden Yards at a critical juncture of the game wasn't much fun either.
"For that to happen, like I said, it's the most embarrassed I've ever felt on a baseball field. It pretty much sums up my first half," Smith said.
Scioscia acknowledged that the balk will garner plenty of attention given its unusual nature, but the Angels manager said the game should never have come down to that point in the first place.
"There were a lot of things adding up to us not being on the right side of this game," Scioscia said. "Certainly some things in the batter's box, we had some opportunities to break the game open, but those guys made some pitches. Obviously there's going to be a spotlight on the balk in the seventh inning, but there's a lot of things that led up to that."
Orioles starter Yovani Gallardo held the Angels without a hit until the fourth inning, and after scoring twice in the sixth, the Angels could not add to their lead despite having the bases loaded and none out. The Halos went 1-for-9 with runners in scoring position, as their season-high four-game winning streak come to an end.
"Balks happen, and obviously it's an inopportune time for that to happen, but they occasionally happen," Scioscia said.
Ben Raby is a contributor to MLB.com based in Baltimore. This story was not subject to the approval of Major League Baseball or its clubs.