Givens provides big boost to O's 'pen in win
Right-hander escapes sixth-inning jam, throws 2 scoreless innings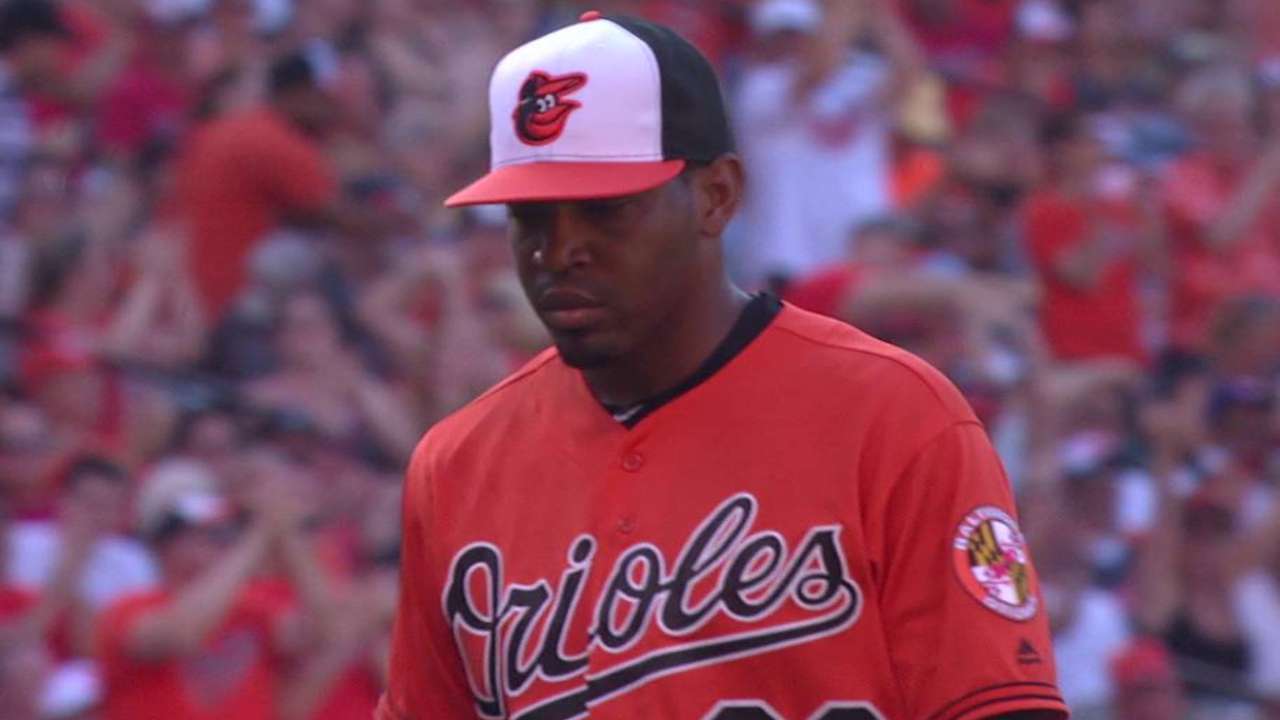 BALTIMORE -- When reliable setup man Darren O'Day went on the disabled list with a right hamstring strain in early June, it left a hole in the Orioles' bullpen.
On Saturday at Camden Yards, right-hander Mychal Givens helped fill that void with a scoreless, two-inning performance that kept Baltimore in the game and set the stage for a come-from-behind 3-2 win over the Angels.
"Mike might have been the difference," Orioles manager Buck Showalter said of Givens extracting himself from starter Yovani Gallardo's sixth-inning jam. "That won't go unnoticed, the job that Mike did, coming into that situation."
After tossing five scoreless frames, Gallardo didn't retire any of the four batters he faced in the sixth, turning a 1-0 lead into a 2-1 deficit before handing the ball to Givens with runners on first and third. Initially, Givens only exacerbated the jam, uncorking a wild pitch that didn't score Albert Pujols from third but sent Daniel Nava to second. Givens then walked Ji-Man Choi to load the bases with no outs.
From that perilous point, it took Givens only four pitches to end the inning with no more runs allowed. The 26-year-old rookie induced a shallow flyout from Johnny Giavotella and got Jett Bandy to hit into an easy inning-ending 6-4-3 double play.
"[It's about] having the composure in situations like that," Givens said. "Take a deep breath, step back and live in that moment, and try to get the job done, and allow our offense, like they do best, to come back in the late innings."
That's exactly what happened. Givens worked around a leadoff single by Andrelton Simmons in the seventh to throw a scoreless frame, recording the third out by whiffing Mike Trout with a 96-mph fastball. The O's proceeded to tie the game in the bottom of the seventh and push across the go-ahead run in the eighth, courtesy of Jonathan Schoop's single.
After going through a rough patch in mid-June, Givens now has allowed one run on four hits and two walks over his past seven innings, striking out five and lowering his ERA back to 3.35. He continues to try to adjust to left-handed batters, who entered Saturday with a 1.087 OPS against him this season, compared to .555 for righties.
Overcoming that gap -- and authoring more performances like Saturday's -- will help increase Givens' role, as the Orioles look to avoid overworking their top relievers, especially with O'Day out.
"We're hoping that Mike evolves into one of those guys, too," Showalter said. "He's going to have to continue to attack and defend himself against left-handed hitters."
Andrew Simon is a reporter for MLB.com based in the Washington metro area. Follow him on Twitter @AndrewSimonMLB. This story was not subject to the approval of Major League Baseball or its clubs.