D-backs can't cash in on chances vs. Giants
SAN FRANCISCO -- The D-backs can't say they didn't have their chances Saturday afternoon, but the failure to capitalize on them proved costly in a 4-2 loss to the Giants at AT&T Park.
The loss was the third in a row for the D-backs, who have dropped 11 of their last 13 games.
The D-backs finished the day 3-for-16 with runners in scoring position and left nine runners on base.
"We had opportunities to get guys in and we didn't do it," D-backs manager Chip Hale said. "The guys in that room are taking responsibility. It's not like they're ducking it or making excuses. Those are the things they work on really hard, whether it's in Spring Training or batting practice, and days like this we have to get it done."
The D-backs put two runners on with one or no outs in the first, fifth and seventh innings and were unable to score any of them.
"I think it's very frustrating," catcher Tuffy Gosewisch said. "I don't know what it is, if it's trying too hard or trying to do too much. Just have to come back out tomorrow and try to get better at it. We just didn't do it again today, so try to take it one day at a time."
No one was more frustrated in the D-backs clubhouse than third baseman Jake Lamb.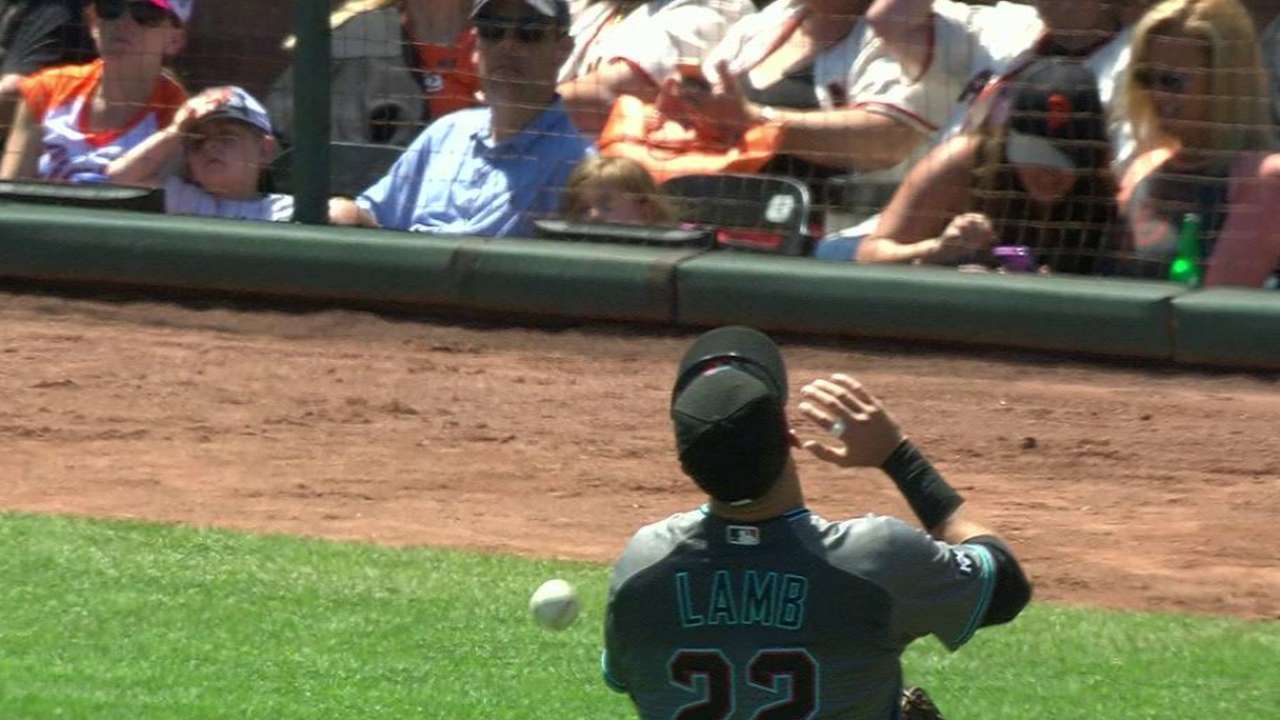 In the fourth, he lost Brandon Crawford's popup in the sun and it hit him in the shoulder. One out later, Grant Green made it hurt with a home run.
"I had it and then it went into the sun at the last second, and I didn't do anything with my hands because I was just trying to focus on the ball," Lamb said. "I just lost it. If I had sunglasses on, I think I still lose it because it went right in the middle. That's the first time it's ever happened to me. It goes in the sun all the time, but usually if you stay with it, it comes out. I had it at first, but it stayed in and really couldn't do anything about it."
Lamb grounded out twice with a pair of runners on, and both times, Giants shortstop Brandon Crawford made excellent plays to get him.
"Crawford making great plays," Lamb said. "That's kind of how it's been. I don't really have much else to say. I'm swinging at the pitches I want to swing at and it didn't go through."
Steve Gilbert has covered the D-backs for MLB.com since 2001. Follow him on Twitter @SteveGilbertMLB. This story was not subject to the approval of Major League Baseball or its clubs.