Flawless at Fenway: Porcello remains perfect
BOSTON -- Sinkerballer Rick Porcello has no idea what it feels like to lose a game at Fenway Park this year. The right-hander held the Rays scoreless for six frames after surrendering a first-inning homer in the Red Sox's 4-1 win over Tampa Bay on Saturday afternoon.
Porcello picked up his 11th win of the season as the righty now leads the American League with eight home victories, improving to 8-0 in nine starts at Fenway this season. He said the win was exactly what he was looking for.
"Any time you can pitch deep in the game, keep runners off base and give our guys a chance to go to work at the plate, it's ideal," Porcello said.
Porcello orchestrated one of his most impressive performances of the season, scattering six hits and one earned run while walking none and striking out five over seven innings. The solo shot came from Brad Miller on an 89-mph two-seamer. Once Porcello got the home run out of his system, he was untouchable.
The starter's ability to go deep into the game permitted a taxed Red Sox bullpen to rest. He handed the ball over to right-hander Matt Barnes, who retired the side in order, in the eighth, while newly appointed closer Koji Uehara finished off the ninth.
"It's been a tough first half for [the bullpen]. They've done a lot of work," Porcello said. "A lot of guys have been pitching back-to-back days, three out of four. Any time you can give them a breather, it's huge. Especially for the second half, we need all those guys to be fresh. So definitely good in that regard."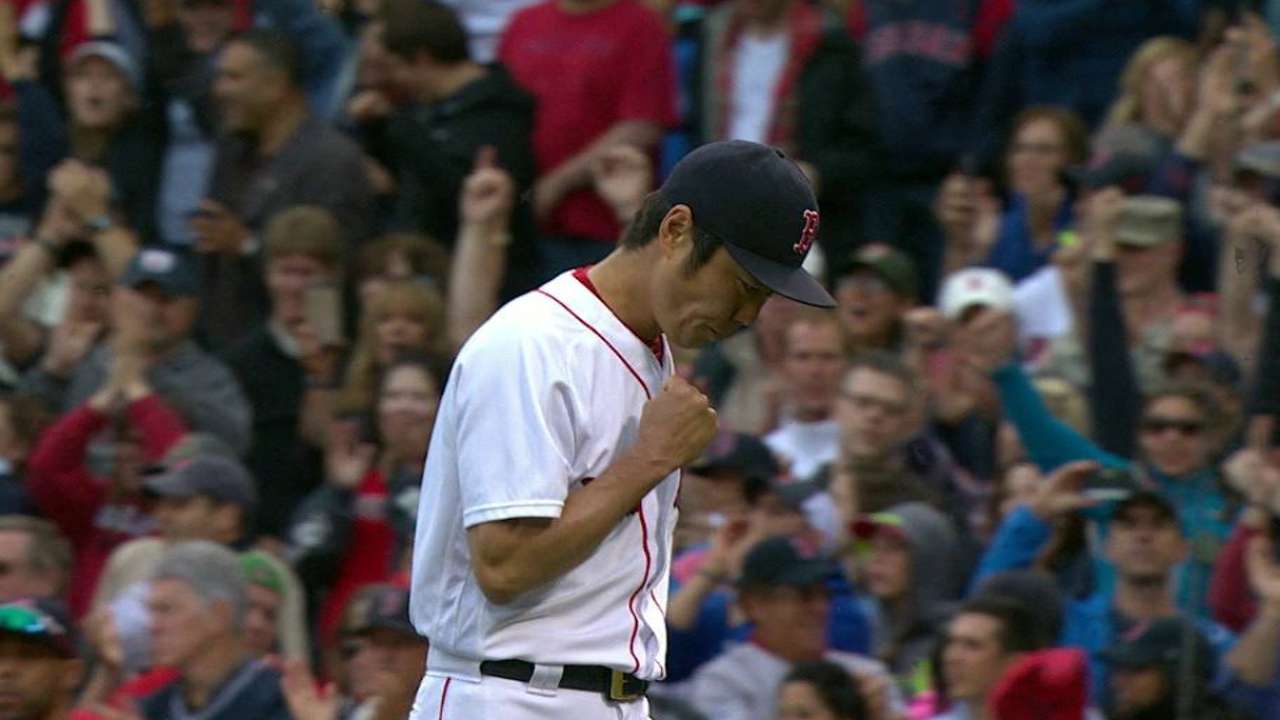 The 27-year-old is one of three Major League pitchers to have not lost any of their first nine home starts this season. The other two starters include Chris Tillman (11) and Stephen Strasberg (9).
Porcello recorded his 900th career strikeout in the fifth inning against Rays right fielder Oswaldo Arcia, 11th most among AL pitchers since 2009.
After Saturday, the sinkerballer has dealt a quality start in his last seven outings against Tampa Bay as a member of the Red Sox.
"More than anything, you know, we look back to a year and a half that he's been here," Red Sox manager John Farrell said. "Probably the first half of last season, getting comfortable in his surroundings.
"There's no question he feels comfortable on the mound here. His sinker works well here, and more than anything, his walk rate is at a career low. He's doing a great job at limiting the overall baserunners."
Deesha Thosar is a reporter for MLB.com based in Boston. This story was not subject to the approval of Major League Baseball or its clubs.