'Electric' Martinez mows down Milwaukee
St. Louis righty whiffs 11, then Lyons adds four as 'pen shuts door
MILWAUKEE -- Behind what manager Mike Matheny described as "electric stuff," starter Carlos Martinez led the way as Cardinals pitchers struck out a season-high 15 in an 8-1 win over the Brewers on Saturday at Miller Park.
Martinez, who picked up his eighth win and lowered his ERA to 2.85, matched his career high by striking out 11 over five innings. Reliever Tyler Lyons then tallied four strikeouts in 2 1/3 inning for the most strikeouts in a nine-inning game by the Cardinals since Sept. 14, 2014, versus Colorado.
Martinez was regularly piping in fastballs at 98 and 99 mph while mixing in a slider and an upper-80s changeup to keep Milwaukee off-balance.
"The swing-and-miss stuff, he's just throwing bullets up there" Matheny said. "He was throwing 99 and hard sliders."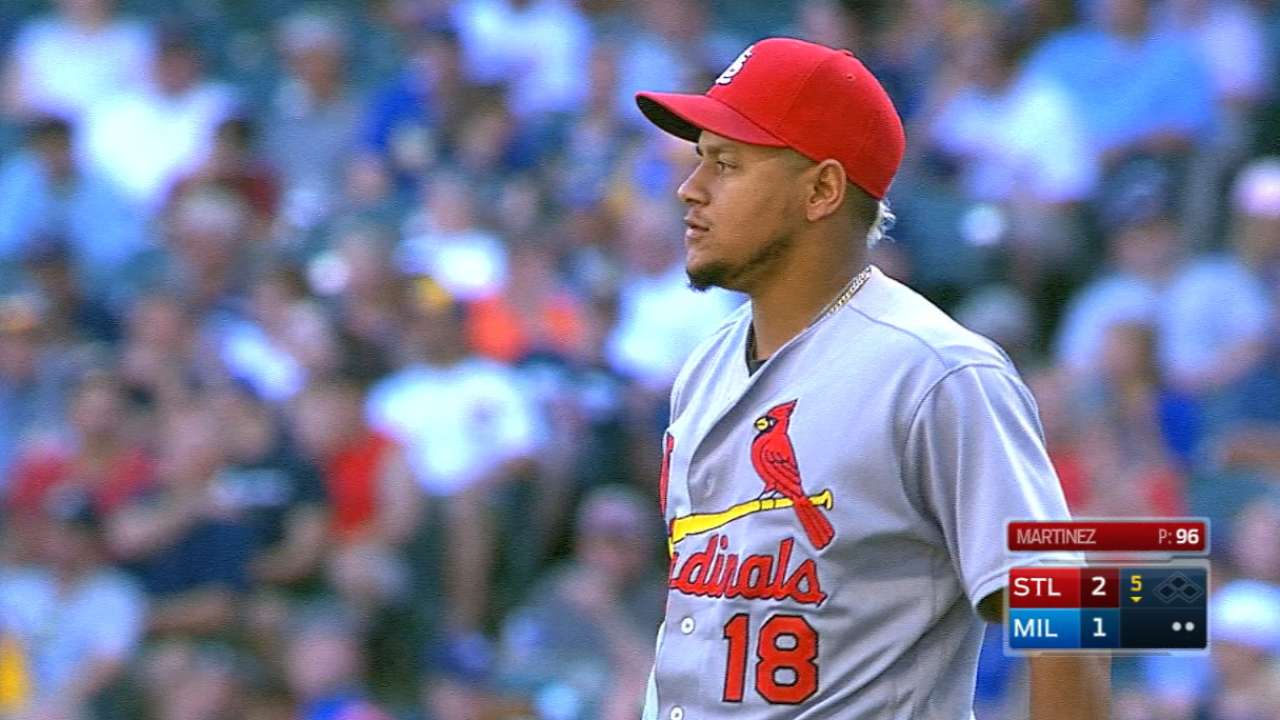 Thanks in part to four walks from Martinez, the Brewers loaded the bases in both the first and third as the right-hander's pitch count soared to over 70 through three innings, but only managed one run on Kirk Nieuwenhuis' RBI single in the third. Martinez became more efficient and was able to work through the fifth without any further damage.
"After the third inning, I really felt like I started getting into the rhythm," Martinez said. "I started using my sinker and also going down a little bit on the velocity."
At one point, Martinez recorded six consecutive outs via strikeout, which received notice from Chase Anderson, his counterpart for Milwaukee.
"He has a lot of run on his ball," Anderson said. "You kind of don't know where it is going sometimes. He throws 100 miles per hour. He's good."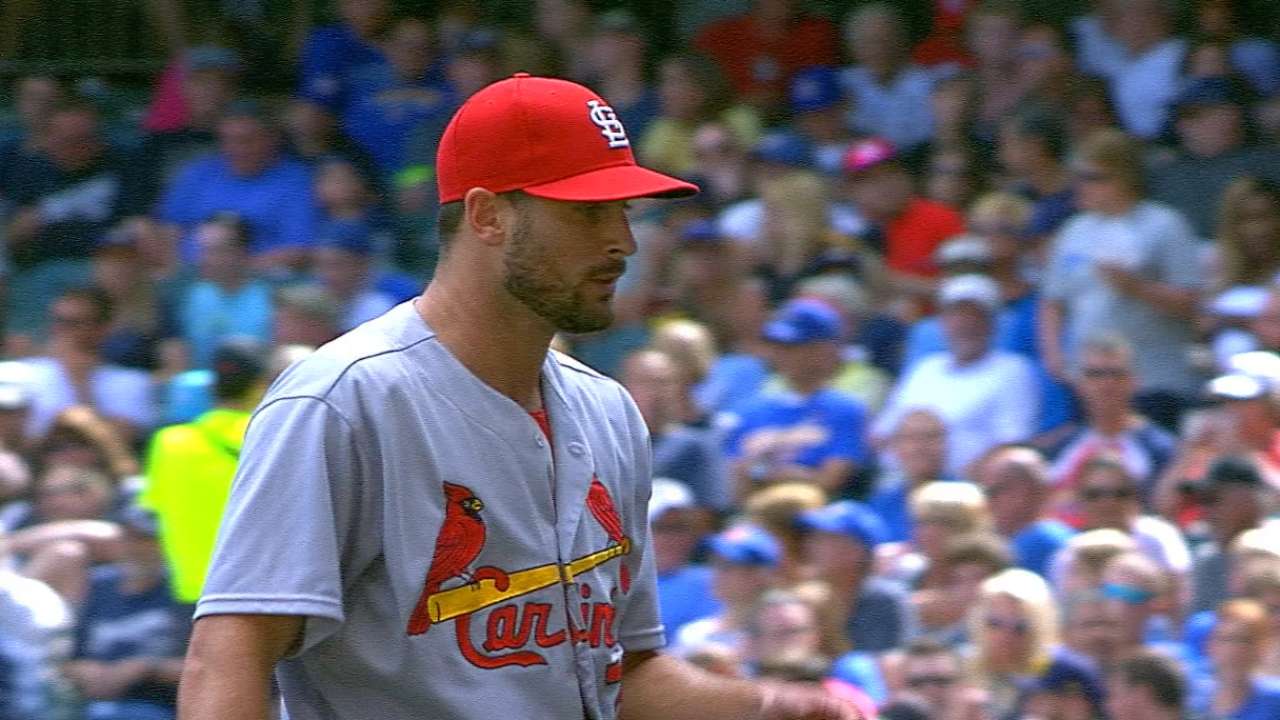 With St. Louis leading, 3-1, the game was still on the line in the eighth when Lyons and Matt Bowman kept the Redbirds in front. On for his third inning, Lyons struck out Brewers outfielder Ryan Braun -- who struck out three times -- to open the frame before walking Chris Carter and Nieuwenhuis.
Sensing the moment, Brewers manager Craig Counsell called on All-Star catcher Jonathan Lucroy to pinch-hit as the potential go-ahead run. Matheny countered with Bowman, who won the battle by inducing an inning-ending double play.
"The story really was Tyler Lyons and then Matt Bowman coming in," Matheny said. "Tyler going two-plus [innings] with real good stuff and got us to the point where Bowman gets the double play that he needed."
Since June 22, Bowman and Lyons have combined to give up just one run in 18 2/3 innings.
St. Louis' bats took over from there, cracking the game open with a five-run ninth.
Curt Hogg is a reporter for MLB.com based in Milwaukee. This story was not subject to the approval of Major League Baseball or its clubs.