Feldman stellar in relief, but exits with stiff back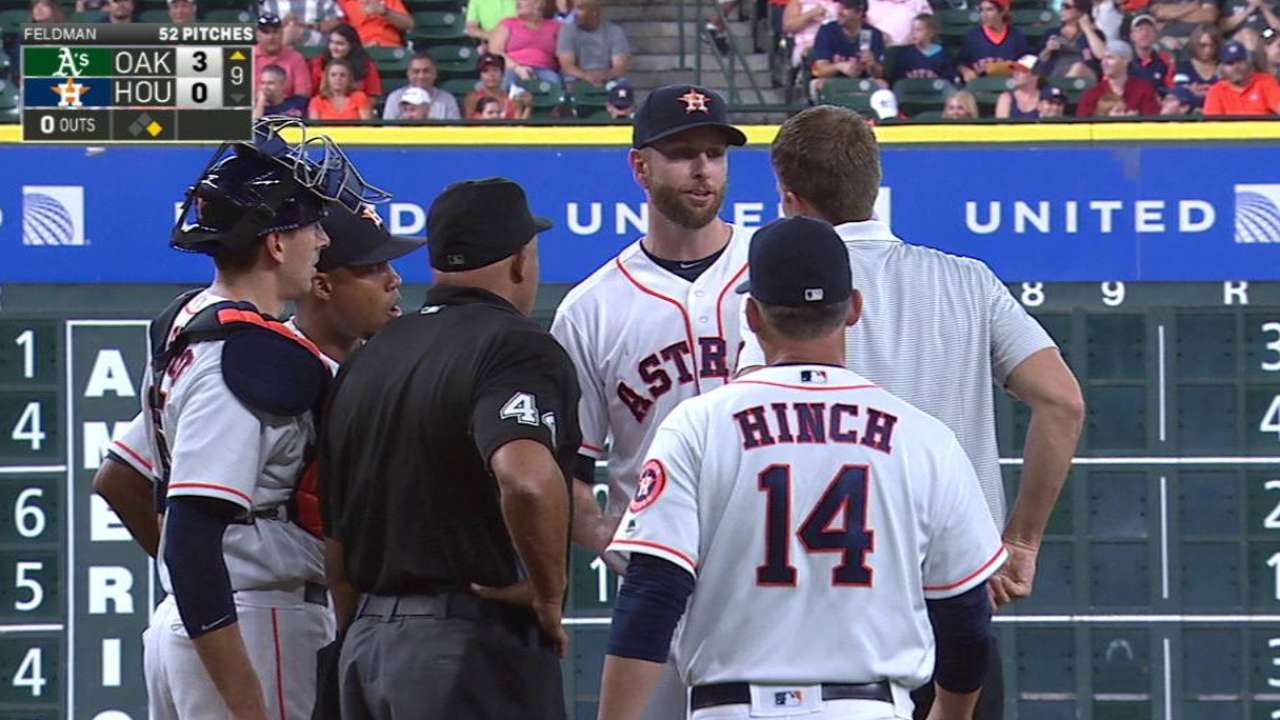 HOUSTON -- There were few bright spots in the Astros' 3-2 loss to the A's Saturday afternoon at Minute Maid Park, but Scott Feldman was definitely one of them. The veteran pitcher continued to excel as a reliever, entering in the fourth, down 3-0, and allowing only two hits in 3 2/3 innings.
But Feldman's brilliant day on the mound ended on a sour note when he was pulled from the game in the top of the ninth inning due to back stiffness.
"It wasn't until he started throwing, and he stiffened up a little bit," Astros manager A.J. Hinch said. "I saw the velocity start to decline … and so when I went out to talk to him, he said he just seemed stiff [in his back]."
Feldman saw a doctor after the game and is day-to-day now, but Hinch said pulling him was mainly precautionary.
"With the break coming and he had already done his job, it was easy to take him out," Hinch said.
The right-hander, who started the season as a member of the rotation, has thrived in his role as a reliever this year. He's tossed 14 1/3 scoreless innings in his last five relief outings and has been scoreless in 13 of his 17 appearances from the 'pen, including Saturday's loss.
"Scott Feldman pitched awesome," starting pitcher Lance McCullers said. "He's been pitching awesome the whole season. He's really taken off in his last couple outings, and he did a great job tonight."
In fact, Hinch said Feldman's valuable innings were one of the only reasons the Astros were able to make it close after he left.
"Without those innings, coming and getting the outs behind (Tony) Sipp," Hinch said, "we're not in a position to get those runs in the ninth and make it interesting."
Jordan Ray is a reporter for MLB.com based in Houston. This story was not subject to the approval of Major League Baseball or its clubs.