Graveman spooks Astros with strong sinker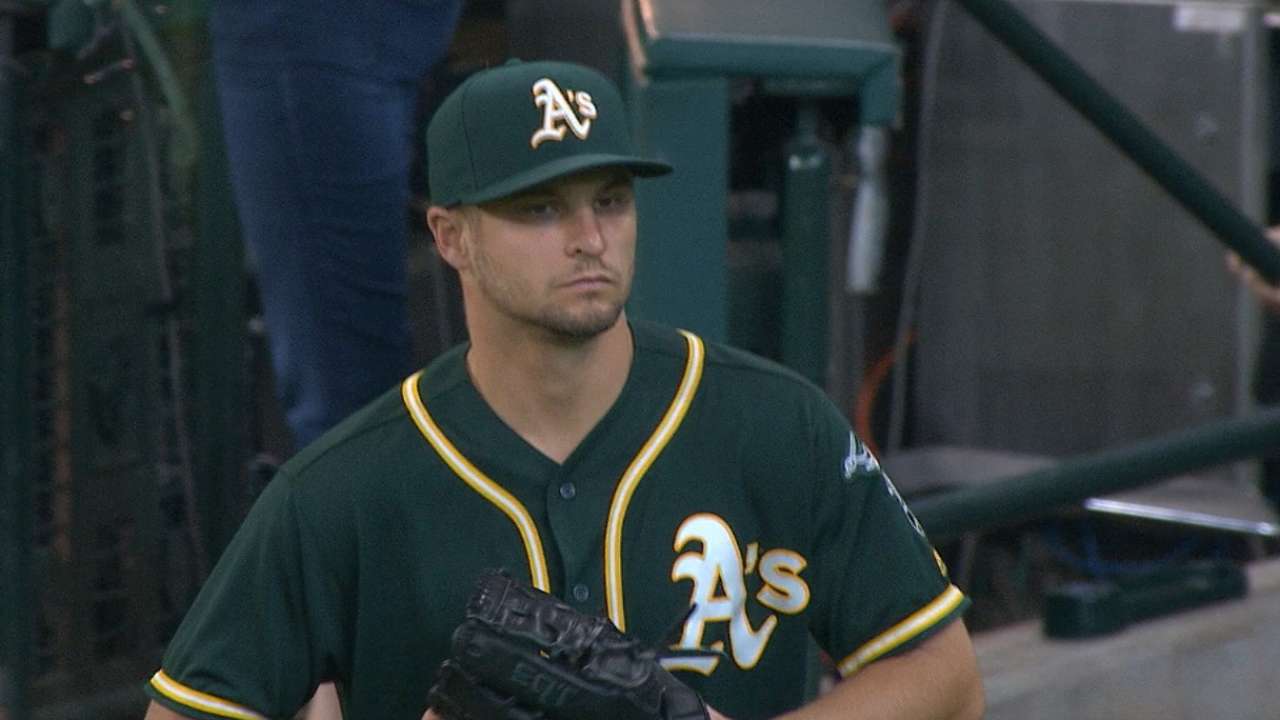 HOUSTON -- In simplifying his game, A's right-hander Kendall Graveman has revived it.
Graveman, winner of a 3-2 contest over the Astros on Saturday afternoon, was struggling to give the A's innings, and results, in the early going this season. Carrying a 5.36 ERA after nine starts, he began to ask himself, "What am I not doing? These guys that are the best in the game, what are they doing?"
"They're not missing the mitt by much," Graveman recalled telling himself, "and that's what I focused on."
On Saturday, he hardly missed, pitching into the ninth inning for the first time in his career and allowing two runs on just five hits with three strikeouts and no walks in a tidy 93-pitch display.
According to Brooks Baseball data, 82 of those pitches were sinkers, helping him generate weak contact -- much of it in the form of a ground ball. Graveman recorded 10 of them.
"We just stuck with it, we didn't try to trick anybody," Graveman said, "and we just kept doing it."
"That's Kendall Graveman in a nutshell right there," catcher Stephen Vogt said. "He was outstanding. With the exception of maybe three pitches, he was in the bottom part of the zone."
Graveman yielded only three hits through eight innings, and zero until the fifth, when A.J. Reed singled with two outs. He returned for the ninth at 90 pitches only to offer up consecutive base hits to Jake Marisnick and Marwin Gonzalez, prompting A's manager Bob Melvin from the dugout.
Melvin, who had promised Graveman at least two baserunners in the inning, turned to Ryan Dull, who kept the damage to two runs to preserve the win for Graveman, who is 4-0 with a 3.40 ERA over his last eight starts.
Going back to his last 16 starts, he had tossed fewer than six innings in 10 of them, including fewer than five innings five times, amplifying the significance of Saturday's gem.
"We've seen once he gets on a roll, his confidence elevates," Melvin said. "So this was a nice little stretch here leading up to the break that he can feel good about."
"I think what Kendall's doing is he's understanding who he is," Vogt said. "It took him a while, I think. Very early, he experienced some failure in his mind. We didn't think it was failure, but I remember him calling it failure. So I think really understanding what kind of pitcher he is, I think everyone is starting to figure that out, myself included.
"He's starting to realize what his strengths are, and he's not going to go away from his strengths. He's more confident in his pitching, and he's more confident in himself than he's ever been."
Jane Lee has covered the A's for MLB.com since 2010. This story was not subject to the approval of Major League Baseball or its clubs.