Could Naylor follow Futures Game predecessors?
Jose, Yelich, Stanton all made big league debut year after taking part in All-Star event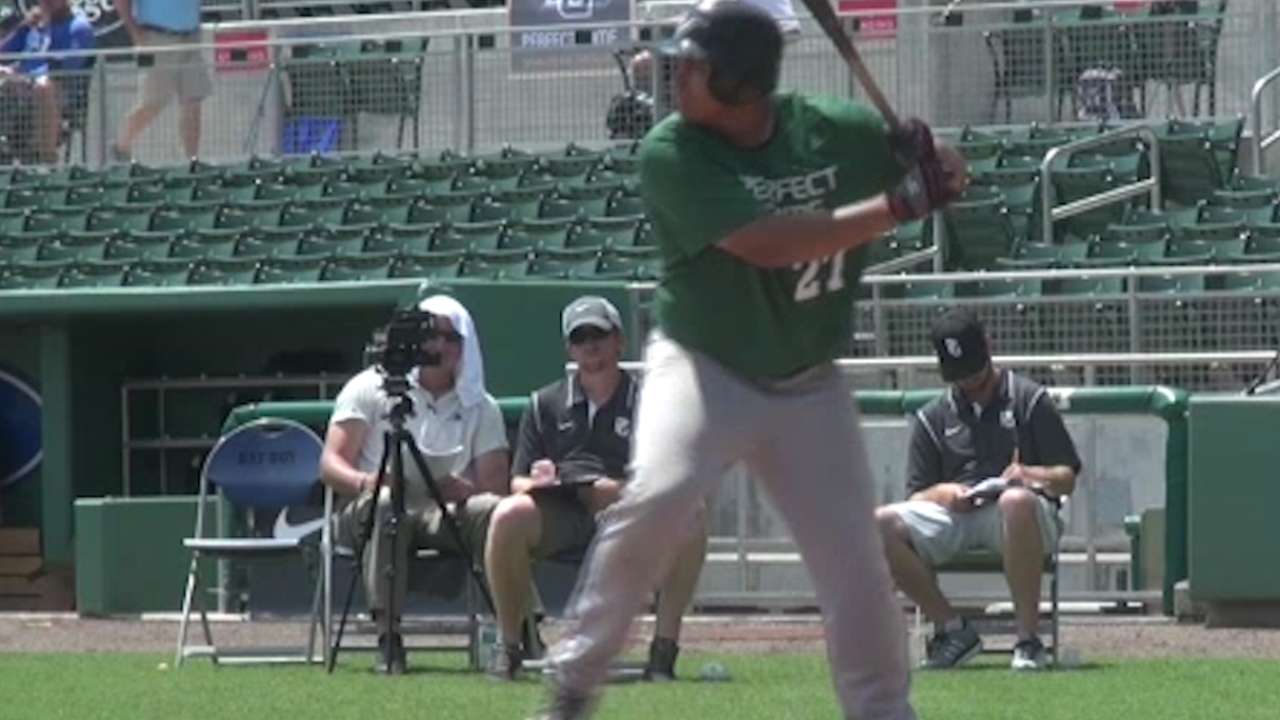 MIAMI -- With a crop of young players including Jose Fernandez, Giancarlo Stanton and Christian Yelich already established as the core of the Marlins, there's one more who could be on a fast track to join them.
Josh Naylor, the club's first-round pick in the 2015 Draft, is that player. The first baseman will represent the Marlins in San Diego during the SiriusXM All-Star Futures Game on Sunday at Petco Park, which will air live on MLB Network and MLB.com at 7 p.m. ET.
"I know it's an honor for Josh to represent the organization," Marlins president of baseball operations Michael Hill said. "The Futures Game is a tremendous game with some of the best prospects in the game. For Josh to be considered with those guys is a great honor."
Ranked as the Marlins' No. 2 prospect by MLB Pipeline, Naylor has tapped into his power this year at Class A Greensboro. He's hit nine home runs and 18 doubles while hitting .254 in 73 games with the Grasshoppers.
While Naylor has big league power, he's known as a hitter that drives the ball to all fields. In his first taste of professional ball last year, Naylor hit .327 with one home run in 25 Gulf Coast League games.
"He's never been a power hitter. He's been a hitter with power," Hill said. "So you like to see him hit for a high average and get on base and drive runners in. That's his strength."
Naylor may be 19 years old, but he's already showcased his abilities on big stages. The Mississauga, Ontario, native played with Team Canada as an amateur, and in 2014, he participated in the MLB Junior Home Run Derby during MLB All-Star Week at Target Field.
"He was pretty much a superstar in Canada," Hill said. "He's taken everything in stride. Just happy for the success that he's been able to have to this point."
Hill said the Futures Game will also be good for Naylor's focus toward reaching the Major Leagues. In early June, Naylor accidentally cut teammate Stone Garrett's right hand in what was described as a prank gone too far. Garrett needed three stitches.
"It's something where you're young kids, you're goofing off and we've all done it. But you hate to see a teammate injured, and I think that's where it really hit home for him," Hill said. "I seriously doubt he'll ever be doing pranks like that again, and he'll continue to work hard and focus on getting to the big leagues."
Whether Naylor will eventually be a part of Miami's young core is still undetermined, but he's on a familiar path. Both Fernandez and Yelich were Futures Game participants in 2012 before they debuted the next year, while Stanton took part in the game in '09 before debuting in '10.
"We try not to put pressure on these guys and let their ability speak for themselves," Hill said. "[Naylor] is someone who we wouldn't be surprised if his ability moved him through fairly fast."
Patrick Pinak is a reporter for MLB.com based in Miami. This story was not subject to the approval of Major League Baseball or its clubs.