Francona maps out Tribe's post-break rotation
Carrasco, Bauer, Tomlin set to start 3-game series in Minnesota
CLEVELAND -- Indians manager Terry Francona is thrilled that Danny Salazar and Corey Kluber were named to their first American League All-Star team. The manager hopes they have a great time in San Diego and feels they are more than deserving of the honor.
Francona would just prefer not to see either pitcher take the mound at Petco Park.
"I wish all of our guys would go, and not pitch. It's not the way it works," Francona said on Saturday. "It's almost like the [World Baseball Classic]. You kind of have your heart in your throat. They deserve the chance, so we would never stand in their way unless we thought there was [an injury issue]. I worry."
All Francona and pitching coach Mickey Callaway can do right now is keep their fingers crossed and plan for the second half.
Prior to Saturday's game against the Yankees, Francona revealed the planned rotation coming out of the All-Star break. For the three-game series in Minnesota, Cleveland plans on starting Carlos Carrasco (Friday), Trevor Bauer (July 16) and Josh Tomlin (July 17). Kluber and Salazar are the probable starters for July 18 and 19, respectively, in Kansas City.
Carrasco, who is slated to start on Sunday against the Yankees, would be working on normal rest out of the break. Francona felt that approach was fine, considering Carrasco missed all of May with a left hamstring injury. Bauer would be starting after eight days of rest, while Tomlin would have 10 days between starts for the Tribe. If Kluber and Salazar do not pitch in Tuesday's All-Star Game presented by MasterCard, they would each have nine days off between outings.
"Everybody else gets between like eight, nine to 10 days," Francona said. "This way, also, the two guys are going to the All-Star Game, so the other guys don't have to sit and watch and go off of, 'Did he pitch? Did he not pitch? Do I need to throw a side?' Everybody knows when they leave [Sunday] when they're pitching."
Worth noting
• Francona noted that left fielder Michael Brantley (on the 60-day disabled list with a right shoulder issue) was scheduled to take batting practice again on Saturday, marking his third straight day of hitting. The manager said he would sit down with Brantley and Cleveland's medical staff on Sunday morning to formulate a plan for the outfielder during the All-Star break.
"It probably won't be much of a break for him," Francona said.
• Reliever Joe Colon made his Major League debut in Friday's 10-2 win over the Yankees, allowing one run on two hits with a strikeout in the ninth inning. Francona was happy to have a game like Friday's to give Colon a chance to get his feet wet on the big league stage.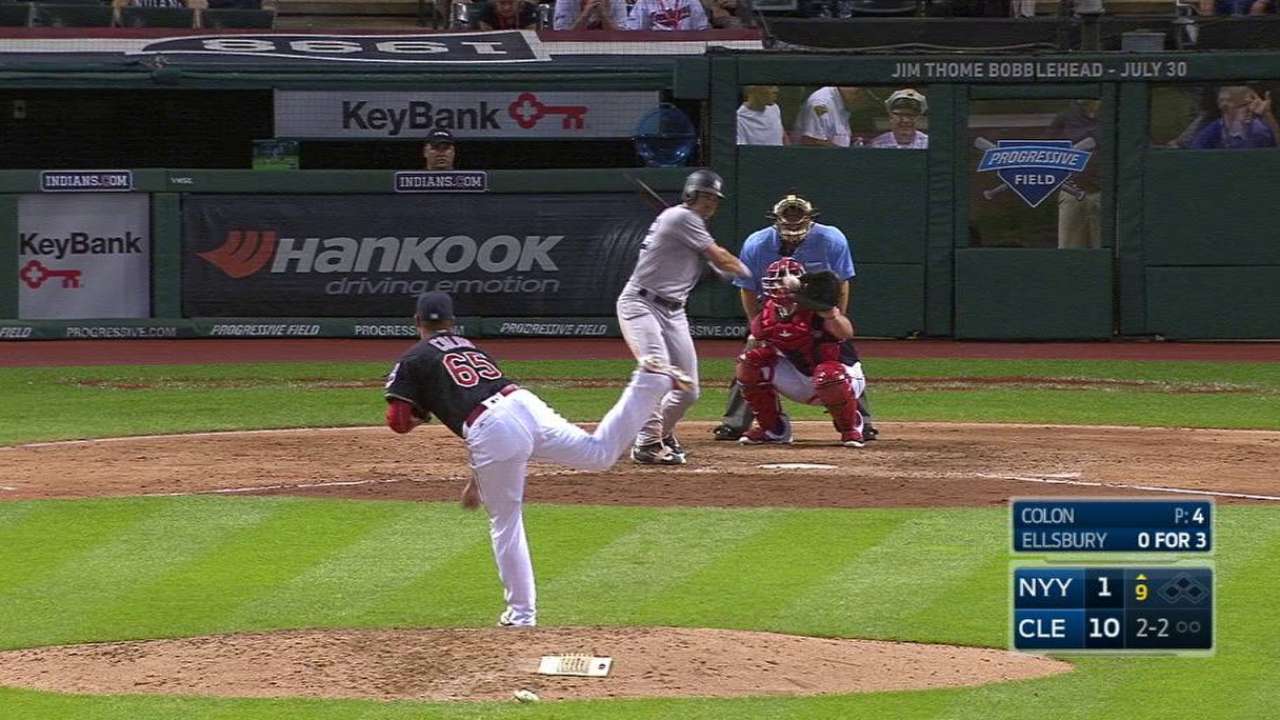 "I thought he was a little hyped up, amped up, because everything was elevated," Francona said. "When he's good, he's got like -- the way I've been told -- like a turbo sinker. We didn't really see that last night. He threw one pitch, but everything was kind of elevated. That's kind of why you try to throw him in a game like that, if you can, so then hopefully, the next time or two, you start to see more of what he really is."
• The Indians claimed left-hander Tyler Olson off outright waivers from the Royals on Saturday. The 26-year-old reliever has turned in a 4.81 ERA in 16 games between the Triple-A affiliates for the Yankees and Royals this season. He appeared in one game for New York earlier this year.
• Lefty Tom Gorzelanny, who was designated for assignment by the Indians on Monday, cleared waivers. Gorzelanny declined an outright assignment to Triple-A Columbus and elected instead to become a free agent.
Jordan Bastian has covered the Indians for MLB.com since 2011, and previously covered the Blue Jays from 2006-10. Read his blog, Major League Bastian, follow him on Twitter @MLBastian and listen to his podcast. This story was not subject to the approval of Major League Baseball or its clubs.